The Silent Twins review - the tragic story of the Welsh teens who were sent to Broadmoor |

reviews, news & interviews
The Silent Twins review - the tragic story of the Welsh teens who were sent to Broadmoor
The Silent Twins review - the tragic story of the Welsh teens who were sent to Broadmoor
Agnieszka Smoczynska's whimsical new take on the twins lacks impact
Say nothing: June (Letitia Wright), left, and Jennifer (Tamara Lawrence)
The fascinating story of the silent twins, June and Jennifer Gibbons, who were incarcerated in Broadmoor for 12 years for minor crimes, has been told before, several times. There's a 1986 BBC film by Jon Amiel based on Marjorie Wallace's book about them; a documentary by Olivia Lichtenstein in 1994; a French rock opera; a classical opera, and a play.
You might think enough has been said – their parents, who stopped giving interviews, would probably agree – but their story remains elusive. In her hazy, hallucinatory version of events, Polish director Agnieszka Smoczynska (The Lure; Fugue) doesn't throw any further light on the reasons behind the identical twins' silence – born in 1963, they're played as adults by Letitia Wright and Tamara Lawrence and as children by Leah Mondesir-Simmonds and Eva-Arianna Baxter, all excellent – or their toxic, suffocating power struggle and unusual creative talents.
In fact its surreal animated-doll and song-and-dance sequences, highly original though they are, make the story more confusing. The script, by Andrea Seigel, is also based on the book by Wallace, who was a consultant on the movie, but in focusing on the twins' inner lives it blurs fantasy and reality, not entirely successfully.
The twins, who had mild speech defects – saying "sh" for "s", for example – were not really silent, but spoke to no one but each other after the age of four, shutting themselves in their room at home in Haverfordwest, Wales, where their father, Aubrey (Treva Etienne), was an air traffic controller for the RAF. Both parents were from Barbados, and Haverfordwest was known for its racism.
The twins were bullied at school – they were the only Black children there – which must have caused them to withdraw further, though the film doesn't make this clear. The Gibbonses had three other children and for a time the twins were close to their younger sister, Rosie. There's never any suggestion that family life was to blame for their refusal to speak to other people, though Aubrey and Gloria, their mother (Nadine Marshall), do seem to veer towards denial and understandable passivity when faced with authorities who are supposed to know best.
We see the twinnies, as their baffled, exasperated family calls them – "They need to get their heads bashed together," says their older, married sister (Amarah-Jae St Aubyn), who tells them they've been an embarrassment to her all her life – dancing to T Rex in their bedroom, all light and colour and joy. Then their mother knocks at the door. They freeze at their desks, their backs to her.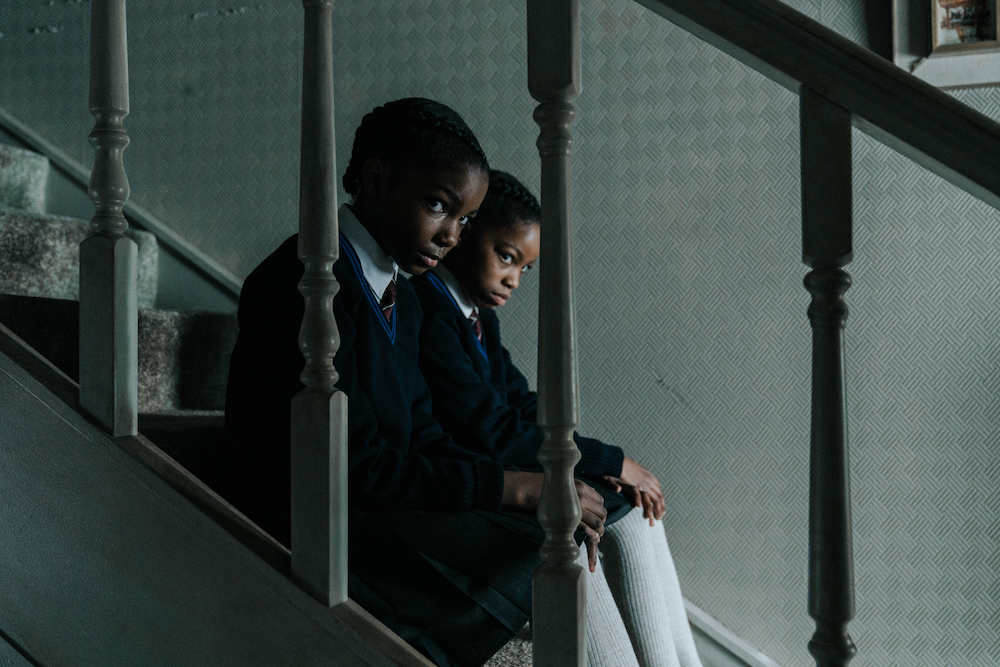 They won't sit with their family: when they want to watch Top of the Pops or Charles and Diana's wedding, they write a note asking that the living-door be left open. They sit on the stairs, watching TV through the door, one of film's most poignant images (pictured above).
Educational psychologists try various tactics, including separating the girls and sending them to different schools, which is a disaster: though they fight viciously, they can't live without each other. When horse-riding, they both fall off simultaneously. It's a violent love-hate relationship – again, the dynamics don't come across clearly. Jenny seems to be the controlling twin, communicating with June wordlessly, preventing her from speaking to teachers and shrinks. They're ruled by a crippling pact, even though they're often desperate to talk. They leave school at 16 with one CSE each.
They start claiming benefits and enrol in a creative-writing correspondence course, registering as one person. Talented, hugely imaginative, they bash away endlessly on typewriters, submitting stories unsuccessfully, and obsessively writing and drawing in their diaries. They love Americana and record their own radio interviews in southern accents. But something is missing. "In order to write a good book, you need to feel it," says Jenny. "We need love and romance."
They put on wigs, make-up and sunglasses and, looking very odd, apply themselves to the task. Soon they're sniffing glue, knocking back vodka, smoking weed and losing their virginity to – dreams do come true – some semi-delinquent American brothers whose parents are stationed on the US base near Fishguard.
Life changes dramatically, though the film makes it too fantastical to believe in, which is a shame, as it's all based on fact. "I've had sex before marriage," writes June gleefully. Mired in fantasy, they're convinced this is true love, though the boys treat them like dirt and move back to the US. And that's when the twins go on the rampage, high as kites: breaking and entering, petty theft (pencils and Play-Doh), trying to burn down a tractor store.
When they're arrested, no one knows how to deal with these shy, silent Black girls who won't answer questions. They're put in a remand centre. Then unbelievably, they're diagnosed as psychopaths and sent to Broadmoor, though they love the idea of it, imagining a wonderful spa with boys, glamorous social events, beautiful bathrooms and swimming pools (cue song and dance routine). And there they stay for 11 years, throughout their twenties, with Tim Thomas (Michael Smiley) a psychologist who they were referred to when at school, and Marjorie Wallace (Jodhi May) as their main champions.
But hey, there are upsides – the girls see themselves as the queens of Broadmoor, dances do take place and Jennifer hooks up with a murderer who promises to give her his sperm so she can have a baby. Unsurprisingly, it doesn't work out. The end, when they're finally released and sent back to Wales, is as inexplicable as the rest of their story. "We once were two/We two made one," writes June in one of her poems. Liberation comes at a terrible price.