Talking About Trees review - friendships formed through film |

reviews, news & interviews
Talking About Trees review - friendships formed through film
Talking About Trees review - friendships formed through film
A tender documentary on returning cinema to Sudan
The four members of the Sudanese Film Group
What's the appeal of cinema? It can transport us to fantasy lands, or open our eyes to new perspectives. But one aspect that's less discussed is how it brings people together. Going to the cinema is a social stimulus, a shared experience that sparks discussions and forges friendships.
And as shown in
Sudanese
documentary
Talking About Trees
, its absence leaves a hole in the community.
We follow the Sudanese Film Group (SFG), a collection of former filmmakers, as they try to reopen the Revolution Cinema in the city of Omdurman. It's more than a hobby for them, it's a calling. Since the military coup of 1989, Sudan has been deprived of cinema. Any local screenings rely on pirated videos from street vendors. Locals think it would be fun to watch action movies on a big screen again, but the SFG know that cinema can do more than entertain. The only issue is, so does the security services.
Mountains of red tape follow, as the SFG continues to renovate the large open-air theatre. Chairs are hired, the screen is washed down, and showings of Django Unchained are promoted, but every step is met with another bureaucratic hurdle. These men have felt the iron fist of the government before, are they willing to face it again?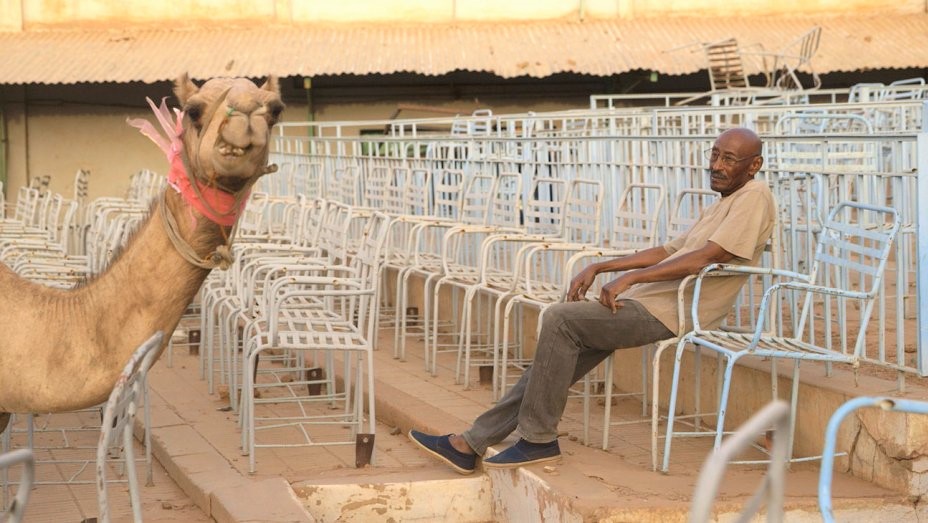 For many documentaries, it's hard to know where the film is heading when you begin. The trick is making the journey, not the destination, matter. Talking About Trees starts as a crusade, but morphs something much more subtle. It's a portrait of comradeship, four friends that found each other through film. The cinema gives them a purpose, but what they have together is far more valuable than a common cause. What's the point of putting on screenings if they risk losing the very friendships they wish to foster?
Director Suhaib Gasmelbari does a wonderful job of capturing the intimate moments. After a day of cleaning the cinema, they wash each other's feet and give massages. They then reminisce about their days of exile in the early years of the regime. Cinema may have brought them together, but it's tenderness and solidarity that keeps the brotherhood strong.
Such scenes rely on strength of character to sustain them, and the four friends are genuinely charming. One in particular, Ibrahim Shaddad (pictured above), is wonderfully quirky. One moment he's staging scenes for his next political short film, the next he's giving a guided tour of the cinema to a camel. He's a natural performer with a quick wit, which is all the more impressive when he details his detainment by security forces.
The title Talking About Trees is somewhat misleading in this era of environmental documentaries. It's taken from a line of dialogue about the implications of unspoken horrors when people discuss the trees. But it does serve as a gateway to view the film. Though the subject may be about cinema, it rewards those focusing on the unspoken bonds of hardship and friendship.
Talking About Trees starts as a crusade, but morphs something much more subtle
rating
Explore topics
Share this article