Vortex review – an old couple's road to nowhere |

reviews, news & interviews
Vortex review – an old couple's road to nowhere
Vortex review – an old couple's road to nowhere
Gaspar Noé's unflinching depiction of dementia's merciless grip
Separation anxiety: the son Stéphane (Alex Lutz) tries to comfort his ailing parents (Dario Argento, Françoise Lebrun) in 'Vortex'
Life, opined Thomas Hobbes, is "nasty, brutish, and short". In Gaspar Noé's Vortex it's not short enough for a dementia-afflicted octogenarian psychiatrist (Françoise Lebrun) and her addled film critic husband (giallo auteur Dario Argento), whose joint decline is a protracted saga of alienation, confusion, and fear.
When worrying is your default mode and oblivion your near future, dignity is an out-of-reach luxury and survival a harrowing moment-to-moment ordeal. As blunt as ever about human flaws and vulnerabilities, the Argentina-born French filmmaker Nóe typically offers no bromides or balm: he simply presents dementia as a biological fait accompli that most will have to confront at some point, as a sufferer, caregiver, or both. We should be aware, the film says, that it's followed by effacement.
Documentary-like in its observation, Vortex is only implicitly sympathetic, as prompted by Noé's personal losses: of his mother (from dementia) in 2012 and more recently his father-in-law, his mentor the Argentinian director Fernando Solanas, and the actor Phillipe Nahon, who played the butcher character in Noé's Carne (1991), I Stand Alone (1998) and Irréversible (2002). There's a richness and maturity in Vortex that's absent from the violent, sexually explicit provocations that are Noé's stock in trade. Tenderness, too.
The unnamed wife and husband are first seen toasting their togetherness with wine on their terrace on a balmy evening; it's effectively their last moment as a couple. As the wife's disassociation emerges and escalates, Noé splits the screen, dropping a bold black line down the middle of it "to emphasise their loneliness", he has stated. The film was shot with two cameras, one focused on the wife and the other on the husband. The images frequently overlap, the couple maintaining their physical proximity as their intellectual interaction diminishes. (Pictured below: Dario Argento, Françoise Lebrun)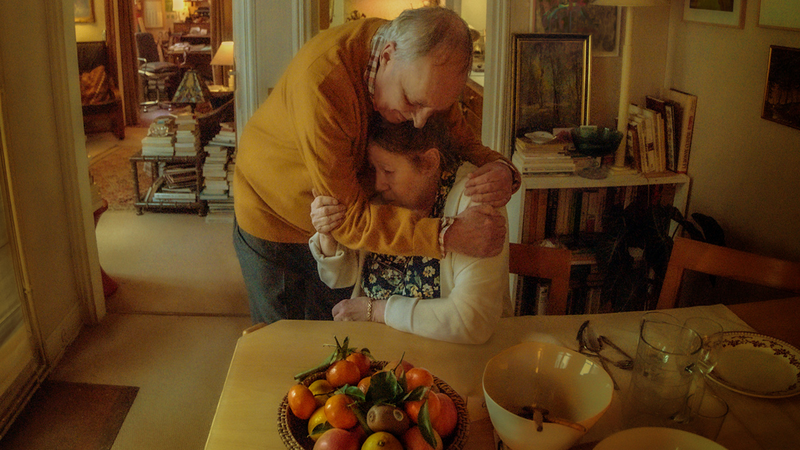 This is both poignant and inherently disturbing: it would seem to augur the day when the husband finds himself married to a husk, but events overcome the couple before that occurs. Noé takes his dementia film in a different direction than that followed by Richard Eyre's Iris (2001) or Michael Haneke's Amour (2012), for example, his ironic manipulation of the narrative possibly informed by a sense of moral justice favouring the wife.
Vortex is less about the disease than the inability of spouses and grown children to overcome the unconquerable enemy in their midst. Noé thus puts a metaphoric arm around the shoulders of the husband and the couple's son, Stéphane (Alex Lutz, also a director). Does he then remove his arm when it's revealed that the husband is trying to reconnect with his former mistress and that Stéphane, who has a young son, is a heroin addict? It's unclear. Noé has said Vortex is less Manichean than his other films, but it contains a hint of Hobbesian contempt for human nature.
Apart from an unannounced foray to a shop that sends her husband scurrying after her, the wife mostly potters around the couple's flat. She frets about this and that, leaves the gas on, and, perhaps seeking order, perhaps revenging herself on her husband, albeit unconsciously, destroys something dear to him. To say Lebrun, hitherto best known for her performance in Jean Eustache's The Mother and the Whore (1973), is convincing is inadequate; to exert such control playing a person losing herself, emptying out, is uncanny.
Argento's perfomance is an equally affecting study in decay. As Vortex proceeds, Noé gradually reveals that the husband, who is writing a vaguely conceived book and still meets with his cronies, is also living in a fog. Asked by Stéphane how he is managing his wife's treatment, the agitated husband says he has made lists of doctors, but there's no indication he has. Evidently losing his grip on reality, he cuts a more pathetic figure than his wife, whose spells of lucidity are revelatory. The scenes showing Stéphane doling out drugs and drug paraphernalia to fellow junkies and being tempted into using again feel like a Noé-ish trope and slightly dilute his concentration on the parents. Nonetheless, Vortex is an unignorable howl of pain.