Pink Floyd: Their Mortal Remains, V&A review – from innocence to experience and beyond |

reviews, news & interviews
Pink Floyd: Their Mortal Remains, V&A review – from innocence to experience and beyond
Pink Floyd: Their Mortal Remains, V&A review – from innocence to experience and beyond
Brilliantly inventive exhibition revisits a half-century of the Floyd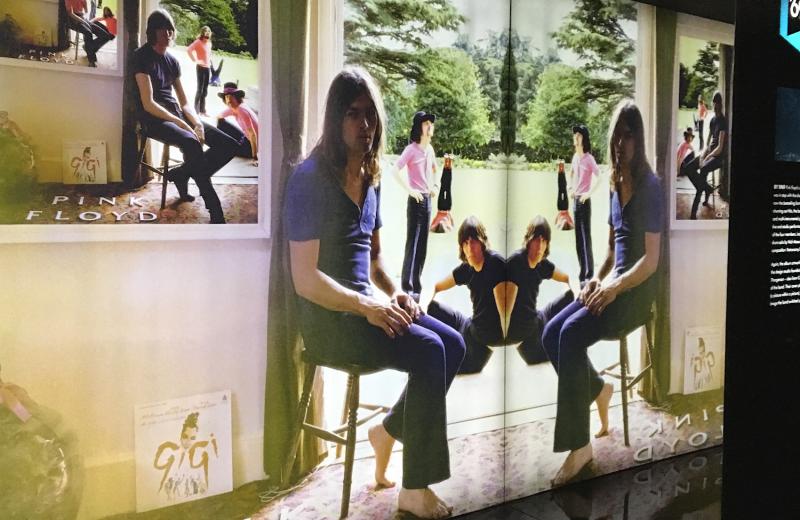 Shine on: the sleeve for 'Ummagumma', 1969
The title of this exhibition is typical of Pink Floyd's mordant view of the world, not to mention their sepulchral sense of humour.
Needless to say, the band that took stage and studio perfectionism to unprecedented lengths have pushed the boat out here, memorialising over 50 years of their collective
history
with thoroughness and fanatical attention to detail.
The event was four years in the planning, with all three surviving members pitching in and giving it their blessing, and drummer Nick Mason attending "many a long meeting" as he coordinated the event with curator Victoria Broackes and her team at the V&A. Whether David Gilmour and Roger Waters actually spoke to each other during the process is not recorded. Also closely involved was Aubrey "Po" Powell of Hipgnosis, the Floyd's long-standing graphic design team, and Stufish, the "entertainment architects" who have helped create the band's live shows.
At the start of the exhibition, you find yourself back in 1965, and inside a giant replica of the ancient Bedford van in which the prototype Pink Floyd (then an R&B band called the Tea Set) used to lug themselves around for gigs. There's a rather poignant handwritten letter on display from original member and lost legend Syd Barrett to his girlfriend, Jenny Spires. He hadn't even become Syd then, and signed it with his given name, Roger.
From these humble beginnings, we proceed through the Floyd's career album by album, from Piper at The Gates of Dawn to Ummagumma, Atom Heart Mother and Animals, then into the mega-selling, record-breaking era of Dark Side of the Moon, Wish You Were Here and The Wall. Then it's on through the post-Waters period of The Division Bell and A Momentary Lapse of Reason, while there's also a collection of artefacts from Waters's epic solo tour of The Wall in 2010-13, not least a towering inflatable bug-eyed "Teacher" figure brandishing an enormous cane.
What gives Their Mortal Remains its fascination is its three-dimensional treatment of its subject. Every phase of the band's career is illuminated by installations of various kinds, which may talk about music or might equally be about stage design, film, architecture or artwork. For instance, there's a display where Gilmour (on video) demonstrates how he wrote the 12-string guitar theme for "Wish You Were Here", and then Waters explains how he took it and developed the structure of the song.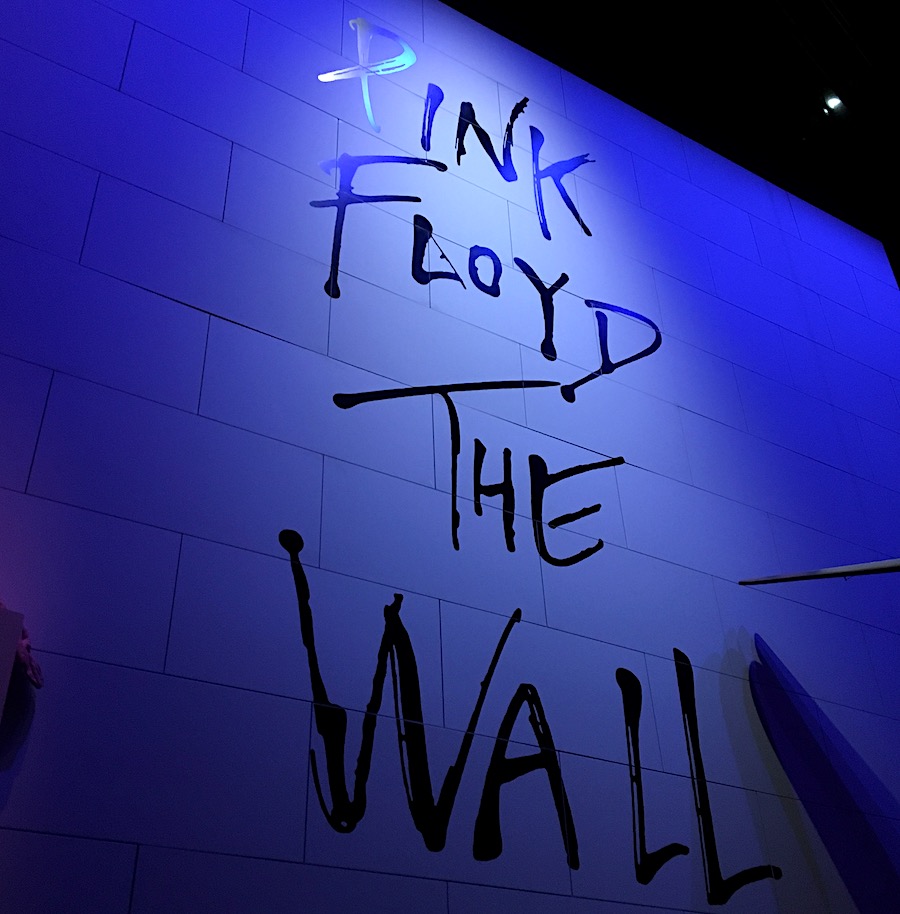 There's a Rick Wright feature, in which the sadly deceased keyboards player sits at the piano and illustrates how he borrowed a chord from Miles Davis's Kind of Blue and wrote "Breathe" with it. Gerald Scarfe describes how Waters recruited him to create cartoons and animations for The Wall, and there's a display of Waters's original hand-drawn notes and designs from which he developed the Wall project. Hipgnosis's Storm Thorgerson (also deceased) regales the passer-by with yarns about the chaotic shoot for the sleeve photo for A Momentary Lapse of Reason, with its serried ranks of hospital beds ranged along a beach.
Another long-term associate of the Floyd, Sennheiser, has supplied the headphones and audio units which guide you round the exhibition. These are context-aware and able to supply sounds and commentary relevant to whatever you're looking at. Thus, while you're studying a display of artwork ideas for Animals, Mason's voice in your ear describes how their celebrated inflatable pig broke away from Battersea Power Station and took flight, climbing so rapidly that the pursuing police helicopter couldn't keep up with it. Or you can play about with a mixing console while listening to "Money", and turn up the guitar and bass or turn down the saxophone and drums as you wish.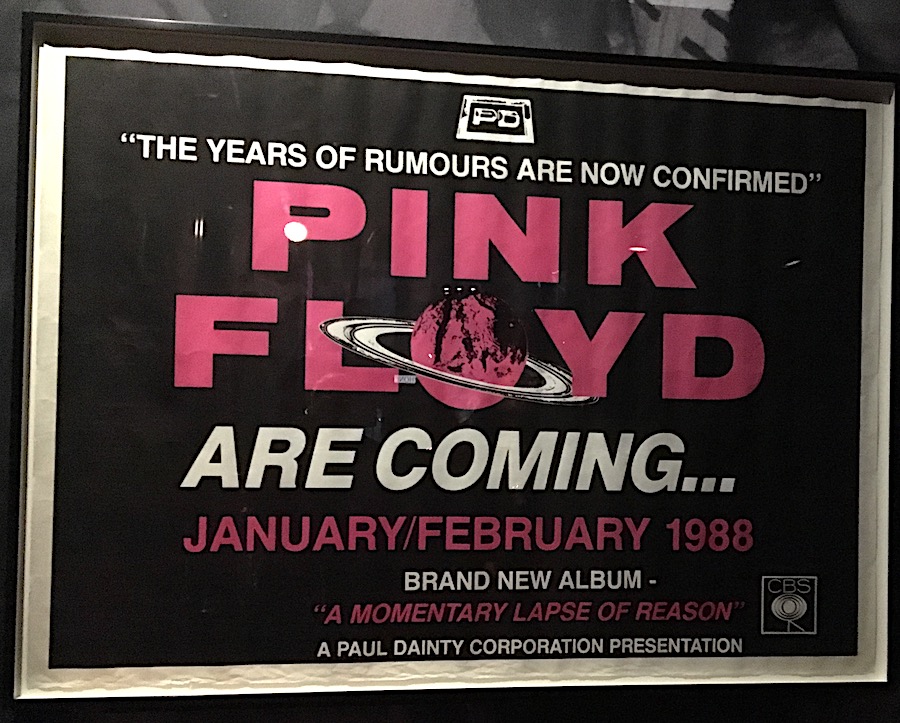 Meanwhile the shifting trends in culture and fashion in the wider world are evoked by displays mounted inside old-fashioned telephone boxes – books, magazines, photos, advertisements, newspaper cuttings – which whisk you through psychedelia, the counterculture, Swinging London, IRA terrorist outrages, the moon landings, punk rock and much more. Vintage posters from across six decades mark the passage of time, from innocence to experience and beyond.
It's brilliant for Pink Floyd fans, but even if you're not one of those there's plenty of social, cultural and political history here to sink your teeth into. For a final treat at the end of the exhibition, the Sennheiser crew have rustled up a super-mix of the Floyd's performance of "Comfortably Numb" from the Live 8 concert in 2005, where the classic quartet reunited for the first time in 24 years ("the child is grown, the dream is gone" indeed). This is rendered in something called AMBEO 3D audio, accompanied by four video walls of high-def images of the band performing. I wasn't at the gig, but for all I know this is even better than the real thing.
The Pink Floyd Exhibition: Their Mortal Remains at the Victoria and Albert Museum from 13 May to 1 October 2017
Nick Mason's voice in your ear describes how their celebrated inflatable pig broke away from Battersea Power Station and took flight
rating
Share this article