10 Questions for Techno Musician Carl Craig |

reviews, news & interviews
10 Questions for Techno Musician Carl Craig
10 Questions for Techno Musician Carl Craig
Catching up with the prince of Detroit techno as he revives an old alter ego
Saturday, 23 November 2019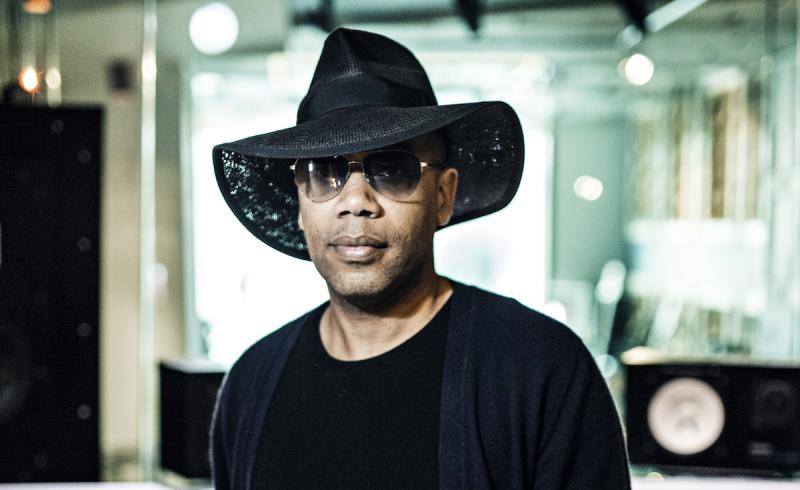 In the eight years since theartsdesk last spoke to Carl Craig, a lot has happened. He moved from his native Detroit for a sojourn in Barcelona (partly for ease of access to his summer DJ residencies in Ibiza), then recently returned.
He's reinvented tracks from his back catalogue for orchestra, in a style he dubbed "action and adventure" - certainly more John Williams than Debussy - and has performed them as such around the world. He's successfully built the Detroit Love brand for compilations and club nights via his Planet E label, featuring the city's unsung heroes like Stacey Pullen, Terrence Parker and latterly Robert "Waajeed" O'Brien who has just mixed an absolutely stellar
Detroit Love compilation
. Craig has also represented his city by releasing original and reworked material by cult Detroit
cosmic jazz
player Marcus Belgrave, who died in 2015.
As a musician, Craig's output of new music has been relatively sparse in this period though, with mainly collaborative projects seeing the light of day: a 2015 album with Chicago house star Green Velvet, and a couple of lengthy improvised tracks last year with Argentine modular synth quartet Klauss last year. Which is why it was extremely exciting to find out he had resurrected his Paperclip People guise – with which he made some of his most devastatingly direct dancefloor tracks of the mid-late 90s – for both live shows and new recordings. We spoke to him on the phone from Detroit as he prepared for the first Paperclip People shows in two decades at the Polaris Festival in Verbier, Switzerland next weekend - to be broadcast live on the Boiler Room platform. For all that a lot has happened since 2011, in he remains the very same genially profane conversationalist he ever was, and just as much an evangelist for the music he believes in.
JOE MUGGS: The last project you were majorly publicising was the orchestral Versus album in 2017 - what's been happening since then?
Well, I've still been touring that. When it came out we debuted the Synthesiser Ensemble to perform it, but then it morphed into doing more dates for actual orchestra. Myself and Kelvin [Sholar], my right-hand piano man, we go and perform the music with orchestras - the last one was in Basel with Basel Sinfonieorchester, and we did one in Oslo [with Kringkastingsorkesteret] and before that at the Royal Albert Hall with Chineke! Orchestra. It's a really big deal to be able to do this, and for the interest to still be there in it.
So these tracks, which began as electronic were orchestrated, then re-worked for live synth peformance, then re-orchestrated again?
It's evolving quite well. With other people playing your music, it's important that the actual written music is done well. When we sat down with an orchestra first time around, that was with scores that Francesco [Tristano, Luxembourgish composer / pianist / electronic musician, and regular Craig collaborator] wrote, which were great. But then because of how the album was mixed, it became about adapting the scores to reflect that, then it kind of fell apart, then finally we hooked up with an artist you may know, Kate Simko from Chicago. Kate has been in charge of cleaning up those arrangements, making alterations and modifications to make them easier to read and make more sense for certain sections and how they play. There's so much behind the scenes stuff that for ordinary motherfuckers is probably not that interesting, but has a real effect on how things sound, and I feel like we're now getting closer to how records were originally made way back in the day with arranger, conductor, producer all putting a roadmap together before it can be played or recorded. I've always been a fly by the seat of my pants guy, getting inspiration as I go, but this is something that's totally different and a real challenge for me - and I love it!
So does this now affect how you work when you go back to writing new music?
I might be driving my Ferrari out on the street or in races, but I have to bring it back and make sure all the bolts are in tightNot yet... not in terms of how I'm writing. In the studio I'm still based around technology and using apps to try and make things wonderful, which somehow make things un-wonderful. But what I do find, I think because of this paying attention to the mechanics behind the scenes with the orchestras, is that I'm doing something similar: looking behind the scenes to try and get things working at the forefront. So when I didn't like where the main power button for my equipment was, I rearranged all the power conditioners, then I went out for dinner, but when I came in this morning this shit was plaguing me, so I had to pull out all the wires, so all the power cables are plugging in in the places I want them. If someone comes in and presses the power button and the power comes on, it doesn't make any difference to them, but for me, I had to make sure every power cable was in line, not like a whole bunch of spaghetti behind there so I'd have to rethink it later or unpick it all next time I want to add or remove pieces of gear.
I'm looking at this stuff like if I had a Ferrari, and I had a mechanic shop where I worked on my Ferrari all the time: I might be driving my Ferrari out on the street or in races, but I have to bring it back and make sure all the bolts are in tight. So I'm making sure the speakers are all tuned, that the turntable and CD players are in the right places, that I have the drum machines out that I want to use, not just ones that are eye candy but basically confusing me. All of this is what I'm learning from orchestral arrangements - get shit out of the way so I don't need to think about it when I'm composing.
And what are you composing? You've brought Paperclip People back: is that a sign you're dancefloor focused in your track writing now?
That's questionable. I brought Paperclip People back because it's about time that it happens. What Paperclip People is going to be is going be whatever it becomes. Times are a tad bit different, there are a lot of people sampling a lot of music now - is Paperclip People going to be like what they're doing, or is it going to be something different? We'll see how it pops up. I'm trying it out. But as far as the performances go: yeah, they're straightforward, get-down-and-jam performances. Yeah they're for dancing.
There are new tracks, though?
Yeah there's tracks I'm working on over time, but I don't know if people are ready for them yet. The performance will be the classics... I know what's the moves, so it's just like pushing the buttons and letting the sound fly like daggers [chuckles].
Aside from orchestral and other live shows, are you still out there DJing in clubs plenty?
Oh yeah. And there's some great gigs still to be had out there. Panoramabar [part of Berlin's notoroius Berghain club] is always great. I didn't do a 13½ hour set there like Seth [Troxler, Detroit born global superstar DJ and sometime protege of Craig's] did, but it's still a great party, we do our Detroit Love parties there. It's always amazing to come to London, it's always amazing to come to Tokyo, it's beautiful that there are still some great clubs in the mix, it's just unfortunate about the health of clubs not being as strong as we know it should be. I don't think the club is revered globally as much as it should be. Like with fabric almost getting closed down. A club used to be a community, a meeting spot, with its own DJs, these things that made clubs like The Loft and Paradise Garage [both NYC] and the Music Institute [Detroit] the legends that they are: we don't hear so much about clubs in that sense. Too many clubs just want the latest-greatest, and don't even keep their soundsystems tuned up which is why I bring a guy with me to make sure the soundsystems are tuned right!
There's a lot of focus on small bars with "audiophile" sound now, but then a big gap between them and the bigger venues...
Right, right. Those places are great, but it's the small to medium sized that are missing. I miss [revered London club] Plastic People man. That was something that was quite incredible, and sadly we don't have that now. It's so simple in so many ways - a dark room, a good sound - but hard to get right. But also the gentrification thing is just a pain in the ass: you get those bits of London where it goes from being considered the deepest, darkest 'hood, then you can put a club in and not be bothered there, then the area starts getting loads of bars, restaurants and things happening, then people move in because it's the hip place to be, then they have kids, get a little older, and start complaining about that shit that they moved into the area in in the first place. Like man, you can't have it both ways, good lord!
How about Detroit, how are things culturally there?
Well the city is having a renaissance, certainly with new bars and restaurants, there's new ones popping up every couple of weeks. I hadn't been here 24/7 for a few years because I was living in Barcelona, but now I'm back I'm trying to keep my eyes open to what's happening as regards clubbing is concerned. There hasn't been anything I've seen that's been adventurous enough to mention, certainly not on a weekly basis. Dimitri from [long established Berlin techno institution] Tresor has been wanting to open a club here for some time, I'm not sure where that's going right now but it'd be great if he does get it off the ground and does something really special with it. Sometimes you need someone from the outside to show you how to do your thing!
But talent-wise Detroit keeps on giving: by having Waajeed curate the new edition of your Detroit Love mix series, did you want to nod to how much techno overlaps with deep house and more soulful stuff?
That overlap should be known about yes. There's so much musical history that's come out of Detroit. Of course with Motown, we've had soul since 1958, 1959, whenever and that whole legacy. We've had beginnings of hard rock with MC5, beginnings of punk with Death and Iggy & The Stooges influencing so much. Of course we've had The White Stripes in rock too. Then we've had J Dilla, Eminem, Slum Village and other great rap groups - maybe not as many as have come out of Atlanta or Los Angeles or New York, but ones that have made such huge impact. Dilla is one of the most impactful producers in the whole of hip hop, with influence way beyond. Then of course my brothers in the Detroit techno movement.
I think with Detroit there is an obligation to delve in deeper, to really see how much history has been important. It was one of those places people were coming to to make their careers - Rick James and George Clinton and Ashford & Simpson and Norman Whitfield coming to be near the Motown machine, but of course making their names in their own right too. And that's been true with techno, too, people like Matthew Dear who came into the area from Texas and started making this great music. So just like with the music that I grew up listening to from England - Heaven 17 and Visage and Frankie Goes To Hollywood and Throbbing Gristle and On-U Sound stuff - I wanted to know about why people would be making this stuff in Liverpool and Sheffield and places like that, what it was that fed into this explosion of amazing music making.
So yeah, somebody like Waajeed can help you understand, he has this history in Detroit rap music with Slum Village, he's made soul with Platinum Pied Pipers: people know him for different sorts of music and now he's making house music on the verge of techno... so when somebody's interested in what he's doing, and they see he's in a similar place to Theo Parrish and Kenny Dixon [aka Moodymann] and Andres, then they'll do a little more research and see Waajeed was hanging with Mike Banks, and they'll see how Underground Resistance use jazz and soul in their records and connect that to Jeff Mills and to Juan [Atkins], Derrick [May] and Kevin [Saunderson - this latter trio, known as "The Belleville Three", are credited with inventing Detroit techno], and get a sense of how it all fits together. It's really funny to me that when rap guys make house music they make some of the best house, they make it better than guys who sit around making house all day.
And for you, what's next, beyond the Paperclip People live shows?
I don't like talking about the next thing, I just like doing it. It's very easy to get ahead of yourself by trying to promote your ideas and them not follow through on them. So I would rather make my ideas come to life, and then brag about it.
I know what's the moves, so it's just like pushing the buttons and letting the sound fly like daggers
Explore topics
Share this article