Anaïs Mitchell, Bonny Light Horseman, Roundhouse review - heart-warming folk bliss |

reviews, news & interviews
Anaïs Mitchell, Bonny Light Horseman, Roundhouse review - heart-warming folk bliss
Anaïs Mitchell, Bonny Light Horseman, Roundhouse review - heart-warming folk bliss
A magical voice, beautiful songs, profound authenticity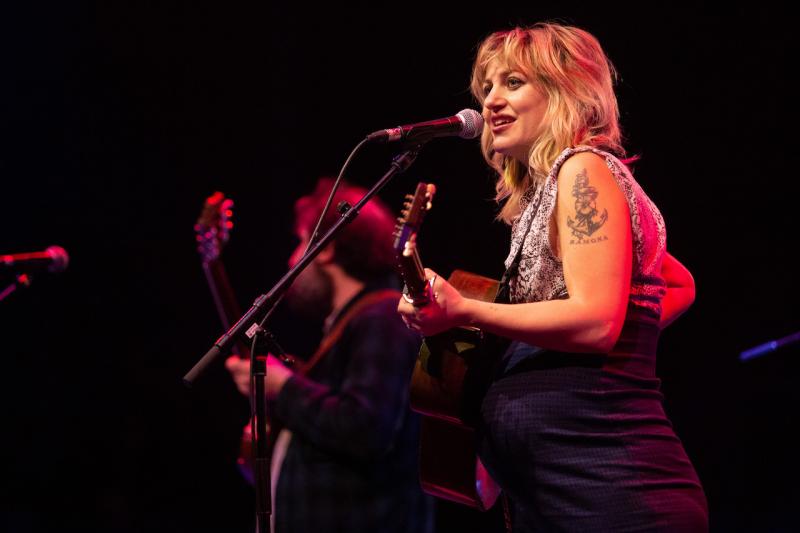 Singer with child, and tattoo dedicated to her first-born
Anaïs Mitchell should be a star: she sings like a dream, oozes presence and charisma, and writes songs of classic simplicity, poetry and depth. Her other outstanding quality is a natural modesty and a delight in just being herself on stage, and sharing the joys of music-making with her fellow-musicians and the audience.
Throughout the scintillating evening of her Roundhouse show, she never posed, sought attention or relied on well-rehearsed patter. She acted as if she were in her own front-room: relaxed, at times endearingly hesitant, and at others fiercely engaged with the emotions of her performance. She is seven months pregnant with her second child, and wears her happy state with pride, in a tight dress rather than a loose disguise, and it's perhaps that proverbial glow which makes her beauty even more captivating than usual.
In the first set, she was content with being a member of the band, Bonny Light Horseman (pictured below), contributing sweet harmony backing vocals, and only occasionally singing solo. Her totally attuned cohorts are Eric D Johnson, whose crystal-clear plaintive voice matches the soulful ache of Mitchell's own, not least on the heart-melting "Deep in Love"; and the guitarist Josh Kaufman, whose reliance on the tremolo effect is both a delight and an occasional irritation, rescued by the eloquent conciseness of his well-paced and placed riffs and solos. The rhythm section, finely attuned to each other, seem to be genuinely taking pleasure in their supportive role. JT Bates, the drummer, discretely but impeccably keeps time and more, with muffled mallets and sticks, and the subtle play of his brushes. Michael Libramento gives stalwart yet supple support on the bass.
For the second set, Anaïs Mitchell returns as lead singer, but still with the guys from Bonny Light Horseman, providing the same warm and perfectly-synced setting for her poignant explorations of love, birth and death, many of them off her masterpiece of an album Young Man in America (2012) and from Hadestown, with fine songs that developed into the stage show now making waves on Broadway. She does a couple "folk-style", as she says with a touch of characteristically sweet irony. This includes one of the best, the incredibly touching "Now You Know", a circular song which alludes to the intimate and fateful connection between love, conception, birth, love again, and death. The song has special relevance, as she sings it with her guitar resting on the seven-month bump below. Mitchell's voice, girlish yet a million years wise, suits the mixture of delicacy and depth that makes her so unique. She has a way of playing with the mic, moving back and forth across it from side to side, so that the volume of her voice rises and drops with subtle passion.
She closes the show – before the encores – with a reminder that this is the day Britain is leaving the EU: she launches into her powerful and most political song, "Why We Build the Wall", with that canny play on paradox, "we build the wall to keep us free": this is freedom from poverty, and the feared and menacing "other". Once again, her lyrics draw emotional power from repetition and shifts in meaning, the best kind of poetry, profound yet immediate in its impact. A song about Trump's wall, but so relevant to her London audience on Brexit day, as the fearful close the door on so much that might keep us open-hearted and alive.