Courtney Pine, Ronnie Scott's |

reviews, news & interviews
Courtney Pine, Ronnie Scott's
Courtney Pine, Ronnie Scott's
Sensational solo performances launch like missiles from a static base
Friday, 18 September 2015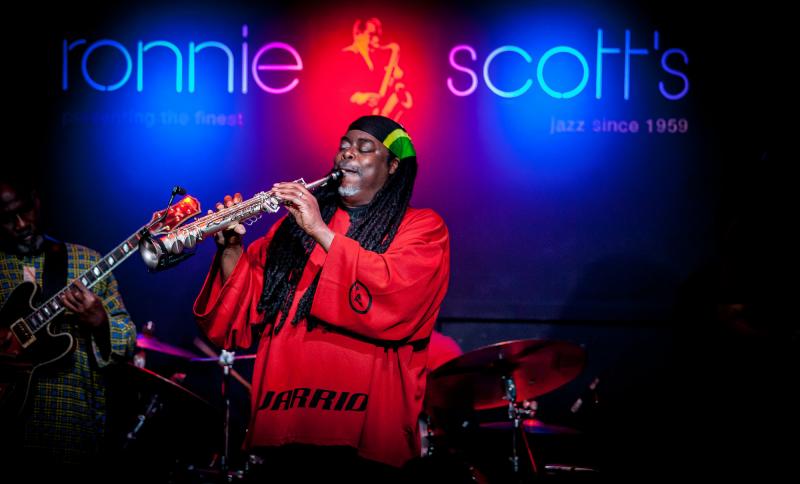 Courtney Pine, soloing into the stratosphere
Courtney Pine's Caribbean-flavoured album House of Legends was released three years ago, and it says a lot that he's still touring it. This riotously melodic collection of ska, soca and calypso, embellished with some scorching solo work, has certainly proved popular, as the latest sell-out run at Ronnie's testifies. Pine cheerfully apologised for a lack of CD's to sell at the gig: they've all been sold.
However, a critic more prone to stroke his chin than shake his (or her) booty (chin-stroking being generally a male pastime) would probably suggest that this reflects a certain lack of urgency and vision on Pine's part. It's long been regretted in the literature that Pine doesn't make more records, and to be still touring a three year-old album does seem, frankly, a little lax.
In fact, the current Ronnie's residency has proved both views correct. Pine's virtuosity, in better voice than ever, makes for sensational entertainment, and the biggest-swinging tracks from the album – "Kingstonian Swing", "Claudia Jones" and "Song of the Maroons" – will move all but the most cerebral avant-gardeist. When playing solo, Pine sometimes used what could almost have been, in different circumstances, a party trick, as his notes accelerated wildly until he sounded more like a chirruping songbird. It was like watching a helicopter taking off. Even the more conventional solo work was, on its own terms, irresistibly loose-limbed. Sadly, Pine's ewi (electronic wind instrument, used on "Samuel Sharpe") remains, its hideous, saccharine tone belonging to a children's toy, not a professional performance, as critics noted when the album was released.
Instinctively, he seems to be more of a showman than a driven musical innovator
There were solo spots for the rest of the band – drummer Robert Fordjour, bassist Vidal Montgomery, guitarist Cameron Pierre, and steel pan player Samuel Dubois – all of which were taken elegantly and engagingly, without, perhaps, involving one another in their playing in any very novel way. At times, the whole-band sections of a song felt subservient to the solo – they were just the base from which the missile is launched – and this did feel rather old-fashioned. Pianist Mario Canonge (alongside Pierre, the only band member remaining from the album recording) had a whole song to himself: a slower-burning, more introspective piece that still had plenty for fans of melodic jazz to enjoy.
The audience loved it. Pine basked genially in the bandleading limelight, though his patter bigging up Ronnie's (not wrong but unnecessary) became repetitive. There was, however, no mention of any new work, let alone excerpts performed. Instinctively, he seems to be more of a showman than a driven musical innovator, loving the limelight for its own sake. He surely has much more to give, but it's time to move on now.