Jazz Voice, EFG London Jazz Festival review - from intimate delicacy to stunning virtuosity |

reviews, news & interviews
Jazz Voice, EFG London Jazz Festival review - from intimate delicacy to stunning virtuosity
Jazz Voice, EFG London Jazz Festival review - from intimate delicacy to stunning virtuosity
Celebration of the voice offers cherished classics and newly composed delights
Singular artistry: singer, songwriter and cellist Ayanna Witter-Johnson
A celebration of that most extraordinary instrument, the human voice, this year's edition of Jazz Voice – which gladly welcomed back a live audience and a full-strength EFG London Jazz Festival Orchestra – ranged from music of intimate delicacy to stunning virtuosity.
Across two separate sets, eight singularly gifted artists showcased their distinctive storytelling gifts, enveloped by Guy Barker's richly detailed arrangements.
Georgia Cécile kickstarted proceedings in impressive style with "The Month Of May" from her all-original debut album – recently nominated in this year's Scottish Jazz Awards – Only The Lover Sings. Cécile's ability to sustain the melodic line came strongly to the fore in Barker's gorgeous, daringly slow arrangement of the beautiful George Gershwin/Buddy DeSylva standard, "Do It Again" (Georgia Cécile pictured below).
US vocalist Sachal Vasandani channelled his customary lyricism and understatement in the self-penned ballad "Because I Love You" and gave a captivating performance of Abbey Lincoln's "Throw It Away", a song he's so fond of he's recorded it twice (on his 2018 album Shadow Train and this year's duet album with Romain Collin, Midnight Shelter).
Singer, songwriter and cellist Ayanna Witter-Johnson poured her singular artistry into the unusually rich chord progressions of the Bee Gees' smash hit, "How Deep Is Your Love". It was an especial delight to hear her original song "Sing On Nightingale" cloaked here in its new orchestral garb.
Kurdish singer Aynur's visceral power and raw emotion took the breath away in "Govend e", whose deep pocket was marked by a bone-shaking downbeat on bass drum and darbuka. Pianist Nikki Yeoh, an outstanding presence throughout and one of several new faces in the orchestra, seemed to particularly enjoy this one as she carved out huge slabs of sound on the RFH's Steinway grand piano.
As the evening's excellent host, Jumoké Fashola, noted, Aynur's second song, "Hedûr", expressed "how music is not only a real solace and comfort, but also a conduit for hope, inspiration and creativity". Barker's electrifying arrangement and Aynur's heart-on-sleeve vocal performance combined to overpowering effect.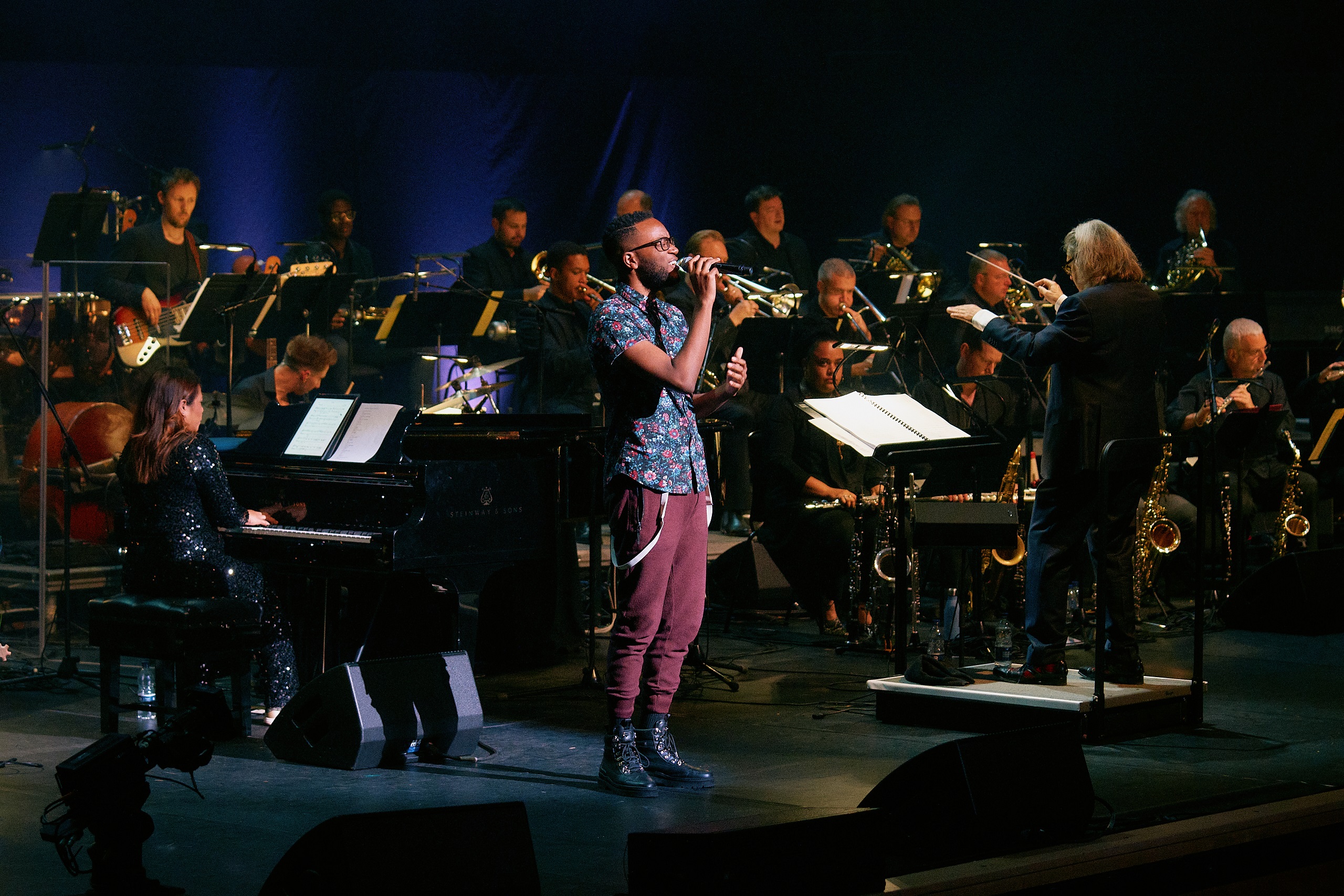 From his debut album Bones released earlier this year, LA-born, NYC-based vocalist Michael Mayo's multipartite "You and You" delivered a killer chorus hook, surprising harmonic shifts and metrical sleights of hand at every turn, with Barker's use of flutes adroitly shadowing the vocal line. In the second set, Mayo bathed us in the blissful beauty of "Cure", written by neo-soul trio Moonchild (Michael Mayo pictured above).
With a voice of crystalline beauty, the Brooklyn-based French-Caribbean singer, bassist and producer Adeline presented us with "Twilight", an exquisite slice of old school soul excerpted from her 2020 EP, Intérimes, before flooring the audience with the Donny Hathaway/Edward Howard masterpiece, "Someday We'll All Be Free" (Adeline pictured below).
NYC altoist Lakecia Benjamin gave an impassioned performance of "Syeeda's Song Flute" from her all-star 2020 homage to Alice and John Coltrane, Pursuance: The Coltranes – and a special note of thanks to the RFH front of house engineer for the perfectly balanced sound between soloist and orchestra. In set two, Benjamin treated us to her powerful self-penned blast of positivity, "March On".
Named 'Vocalist of the Year' at last month's Jazz FM Awards, South London singer-songwriter Ego Ella May paid tribute to the late Amy Winehouse with a performance of "Mr Magic" which nodded to the version Winehouse recorded as a bonus track on her 2003 album, Frank. Prefaced by a sumptuous opening in strings and harp, the self-penned "For The Both Us" documented a relationship breakup in an infinitely tender way (Ego Ella May pictured below).
Heard at the beginning of the second set, the evening's customary instrumental centrepiece paid homage to some of the finest jazz scores written for the silver screen, with Barker's spectacular arrangement weaving together music by Sonny Rollins (Alfie), Miles Davis (Ascenseur pour l'échafaud), Quincy Jones (The Italian Job), Duke Ellington/Billy Strayhorn (Anatomy of a Murder) and more.
For the finale, all eight artists, plus Fashola, came together on stage to perform the title track of one of the greatest albums of the twentieth century, Marvin Gaye's What's Going On, a recording which turned 50 this year but whose central themes remain every bit as relevant today.
The evening's instrumental centrepiece paid homage to some of the finest jazz scores written for the silver screen
rating
Explore topics
Share this article