Cécile McLorin Salvant, EFG London Jazz Festival review - strength, vulnerability and humour |

reviews, news & interviews
Cécile McLorin Salvant, EFG London Jazz Festival review - strength, vulnerability and humour
Cécile McLorin Salvant, EFG London Jazz Festival review - strength, vulnerability and humour
The vocalist and composer channels Kate Bush and Brecht/Weill to transfixing effect
Thursday, 18 November 2021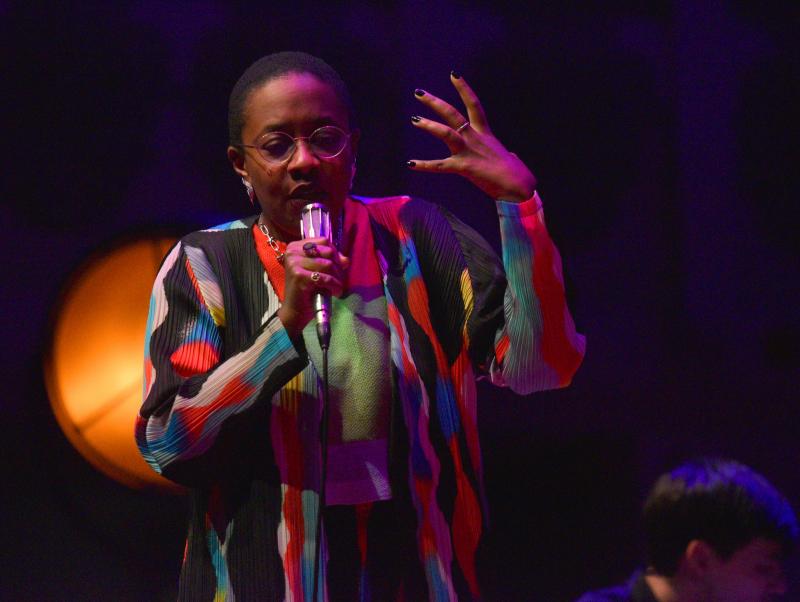 A tableau of constantly shifting scenes: Cécile McLorin Salvant
A fascinating song list that juxtaposed originals with musical theatre, pop songs, Brazilian music and more.
An inventive, listening band – take a bow Glenn Zaleski (piano), Alexa Tarantino (flute), Marvin Sewell (guitar), Yasushi Nakamura (bass) and Keito Ogawa (percussion) – who supported singer and song in the most empathetic way possible. And a central performance that combined strength and vulnerability, humour and irony, a strikingly beautiful timbre, and an absolute focus on the lyrics and the story.
Vocalist, composer and three-time Grammy winner Cécile McLorin Salvant, together with her new sextet, delivered all this and more to an enraptured audience at Cadogan Hall as part of this year's EFG London Jazz Festival.
An astutely paced set opened with "Fog" from her 2015 album For One To Love ("it's about two gloomy bass players I once knew", she quipped), a song which has always seemed painterly in its approach, a tableau of constantly shifting scenes (in a Q&A for The Arts Desk, McLorin Salvant noted the central importance for her of visual art).
Her ability to completely reinvent a song was heard to transfixing effect in a brace of Kate Bush covers, an entirely unaccompanied "Wuthering Heights" – the opening track of her forthcoming album Ghost Song slated for release on Nonesuch in early 2022 – which segued to a hymnic, full band version of "Breathing".
Other material from the new album included "Thunderclouds", a song the vocalist noted was inspired by Marcel Carné's 1945 film, Children of Paradise ("Kindred spirits, where are you?", she joked when this reference drew a blank from the audience), as well as the tender, conversational title track with its haunting refrain ("I will dancе with the ghost of our love, I will dance with the ghost of our long lost love"), which saw Tarantino joining in mellifluous harmony – a lovely textural detail.
With its dramatic imagery of bodies piling high, the chilling revenge fantasy "Pirate Jenny" from The Threepenny Opera (Brecht/Weill) was a standout, as was the soaring chorus of Djavan's "Upside Down (Flor de Lis)" and the striking reimagining of Dori Caymmi's "Obsession". For her encore, McLorin Salvant returned to Act I of The Threepenny Opera and a freshly learnt "Barbara Song" which brought the house down.
In the company of bassist Joe Downard, tenor saxist and composer Xhosa Cole's impressive opening set showcased the multifarious talents which have seen him scoop a trio of high profile awards in three consecutive years – BBC Young Jazz Musician of the Year in 2018, 'Jazz Newcomer of the Year' at the 2019 Parliamentary Jazz Awards, and 'Breakthrough Act of the Year' at the 2020 Jazz FM Awards.
Even before Cole dipped into the repertoire of one of his most important touchstones, Thelonious Monk, with a fine solo take on "Round Midnight", complete with moto perpetuo opening, and an incisive, ludic reading of "Played Twice", the latter of which Cole recorded on his acclaimed debut album K(no)w Them, K(no)w Us, Monk's stylistic fingerprints were already in evidence – not only in the angularity of the opener "Andy's Shuffle" (named after the late Birmingham musician and educator, Andy Hamilton), but also the decidedly Monkish lens through which Cole viewed Strayhorn and Ellington's "Isfahan". No smoothly seductive bending of notes à la Johnny Hodges here, but instead an opportunity for some intricate rhythmic displacements.
A change of tempo and mood allowed Cole to flex his balladeering, romantic side in a take on the Gershwins' "I've Got A Crush On You", which concluded with a wondrous sequence of arpeggiated lines.