Linda Perhacs, Kantine am Berghain, Berlin |

reviews, news & interviews
Linda Perhacs, Kantine am Berghain, Berlin
Linda Perhacs, Kantine am Berghain, Berlin
After decades in obscurity, the enigmatic California folkie makes her first ever European performance
Wednesday, 04 December 2013
Linda Perhacs in her fleeting heyday: untainted hippy wisdom
There's been a quiet but nevertheless palpable sense of anticipation surrounding psych-folk enigma Linda Perhacs' first-ever European tour. Comparatively low-key advance publicity certainly proved no impediment to a sold-out house for the recent opening date at Berlin's Kantine am Berghain, a somewhat drab and unprepossessing bunker in the shadow of the city's notorious techno temple.
The late bloomer/Indian summer narrative has become ever more familiar to music fans in recent years. Vashti Bunyan and Terry Callier were both rescued from obscurity via a combination of serendipity and a devout fan-base, but what's remarkable in Linda Perhacs' case is that her cult status rests upon just one long-forgotten album, albeit a remarkable one.
Perhacs returned to her day-job as a dental technician in Beverly Hills By a quirk of bad timing, Parallelograms, Perhacs' 1970 debut and her sole release to date, had the misfortune to emerge into a post-Altamont world where the hippy dream of the 60s was beginning to sour and harden. In the face of widespread indifference and at the hands of a label with no interest in giving it even the most perfunctory promotional push, it sank without trace, its creator returning to her day-job as a dental technician in Beverly Hills.
Forty-three years later, the album still sounds leagues ahead of the soft-rock fluff of the time, overflowing with adventurous ideas and arrangements, as individual and original as anything Joni Mitchell, Laura Nyro or Judee Sill were doing around the same period. In any event, time proved to be a kinder judge than the whims of public taste and a 1998 reissue by US psychedelia specialist Wild Places led to the album becoming a touchstone of the New Weird America movement that emerged in the early noughties. Suddenly, Perhacs found herself being championed by artists as diverse as Devendra Banhart, Julia Holter, Prefuse 73 and Mikael Akerfeldt of Swedish metallers Opeth.
Now, on a chilly November evening in 2013, Perhacs and her musicians – vocalists Durga McBroom and Michelle Vidal, and instrumentalists Chris Price and Fernando Perdomo - take the stage in front of a packed room. Despite a relative lack of live experience, and with a looming German winter playing havoc with her vocal cords, Perhacs proves to be an immensely engaging performer who manages to summon up an infectious, graceful intimacy perfectly in keeping with her California roots.
The minimalist line-up does a decent job of capturing some of the earlier material's complexity, Pink Floyd alumna McBroom perhaps harking back to her live feature on "Great Gig in the Sky" during the free-form passage in Parallelograms. Generally, though, the performers seem more relaxed when performing material from Perhacs' forthcoming album The Soul of All Natural Things, and Perhacs herself displays a remarkable lack of ego in granting each of her band members a feature of their own.
More often than not, the announcement from the stage that "we're now going to play a few songs from the new album" is the cue for the audience to groan inwardly, but Perhacs generates enough warmth to offset the unfamiliarity of songs like Prisms of Glass and Song of the Planets, staying true as well to the enduring folkie tradition of the explanatory prologue. Her lead-in to Hey, Who Really Cares is a rambling story of its origins as the title music to short-lived US television drama Matt Lincoln, involving her dragging herself from her sick bed to write and record last-minute lyrics for Oliver Nelson's theme tune. If You Were My Man, the melancholy ballad featured in Daft Punk's 2007 sci-fi road movie Electroma, is introduced as a song about "the one that got away, and he really did get away…", the catch in her voice drawing an audible "Awww…" from the audience's female contingent.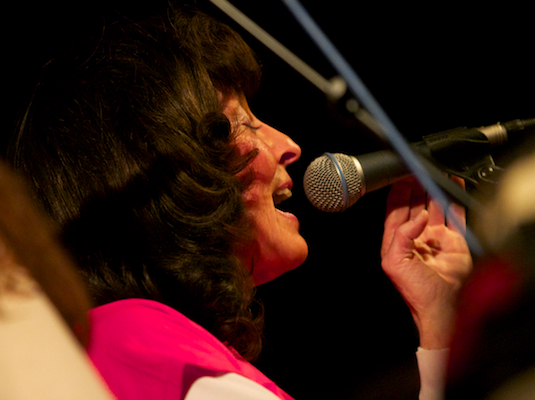 It'd be very easy to wave Perhacs away as being little more than a throwback to the kind of values that are anachronistic by present-day standards. But the enduring impression left by this tiny, softly-spoken lady is that of utter sincerity, and it'd be a cold heart that couldn't warm to it at all. She embodies undiluted Topanga Canyon campfire hippy wisdom in its purest form, seemingly untainted by almost a half-century of facile cynicism and rapidly-changing trends.
In that sense, perhaps she is a throwback, albeit one who's eager to engage with and embrace the present rather than live off nostalgia. Despite its beauty, Parallelograms is a record that's always hinted at thwarted potential and unexplored ideas – it was hard for the listener not to wonder what might have come next. Linda Perhacs has waited a longer time than most for a second turn on the wheel. Now she has a chance to follow through on those ideas, she seems determined to make the very most of it, and on her own terms.
Overleaf: watch the video for Perhacs's new song "Freely"
Perhaps she is a throwback, albeit one who's eager to engage with and embrace the present rather than live off nostalgia
rating
Share this article