Donovan, London Contemporary Orchestra, Royal Albert Hall |

reviews, news & interviews
Donovan, London Contemporary Orchestra, Royal Albert Hall
Donovan, London Contemporary Orchestra, Royal Albert Hall
The Sunshine Superman pulls out the psychedelic stops - aided by Jimmy Page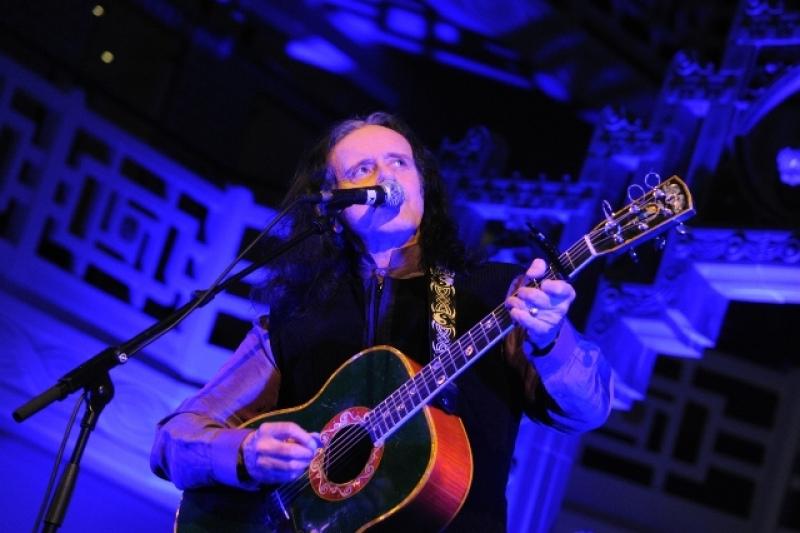 Donovan: Psychedelia wins out over naffness
A question passed through my mind before last night's Donovan show. Special guests were billed for this celebration of his classic psychedelic album Sunshine Superman. Perhaps they'd include Jeff Beck or Jimmy Page, both of whom played on Donovan's records in the Sixties. Then, introducing "Sunshine Superman", Donovan mentions the then-session player Jimmy Page, who walks on and joins in. Seeing Page reunited with his pre-Led Zeppelin, pre-Yardbirds session man self was incredible.
Needless to say, he played great. Donovan shone.
Although Donovan got off to a flying start, scoring a residency on TV pop kaleidoscope Ready Steady Go, he was pretty easy to lampoon. He borrowed the first-album Bob Dylan look. His acoustic guitar had "This machine kills" written on it. He lacked the gumption to use the full "This machine kills fascists" phrase that Woody Guthrie's guitar had sported. No wonder, then, that Dylan himself was chippy when the pair met, famously caught in the film Don't Look Back. But Donovan was full of chutzpah and hurtling forward musically. His March 1965 debut single "Catch the Wind" was in hock to Dylan - for whom the answer was blowing in the wind. Donovan was going to catch the wind itself, answers and all. By December 1965, when he recorded "Sunshine Superman" in London, Donovan was prematurely inventing psychedelia. His Pye Records label mates The Kinks had kick-started something with their July 1965 raga-influenced single "See My Friend".
That same December also found The Byrds recording their first version of "Eight Miles High" in LA. Donovan would never be as cool as The Byrds, partly due to the faux Dylanisms of his immediate past, but also because his long-playing psychedelic calling card, the Sunshine Superman album, was issued in the US only in September 1966. The sunshine in "Sunshine Superman" refers to LSD, while "The Trip" and "The Fat Angel" ("He will bring happiness in a pipe… in consenting to blow your mind, fly Translove Airways, get you there on time") laid it out. Legal wrangles (not about its content) prevented its UK release. When the British Sunshine Superman album finally emerged in summer 1967, it bowdlerised his two previous US sets. A June 1966 drug bust at his London home hadn't helped either.
Which, many many years on, two weeks after fellow Sixties types The Monkees hit the same stage, brings us to the Royal Albert Hall for this reclamation of Don's legacy – not just in psychedelia, he also pioneered fusing jazz and pop. Reunited with the Sunshine Superman album's arranger John Cameron and with full backing from the London Contemporary Orchestra, this concert was a statement. Also joining Don were long-time collaborator Danny Thompson on stand-up bass and Shawn Phillips on sitar and guitar.
Just how convincing a statement could this be? With his poufed-up dyed hair, Donovan looks preternaturally naff. And his voice is not what it was. It took until the third chorus of "Wear Your Love Like Heaven" for him to be able to reach the high register. His over-wobbly vibrato on "Catch the Wind" was, well, over-wobbly: "catch the w-w-i-i-i-i-n-d-d", he sang.
But this is the man for whom strolling towards the ridiculous was always part of the bargain. Opening the concert with "Catch the Wind" was an immediate hello from the eccentric world of Donovan, his music and how he delivers it. Solo acoustic runs through "Colours", "Try for the Sun" and "Universal Soldier" addressed the early Dylan era with terrific panache. The orchestra came on and the weirdness began with "Sunny Goodge Street" and a splendidly clangerous "Epistle to Dippy". After "Jennifer Juniper", the third section of the first set peaked early with an intense "Hurdy Gurdy Man". "Barabajagal" followed. A lone groover got up in the stall's aisle, flailing as if he were at Spike Island. "Barabajagal" wasn't far from The Stones Roses' "One Love". Happy Mondays were card-carrying Donovan fans. Noel Gallagher was in last night's audience. Another thing then that Donovan pioneered: the Manc sound.
But cheese still surfaced. Donovan's daughter Astrella Celeste made portentous announcements from the side of the stage. "Lalena" was introduced with the bon mot that Donovan "understands the dark night of the soul". "Hurdy Gurdy Man" was "epic Celtic rock".
The second set was an almost flawless run-through of the American, original Sunshine Superman album, opening with the Jimmy Page-assisted "Sunshine Superman". "Season of the Witch" was as trippy as it could ever be and, with Cameron's sweeping, filmic orchestration, probably better than it ever was live. Sat with a tabla player and Shawn Phillips on sitar, Donovan delivered a sensitive "Three Kingfishers". "The Trip", though, could have done without the mugging presence of Donovan Leitch Jr on second vocal.
Donovan is a little absurd, and this is what makes him and his questing music great. With a self-consciousness, he could never have pioneered psychedelia or written a song like last night's show closer "Atlantis". This was a reclamation. Yet Donovan remains an eccentric visionary.
Watch Torbjörn Axelman's 1966 promo film for Donovan's "Sunshine Superman"
'"Barabajagal" wasn't far from The Stones Roses' "One Love". Donovan pioneered the Manc sound'
Share this article