Music Reissues Weekly: Keeping Control, Where Were You - Leeds and Manchester navigate the aftershocks of punk |

reviews, news & interviews
Music Reissues Weekly: Keeping Control, Where Were You - Leeds and Manchester navigate the aftershocks of punk
Music Reissues Weekly: Keeping Control, Where Were You - Leeds and Manchester navigate the aftershocks of punk
Box-set chronicles of independent-minded regional music scenes
Where were they? Gang Of Four make a run for it.
"Keeping Control" were the watchwords adopted by The Manchester Musicians' Collective, an organisation founded in April 1977 to bring local musicians together and give them platforms. On 23 May 1977, it put on its first show – also the first live show by The Fall. Instantly integral to Manchester and its music, the Collective went on to put out two compilation albums, 1979's A Manchester Collection and 1980's Unzipping The Abstract.
"Where Were You" was originally the title of December 1978's second single by The Mekons, a Leeds-based band formed the year earlier by students attending the Fine Arts Department of the city's university.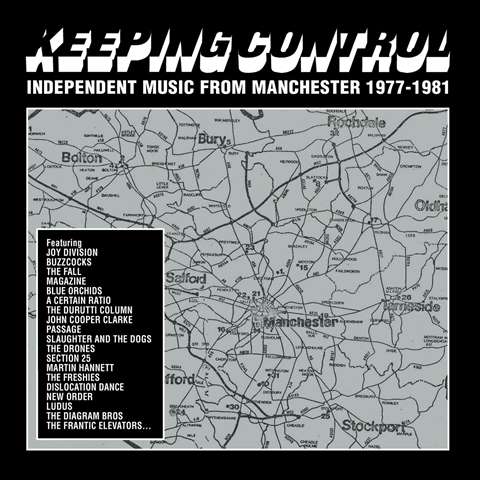 Each expression has been borrowed for the titles of two clamshell triple-CD box sets with self-explanatory titles: Keeping Control - Independent Music From Manchester 1977-1981 and Where Were You? - Independent Music From Leeds 1978-1989. Geography specific collections are an archive release staple and Manchester has been looked at multiple times before. Leeds is a less celebrated musical destination.
Given the Manchester Musicians' Collective-related title and the fascinating, connected material illustrated in its booklet, rather than as might be expected, Keeping Control does not open with The Fall. Instead, the first track is Buzzcocks' November 1977 single version of "Orgasm Addict." Further punk-period tracks follow: Slaughter and the Dogs' "The Bitch," The Nosebleeds' "Fascist Pigs," The Drones' "City Drones," The Panik's "Murder," V2's "Nothing To Do," Jilted John's "Jilted John" – all familiar signposts in Manchester's musical history. The Fall slot-in as Track One, Disc Two with a less predictable choice, "Flat Of Angles" from their October 1979 second album Dragnet.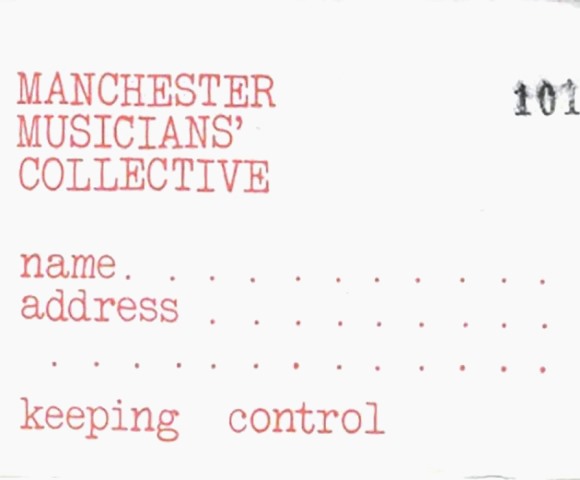 As the set progresses, musical individuality is asserted with contributions by, amongst others, The Distractions, The Durutti Column, God's Gift, Manicured Noise (formed by transplanted Londoner Steve Walsh). Joy Division's "Digital" crops up on Disc One. Disc Three ends with New Order's "Everything's Gone Green." Tracks from the Musicians' Collective-associated label Object Music are heard, as are selections from Unzipping the Abstract. The pivotal Louise Alderman, fundamental to the Musicians' Collective, contributes an essay to the booklet as does TJ Davidson, who ran the TJM rehearsal space and the label of the same name (tracks from its singles and the TJM comp album Identity Parade are included). (pictured left, a Manchester Musicians' Collective membership card)
Where Were You? is the more amorphous of the two sets as, unlike Keeping Control, musical progression over the timeline is hard to discern. The set begins just after punk has exerted its influence, and hop-scotches through post-punk, electropop, goth, dance-slanted indie-rock, indie as such, shoegazing and more. Local stars Age Of Chance, Cud, Delta 5, Gang of Four, March Violets, Pale Saints, The Sisters Of Mercy, Soft Cell, The Three Johns and The Wedding Present are here. It becomes clear that a fair few impactful bands weren't formed by folks from Leeds, but by people studying there – including Delta 5, Gang of Four, The Mekons and Soft Cell. Disc Two, where The Sisters Of Mercy and ensuing goth bands arrive, feels most coherent. Earlier, the punk into post-punk flow is less organic. Though Abrasive Wheels are collected, other Leeds second/third-wave punks like Icon A.D., and Rothwell's The Expelled and The Underdogs are not. Very surprisingly, Chumbawumba and Fad Gadget are absent.
Both sets are loose with the idea of independent. With Keeping Control, the tracks from Alberto Y Lost Trios Paranoias, Buzzcocks, John Cooper Clarke, Magazine, Manicured Noise and Salford Jets were on major labels or offshoots thereof. The bands may have been independent minded, but their labels were not independent. With Where Were You?, the same applies to Gang Of Four (the EMI version of "Damaged Goods" is heard), The Mission and Vicious Pink.
Similarly, situating The Boys and Scritti Politti under a Leeds umbrella seems a stretch: the former's Matt Dangerfield and John Plain were born in Leeds but the band formed in and was based in London; the latter's Green Gartside had studied in Leeds but the band also formed in and was based in London. Some proofing of Keeping Control's booklet would have been good: Buzzcocks formed in 1976, not 1975 as it says; the picture captioned as The Panik is a magazine image used for their EP's sleeve and is not of the band; the picture of Section 25 is not of the line-up which is heard.
Obviously, as Manchester has previously been dug into so much, bringing any new slant is difficult – but Keeping Control - Independent Music From Manchester 1977-1981 is a valuable reminder that collectivism and mutual support were integral to fomenting and sustaining what happened in the city. While Where Were You? - Independent Music From Leeds 1978-1989 lacks a core thesis – beyond being "Leeds," that is – it does intrigue as what's compiled suggests there's more to be said: perhaps about why goth cast its spell over Leeds, or maybe about what the city's higher education institutions generated, creating an aural counterpart to Gavin Butt's great 2022 book No Machos Or Pop Stars: When The Leeds Art Experiment Went Punk.
Next week: Autonomy - The Productions Of Martin Rushent
'Keeping Control' is a valuable reminder that collectivism and mutual support were integral to fomenting and sustaining what happened in Manchester
Share this article