Norma Winstone, Cadogan Hall |

reviews, news & interviews
Norma Winstone, Cadogan Hall
Norma Winstone, Cadogan Hall
A double celebration for a world-class artist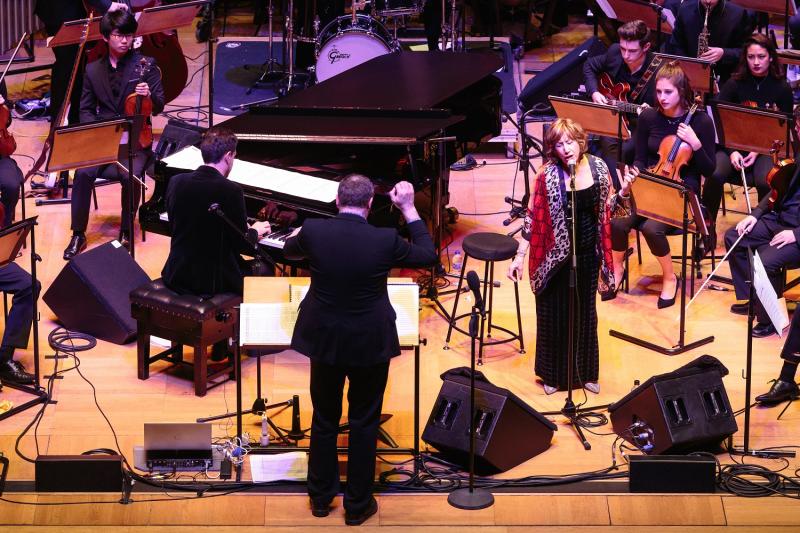 Locked in a mellifluous embrace: Norma Winstone
For fans of vocal jazz and fine lyric writing, this 75th birthday concert for the inimitable Norma Winstone offered a treasure trove of riches. From intimate chamber jazz to the gravitas of a full orchestra, the two sets seamlessly blended every aspect of Winstone's artistry.
As Nick Smart, the Royal Academy of Music's Head of Jazz and our genial conductor for the evening, reminded us in his scene-setting introduction, we were celebrating not one but two anniversaries: it was in November 1966 that Winstone performed her first run at Ronnie Scott's as a band leader in her own right, opposite Roland Kirk. Winstone's contribution as a vocalist and lyricist to the art of jazz and improvised music across five decades of music-making, Smart continued, has been immeasurable, one of a select category of British jazz musicians who have made a truly global impact.
In an adroitly paced first set, Winstone and her Grammy-nominated European trio of pianist Glauco Venier and reeds player Klaus Gesing (pictured below) took a deep dive into their ECM catalogue. Whether subtly drawing out the melodic line, executing exhilaratingly fleet runs, or sliding between notes in dramatic glissandos, the vocalist was a beguiling presence.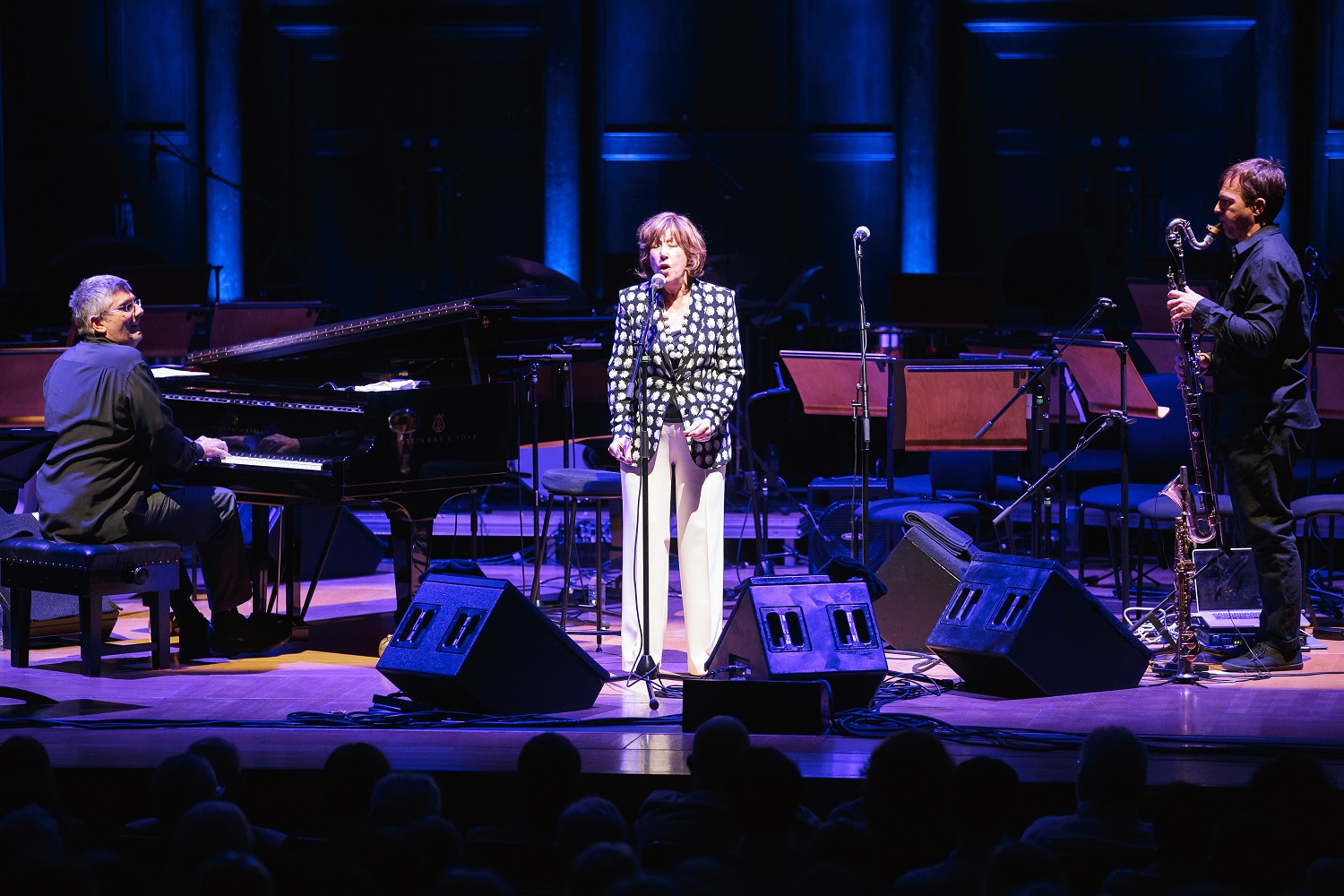 With music composed by Gesing, Winstone noted that her lyrics to "High Places" were inspired in part by the French-Canadian film Incendies, the North African setting of which inspired a beautifully ornamented vocalise introduction. With its sense of space, powerful lyricism and triple pianissimo ending, this was music to surprise and enchant in equal measure, with a pleasing clarity of dialogue.
From the trio's 2014 album, Dance Without Answer, Fred Neil's "Everybody's Talkin" saw Gesing and Venier dancing freely around the vocal line, the song's extended coda presenting a series of ecstatic melodic doublings with Gesing's soprano sax and Winstone's vocal locked in a mellifluous embrace. Winstone's take on this song at the 2011 edition of Jazz Voice is still fresh in the memory.
The singer paid eloquent homage to her former husband, the brilliant and much missed pianist and composer John Taylor, joined on stage by their sons Alex Taylor (voice) and Leo Taylor (drums) for a performance of "Deer On The Moon" from Taylor's 2015 album 2081.
Loosely based on "Giant Steps", Gesing's John Coltrane tribute "Giant's Gentle Stride", from the Grammy-nominated Distances (2008), plugged into the spiritual aspect of Coltrane's art and elicited a free-flowing solo from its composer. First recorded by the trio on its 2002 debut Chamber Music – could someone please arrange a reissue? – Tom Waits' "San Diego Serenade" was given a gorgeous, soulful reworking
Entering the world of the late Steve Gray's orchestral arrangements in the second half, penned especially for Winstone and the NDR Big Band in the 1990s and given a rare outing here, was like stepping into a sound-world of kaleidoscopic delights.
Winstone's special affinity with the music of Steve Swallow and Ralph Towner was highlighted by the classic "Ladies in Mercedes" ("In her jeans by Fiorucci/And accessories by Gucci" has always been a favourite couplet) and the daring, vertiginous leaps of "The Glide" respectively, in which special guest Nikki Iles performed small harmonic miracles in the piano chair. There was some especially ear-catching textural detail here, with glacial violin harmonics and fragments of the vocal line doubled by xylophone.
There were striking interpretations of "Wait Till You See Her (Him)", with the strings producing a thrilling, fulsome sound, a terrific "Old Devil Moon" whose coda saw the singer's vocal line enveloped by the brass like a musical halo, and the bittersweet "Sea Lady" by another of the singer's touchstones, Kenny Wheeler.
The engulfing beauty of Vince Mendoza's "House of Reflections (Mosaic)", a specially commissioned piece by the legendary composer and arranger (a long-standing fan of Winstone), saw the singer soaring ever higher into her upper register, with exquisitely sculpted solos from Venier at his most rhapsodic and Gesing on soprano, while a brief sojourn to Brazil for Ivan Lins' "Life in the Modern World" was stylishly anchored by Daisy George's grooving electric bass and the subtle kit work of Luke Tomlinson.
Led by Roberts Balanas, the Royal Academy of Music Symphony Orchestra and Big Band (pictured above) played superbly throughout. "I'm just so impressed with the standard of the Academy students," Winstone remarked, to warm applause.
For the encore, we were treated to Gray's stellar orchestral arrangement of "The Peacocks", a tune penned by former Billie Holiday pianist Jimmy Rowles featuring what Smart referred to as Winstone's "most iconic, benchmark lyric setting" (renamed as "A Timeless Place"). It brought a unique, unforgettable evening to a resplendent close.
Whether subtly drawing out the melodic line, executing exhilaratingly fleet runs, or sliding between notes in dramatic glissandos, the vocalist was a beguiling presence
rating
Explore topics
Share this article