Reissue CDs Weekly: The Residents |

reviews, news & interviews
Reissue CDs Weekly: The Residents
Reissue CDs Weekly: The Residents
Expanded editions of the bold 'Eskimo' and the provocative 'The Commercial Album'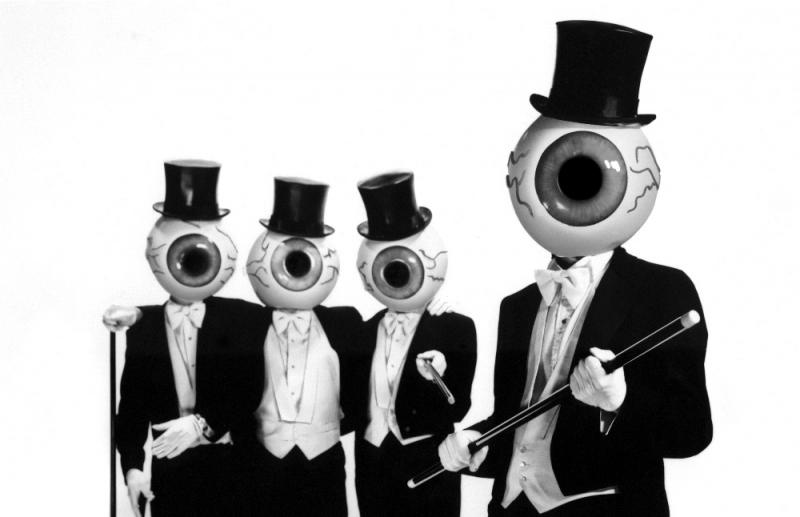 The Residents: specialists in nothing
Writing in 1980, the musician and musical theorist Chris Cutler said that "without the support and patronage of the culture-establishment, The Residents were able to exist, continue to exist, grow, find their public, hold that public – and expand it – until the pop establishment was forced to take notice." He contended that as they were neither musicians or part of music sub-culture they "exemplified a new type [of development], specialising in nothing, turning their hands to anything: a type
whose aims were no longer conceived in terms of music, theatre, film, writing or the visual arts, but rather in terms of innovating, and
making new
."
His analysis came between the release of their Eskimo album (pictured below right) in September 1979 and The Commercial Album in October 1980. Both have just been reissued. Before its original release, Eskimo was the subject of much ballyhoo in the British music press which led to an exponential increase in their profile and then, on its back, The Commercial Album becoming their first album licensed to another label, rather than being solely issued by their own imprint Ralph Records. It came out in the UK on PRE, a new wave-slanted subsidiary of Charisma Records.
The raised awareness fed into The Commercial Album: a collection of 40 one-minute-long tracks supposedly adhering to a formula integral to pop music. The increased profile also resulted in the album featuring guests such as XTC's Andy Partridge, Lene Lovich and, so the liner notes of the new reissue say, Todd Rundgren.
Cutler's contemporaneous commentary set the context for the soon-to-arrive Commercial Album and frames how The Residents were seen at the time. The shorthand of them as eyeball-headed oddballs – Eskimo's cover was the eyeballs first outing – had not yet fully bedded in. They were challenging boundaries and the nature of what it was to be a pop group.
Eskimo was hardly interpretable as pop. That said, it was followed into the shops in April 1980 by "Diskomo", a 12-inch single with a disco reconfiguration of themes from the album. Eskimo was malleable: it could be turned into what passed as pop music. And next, The Commercial Album which a UK label presumably thought would sell enough to recoup whatever advance had been paid to secure its British release.
All this means Eskimo and The Commercial Album are pivotal Residents' releases. They were intrinsic to the gear changes which in 1982 saw them tour for the first time. They had become part of the "music sub-culture" which a couple of years earlier Cutler had argued they were not. They were no longer self-contained and had submitted to the release, promotion, tour and so on cycle. In 1985, an affronted Cutler said The Residents "failed to consolidate their early promise…the rat race is for rats."
All this also means Eskimo and The Commercial Album are very different from each other. Both are concept albums, but the first was made by outsiders dancing with a post-punk quasi-mainstream and the second created while shaking hands with the "culture-establishment" absorbing them.
Heard now, the fictive, Arctic-set, sound-drama Eskimo still astonishes. Even by the abstruse standards measuring Residential matters, it is one of their most audacious projects. In-depth re-relation of what it is unnecessary but what occurs is that it was born from a thought process equivalent to that inspiring Can's "E.F.S." recordings: their Ethnological Forgery Series of recordings.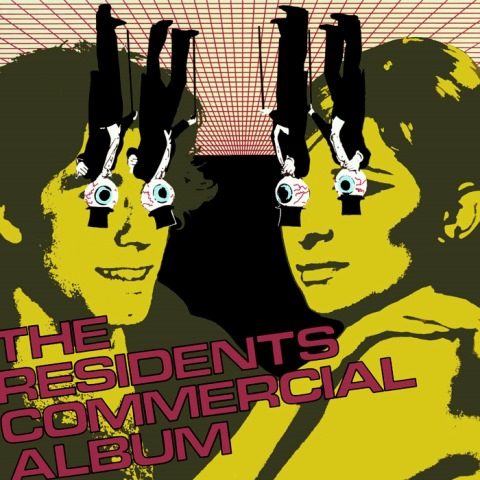 With its sleeve of detourned images of Barbara Streisand and John Travolta, The Commercial Album is a self-proclaimed collection of jingles, each the length of a television commercial. The word "commercial" cuts various ways. It represents an extraordinary amount of creative work but remains hard to assimilate. The overarching concept weighs heavily over the album's 40 tracks – they are subservient to the concept. As it was then, it is best approached in shortish chunks to help individual tracks stand apart. Overall, it challenges any standard way of listening to an album.
Each reissue is a fully remastered double-CD package stuffed with bonus tracks: including previously unreleased material from the relevant periods, related non-album tracks from compilations or singles, and live renditions. The most extraordinary disinterment is a demo version of Eskimo which is an early edit of the album featuring some material which made the final cut and some which did not. The packaging of each release is good, the design is good and there are good, illuminating liner notes. Resident-fanciers need these.
Eskimo and The Commercial Album are testaments to the enormous deliberation which went into each move made by The Residents. Perhaps they were always heading towards what Cutler called "the pop establishment." They just hid it well.
Next week: the final entry in the landmark Where The Girls Are series of compilations
' Eskimo' was made as The Residents were dancing with a post-punk quasi-mainstream
Share this article