theartsdesk in New York: A Dirty Weekend with the New York Dolls and a Jazz Princess |

reviews, news & interviews
theartsdesk in New York: A Dirty Weekend with the New York Dolls and a Jazz Princess
theartsdesk in New York: A Dirty Weekend with the New York Dolls and a Jazz Princess
Two snowy musical encounters in the less cleansed end of town
Winter weekend in New York: 'When the snow stopped falling the city was dazzling white'
I didn't realise how much I liked dirt. Especially New York dirt. I was going to do a rant about boutique designer hotels, which seem ubiquitous in Manhattan. Major case in point: the Gramercy Park Hotel, where I used to stay in the Nineties and Noughties. It was independent, a bit scruffy, with a great bar full of artists and rock'n'roll types and other degenerates, a perfect location and cost about a hundred dollars a night.
Last time I looked it had been ponced up – fish tank in the reception, a Buddha, fancy doorknobs and good-looking but no doubt useless staff. Clean as a whistle. This was my hotel in my neighbourhood in Manhattan – and now it cost 700 dollars a night and was out of my league. I took that personally.
My case was undermined as I ended up a couple of weeks ago staying at the Hudson Hotel on 58th and 9th, which I liked even though it's about as designery as you can get. Now I'm just confused.
Actually seeing New York at all was moot – as the city was in the middle of record snowfall. It was a blizzard out there for much of the first couple of days and your field of vision was down to a couple of feet at times. It was impossible to walk, and cabs would get stranded, like washed-up metal yellow beetles unable to move. A shame as Manhattan's downtown is one of the few places in the world where you can usually walk everywhere. When the snow stopped falling the city was dazzling white.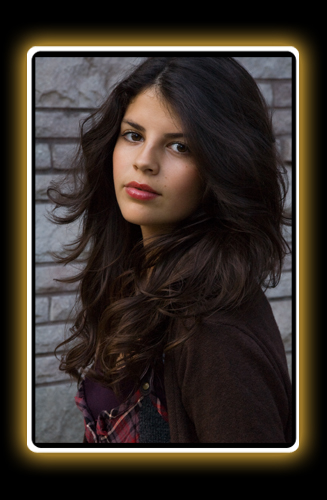 The first night I headed to the Blue Note, the august jazz club that in the last month alone has had heavyweight performers like Lauryn Hill and the marvellous pianist McCoy Tyner. Taking on jazz central at the heart of the beast was a 16-year-old singer, Canadian Nikki Yanofsky (pictured right). Sixteen going on 17. I caught myself singing the Sound of Music song on the way in. Her technique is the first thing that astounds, with a pitch-perfect facility and voice reminiscent of Ella Fitzgerald - that other jazz vocal technician par excellence.
Unlike other modern pop-jazz singers, she is a born performer. Norah Jones and Liz Wright, for example, whom she's also been compared to, always look rather uncomfortable on stage. Nikki has taken to it like a duck to water. Her clear, positive voice was the first revelation. Then was the fact that she's now co-writing songs and has an ear for an original melody (you can teach a lot of things, but not how to write a melody, a mysterious art). One of her co-written songs, "Grey Skies", was a genuinely moving tune.
Anyway, don't take my word for it. When I met Nikki and her dad the next morning at the Ritz Carlton, he mentioned that Quincy Jones had called her the "the future of music" at a press conference. Even before she got a record deal, she had Phil Ramone (who has produced everyone from Frank Sinatra to Paul Simon) producing, and also Jessie Harris who wrote "Don't Know Why", Norah Jones's massive hit. Nikki is such a tune short of massive stardom – but in any case she has an assured career, unless she goes off the rails like two of her idols, Amy Winehouse or Billie Holiday. Determined and down-to-earth, her head is screwed on. Nor do her parents appear to be the pushy ones, surprisingly. She seems to be driving the bus.
Nikki Yanofsky at the Montreal Jazz Festival, 2008
One philosophical point we got into was about dirt, which seemed the subtext of my weekend. When I said she was off only two notes all evening, she immediately wanted to know which ones. I was trying to be complimentary. I mentioned that when I bought a rug in Morocco they told me all the rugs have at least one mistake in them – to be perfect is sacrilegious, as only God is perfect. Perfectionism could be a downfall for her in a way. Some dirt, I said, is no bad thing in a jazz singer. She's great, but very clean cut.
It got me thinking about how New York is now compared to how it was. When I first visited in the 1980s, it was an inspired artistic cauldron. In my first week I barely slept, there was so much going on: art and photography openings from the likes of Keith Haring, Jean-Michel Basquiat and Robert Mapplethorpe, music from the B52s and Talking Heads, the new hip-hop scene, new work from Minimalist composers, the best Latin music clubs in the world. I met quirky performers such as Spalding Gray and Laurie Anderson. There was a refreshing blurring between the avant-garde and the popular, both artistically and socially. It was also filthy, in various senses of the word
When I talked to John Rockwell, a music critic on The New York Times, about the 1980s, he said: "There was a kind of fearlessness in the air then, which has disappeared.
From the 1980s onward, Manhattan's art world suffered a series of disasters. The first was Aids, which wiped out so many in the arts, including Haring and Mapplethorpe. The second was the property-price boom - the place simply got too expensive for most artists and musicians to live in. The third disaster was 9/11, which struck the city to the core
It does seem that the puritanism of the rest of the States has finally taken over Manhattan. You could argue, perfectly logically, that the city has improved - crime is down, and Times Square, which used to be full of porno cinemas, has been cleaned up. But antiseptic and art don't seem to work well together. With the sleaze the life has gone from Times Square. It's like a Disney version now. I miss the row of black guys who used to hustle you for a game of chess, or the little bookshops in the adjoining side streets
It's better now in many respects – and with the snow settled I'd never seen the city look so pure, white and positively virginal
I went for dinner at a nice Italian called Falai in Lafayette Street with Young Kim, who was Malcolm McLaren's much-adored partner for the last decade of his life. I used to meet Malcolm whenever we were both in New York and gossip and plot ridiculous things. One of his schemes I loved involved him talking Steven Spielberg into investing in a film project which was a love story between Chrissie Hynde and Stephen Hawking. Malcolm thought he could make Hawking into "the most fabulous pop star ever". People actually invested in this idea – which actually would have been rather wonderful
Young was trying to cope with it all, and also is in a legal battle with Joe Corré, Malcolm's son with Vivienne Westwood over Malcolm's will. Her lawyer Mark Stephens is rather busy representing Julian Assange. It occurred to me how fascinated Malcolm would be with Assange, his rock-star vanity, but also his genuine subversiveness. I thought he'd probably be negotiating a deal for Ruby Heartbreaker, the 17-year-old alleged hooker who may well bring down Berlusconi, and he'd probably talk Assange into playing keyboards or something
I ended up later at a French bistro in Williamsburg – whereas Blue Note is now the establishment, the radical, bohemian hang-outs are in Brooklyn. I saw a gypsy jazz band in the early hours. And – shockingly for modern New York – people were smoking cigarettes at the back.
The next day's lunch was uptown at the Café Soleil with someone who represents to me the soul of the New York of the Seventies as much or more than Andy Warhol or Lou Reed or the Ramones – David Johansen of the New York Dolls. His partner Mara Henessey, who looks like a fabulous rock chick, was there too (she took the photo of Johansen and me, pictured left). If you haven't read Patti Smith's memoir of the period Kids Like Us, it's a great read in which Smith talks about how extraordinary the New York Dolls were back in the Seventies. Malcolm McLaren came up in the conversation, as he'd managed them and in one of his more lunatic schemes got them to dress up in red leather with communist slogans at the back of the stage. Johnny Thunders, their late guitarist and an infamous junkie, said that Malcolm was responsible for the end of the first incarnation of the Dolls as, predictably enough, America hated the commie version of the band.
Malcolm used a lot of their attitude in putting together the Sex Pistols. But also bands like Kiss and Twisted Sister took their glorification of the aesthetics of trash and a love of dressing up like low-rent hookers, and made millions.
The New York Dolls's "Personality Crisis", 1973
Johansen says he made nothing. He told me he was a Capricorn - Capricorns are supposed to be good at making money – but he never managed. We talked a bit about Morrissey. Morrissey once said that seeing the Dolls on the Old Grey Whistle Test in 1973 changed his life: "It was the first time I ever felt any emotion." It was like they were from outer space compared to the tasteful California singer-songwriters and Tolkien-esque prog-rockers that were the programme's staple. "Mock rock," said presenter "Whispering" Bob Harris about them on air, with a hint of a sneer. When I met Harris at last week's Folk Awards, I reminded him. "But they were mock rock," he said, sticking to his guns
Morrissey became the President of the New York Dolls Fan Club – when he was the curator of the Meltdown Festival on the Southbank in 1994 he persuaded the band to reform (the ones who were still alive) and that has led to three albums. The good news is the one that is about to be released, Dancing Backward in High Heels, is the best yet and is the rock record of the year. Quite possibly the decade. I keep going back to three songs - "I'm So Fabulous", "Funky But Chic" and "Round and Round She Goes" - with occasional listens to a ballad called "Kids Like You" ("Kids like You/ No one tells you what to do/ You'll get the Blues"). It's a glorious return to form, and isn't antiseptic at all. In a word - dirty.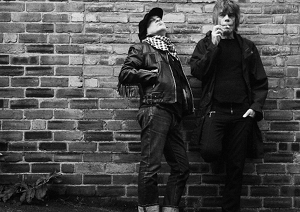 We talked about his Norwegian heritage – his father having come from there. He said his entire childhood was spent with his father saying what a desperately poor place he was from. When a few years ago Johansen (pictured right with fellow Doll Syl Sylvain) finally got to see the town in Norway "it was like East Hampton" (a famously upmarket resort for the rich and trendy on Long Island).
He said he had a relative who was an astro-physicist and asked him, "Where is the universe exactly?" His relative's reply: "Don't ever think about questions like that – it will send you crazy." Anyway, Johansen is 60, and about to release maybe the best record of his life. It's not all bad news. Outside the snow was still clear and white, but on the way to the airport it was turning to dirty slush. I couldn't cope with much more clean New York and felt strangely uplifted by the dirt.
I've never seen the city look so pure, white and positively virginal
Share this article