theartsdesk on Vinyl 69: Andrew Weatherall, Courtney Barnett, Wings, Los Bitchos, Popol Vuh and more |

reviews, news & interviews
theartsdesk on Vinyl 69: Andrew Weatherall, Courtney Barnett, Wings, Los Bitchos, Popol Vuh and more
theartsdesk on Vinyl 69: Andrew Weatherall, Courtney Barnett, Wings, Los Bitchos, Popol Vuh and more
The most extensive regular vinyl reviews in the universe
Digging deep
As the year starts to rev up, theartsdesk on Vinyl returns with over 7000 words on new music on plastic, a smörgåsbord of the kind you will find nowhere else. This month we also have a competition for the dance music lovers among you, a chance to win a £50 gift card for the new app Recycle Vinyl (online stock of 10,000 records + 25,000 in their warehouse + 500 more added every week).
For a chance to win, simply email the answer to the following question to
recyclevinylcomp@gmail.com
: who is described in the reviews below as a "Canadian violinist"? (check in on Recycle Vinyl
here
). That aside, let's hit the music. Below we review everything from Shakira to Fifties kitsch-tronica. Dive in!
VINYL OF THE MONTH
Kid Acne NULL & VOID (Lewis)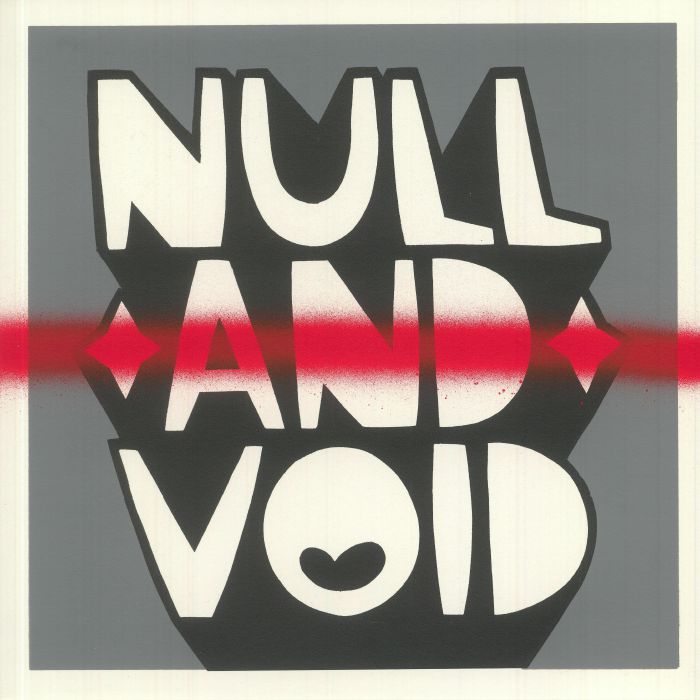 The latest album from Brit hip hop perennial Kid Acne is a treat that bubbles with imagination, sonically born of pin-sharp focus and hard work. Words are the half of it. The other half is the rich, busy soundbed created by Chicago producer Spectacular Diagnostics. Together they gel perfectly; Acne's voice - boisterous, cheeky, chewing on words dryly in a Midlands accent – and Spectacular Diagnostics' constant bombardment of "moon-bap" beats and well-chosen samples. Guests include MCs Taja, Junior Disprol, Cappo, Jaz Kahina and Vandal Savage, the latter pair coolly riding out on the jazz loops of "Transistors", Coming on loud magenta vinyl on art inner sleeves with a pink 12" x 12" art insert, this is the sound of light-hearted but fully invested retro-futurist b-boy hip hop at its best.
Various Heavenly Mixes 3: Andrew Weatherall Volume 1 + Heavenly Mixes 4: Andrew Weatherall Volume 2 (Heavenly)
Two collections for anyone with an ounce of musical sense in their bodies. When these appeared at theartsdesk on Vinyl Mansions, there was more than the usual quota of excitement. Mainly from the early Nineties and recent 21st century, it's truly a sumptuous feast. The late Andrew Weatherall is regarded in the light he is because he understood many styles of music to their core, their transportive power. These mixes showcase perfectly the way he used that intuitive, arcane knowledge to pull apart other artists' music and reform it as contagious punked, dub-dance psychedelia and/or mesmeric smeared motorik electro, or whatever the hell else he fancied, tunes that draw you in like black holes. Volume 1 contains his famous A Mix of Two Halves of Saint Etienne's "Only Love Can Break Your Heart" alongside lesser-known but universally ear-astounding cuts such as his 2017 mix of Aussie artist Confidence Man's "Bubblegum", a squelching roller that's chocka with cheek and hip-wriggling dancefloor naughtiness. Or his endless hypnotically bong-stoned Audrey Is A Little Bit More Partial mix of Flowered Up's "Weekender". Or… it seems a sin not to write a full review of every number, but time and space forbid it, so suffice to say that also on board are tunes by Sly & Lovechild, the Mark Lanegan Band, Gwenno, Espiritu and the smashing psychedelic rock of The Orielles' "Sugar Tastes Like Salt". Volume 2 is equally impressive, opening with the explosive shouty dance-athon of audiobooks' "Dance Your Life Away", and also containing a loud-pounding club-floor dynamite take on Doves' "Compulsion", the spaghetti western dub of Unloved's "Devil's Angels", and more from Espiritu, TOY, LCMDF, Confidence Man and Saint Etienne. Both sets come on double in info inner sleeves and both are completely essential.
Courtney Barnett Things That Take Time, Take Time (Marathon Artists)
This is what singer-songwriters should sound like, emotionally engaged, sometimes expressing pain, but rendering it art by dint of wit and understatement, not whining on like therapy-seeking falsetto-voice-breaking me-me-me solipsists. The latest album from the Australian singer-songwriter moves away from her chirpy trademark oddball songs full of prosaic Jonathan Richman-esque asides and, instead, the set emanates a touch of melancholy. It doesn't drown in it and it's always expressed poetically, with Barnett's usual Lou Reed vocal decorum. The music is purposefully lo-fi, jangling but full and rich. Every time is starts to head towards moroseness, the next song revives things, adding a smidgeon more bounce. This switching around works well, taking the listener on Barnett's thoughtful, often personal journey of love musings and more. Comes on lyric gatefold.
OKI Tonkori in the Moonlight (1996 – 2006) (Mais Um)
The Ainu are a people who, traditionally, inhabited Japan's island regions as they sprawl towards Russia and the Kamchatka Peninsula. OKI is one of them, born on the island of Hokkaido 65 years ago. This collection gathers together a portion of the music he's made. At the heart of it he plays the tonkori, a five-stringed harp, and, while these are often traditional Ainu pieces, sparse Eastern-scaled indigenous music, OKI also brings in tints of heft from western musical styles, notably on the jazzy groove of "Yaykatekar Dub" and the easy listening organ-backed "Afghan Herbal Garden". It is not a familiar music to theartsdesk on Vinyl's ears but that only makes it all the more intriguing and more-ish. There's something good-natured and peaceful here, interestingly percussive, that occasionally – but not often – blooms to a more boisterous form.
Shakira Laundry Service (Epic)
Ah, pop music, actual top-charting 21st century pop music. Here at theartsdesk on Vinyl we aren't sent nearly enough of that. OK, so this is actually 21 years old and only just sneaks into the century in question, but Shakira's first English language album (her fifth, in all) and her global breakthrough, punched to the top of the charts all over (a No.2 in the UK), firing out hit singles such as "Whenever, Wherever", "Underneath Your Clothes" and "Objection (Tango)". I can do without a chunk of it, songs such as the lighter-in-the-air stadium rawk guitar anthem "The One", but there's also a host of proper Latino-pop gems such as two of the aforementioned singles and the likes of twangy guitar groovers "Ready for the Good Times" and "Te Aviso Anuncio (Tango)", and percussive banger "Eyes Like Yours (Ojos Asi)". On four sides of chrome yellow vinyl in photo/lyric/info inner sleeves, there's enough good stuff here to make it a keeper round these parts.
Swansea Sound Live at the Rum Puncheon (Skepwax) + The Jazz Butcher The Highest in the Land (Tapete) + Joe and the Shitboys The Reson for Hardcore Vibes (TUTL)
Three releases that showcase varying sides of actual indie (as opposed to younglings' tendency to term any band that isn't garish chart-pop "indie" – for example, Bastille – what!?!). Swansea Sound are the lockdown creation of old school ultra-indie sorts Amelia Fletcher, Huw William and Rob Pursey who, between them have been members of Talulah Gosh, Heavenly and Pooh Sticks, joined by Wreckless Eric associate Ian Button. Like the recent Catenary Wires album, another Fletcher/Pursey venture, the music is a self-reflective, sweet, a less messy revision of Eighties indie. Also, it's suitably cynical about consumer-friendly 2022 pop culture, notably on "Corporate Indie Band" and "I Sold My Soul on EBay", oh, and the fab
Morrissey takedown "Freedom of Speech". It's not all in that vein; there are a few straightforward Velvets-ish jangle-pop charmers. Comes on photo-lyric inne sleeve. NB. It's not really live at The Rum Puncheon; the Rum Puncheon was tough working class pub in the Townhill district of Swansea that closed, I think, in the early Nineties. The Jazz Butcher's Pat Fish, who died shortly after recording The Highest in the Land, was an Eighties indie peer of Swansea Sound. He was killed by a heart attack but he had only recently survived a life-threatening cancer, and the album was recorded under that shadow. Fish, however, is in no mood for maudlin, with the whole album is overlaid with a pithy sense of mortality, best summed up by the line, "There's a bloody great elephant in this room/Everybody's running on fumes". Many miles from his old Creation indie sound, these songs have a skiffle-ish pop shuffle, with the great lyrics and a certain melancholic longing making them stand out, even on the jolly jazz-lounge opener "Melanie Hargreaves' Father's Jaguar". It's engaging throughout. Arrives in lyric inner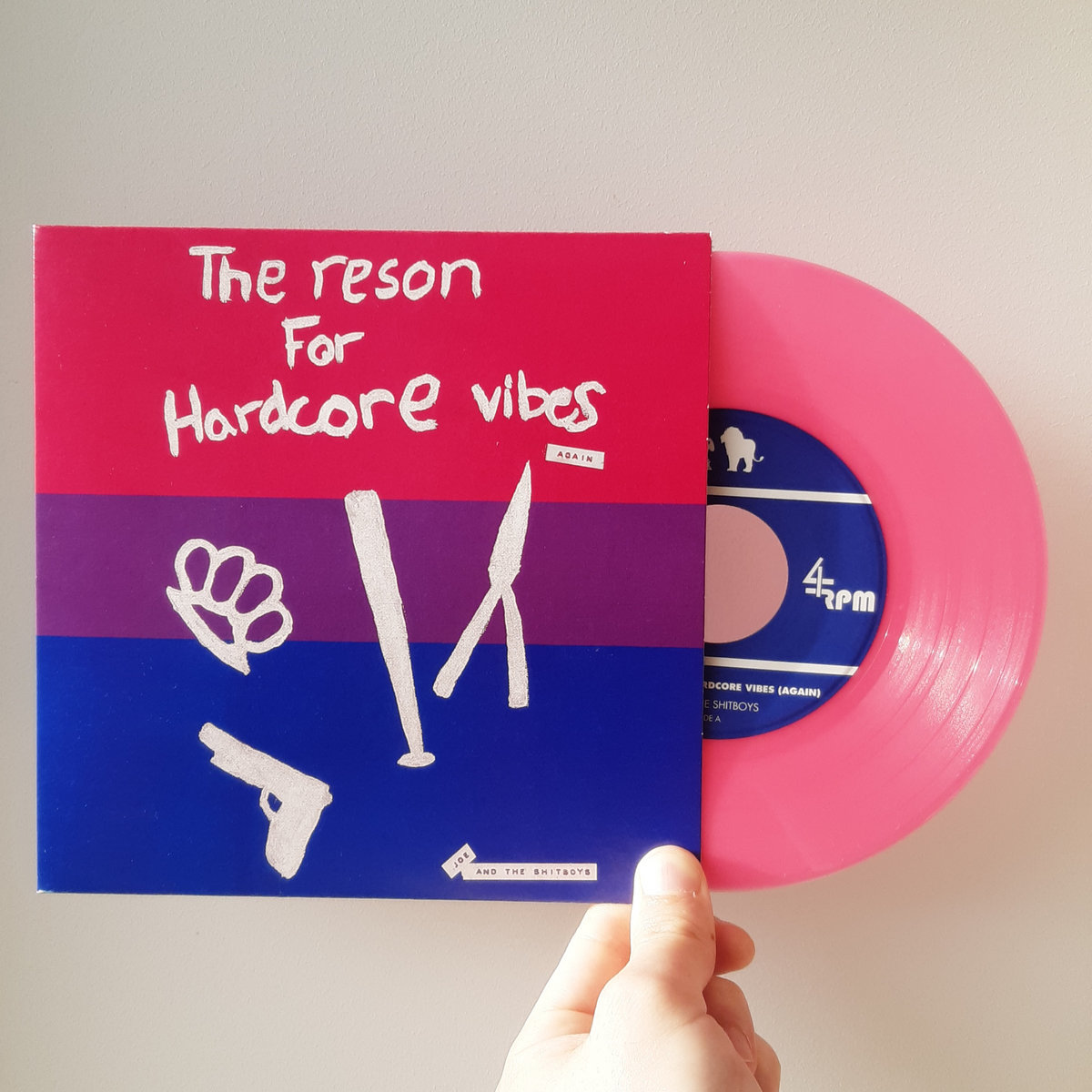 sleeve. Joe and the Shitboys, meanwhile take the indie imprint back ever further, back to about 1978, but with the identity politics of 2022. Their bright pink 7" EP contains 10 short, shouty, musically old-fashioned punk songs that fire barbs at "Manspredator" incels, "Closeted Homophobe"s, patrician reactionaries ("The Good Ol Days") and much else. Perhaps closer, "An Ode to Shitheads", puts it best; "Don't tell us what to do – fuck you!" The four-piece hail from the Faroe Islands, a hive of retrogressive conservatism according to this band, and their snappy, sneery ragin' is a tonic.
Popol Vuh Vol. 2 – Acoustic & Ambient Spheres Boxset (BMG)
Popol Vuh are one of the least typical groups to be lumped in with Krautrock (a Seventies Brit music press term, incidentally, that becomes increasingly dodgy with every passing year). While band leader Florian Fricke, who died in 2001, was into synths even before Kraftwerk, he soon moved towards more organic sounds, interested in gentle blendings of texture, ambient tones and global music influences, often adding up to a sense of non-specific spirituality/religiousness. The latter aspect gave Popol Vuh an accidental place at the dawn of new age music, the kind one hears noodling away in reflexology parlours and the like. This second boxset of their work focuses especially on these areas, offering up the soundtracks to Werner Herzog's 1977 film Coeur de Verre and 1987's Klaus Kinski-starring Cobra Verde. The latter is truly a wash of incense-wafting tones, a balm for the raddled, but Coeur de Verre is more interesting, taking the Indian-flavoured sound the band explored on 1976's Letzte Tage, Letzte Nächte and smearing it into something cuddlier and more hypnotic. It sounds ahead of its time. The other two albums in the box are 1983's Agape – Agape/Love – Love, which emanates a strange medievalism in places, doomy marching drums and not-far-off-Gregorian chorals, while at others there's floating spacey guitar play, the whole a determinedly ambient outing. Finally, 1973's Seligpreisung again has Gregorian overtones but, unlike the other three albums here, although there's plenty of piano-led prog-classical material, there's often actually guitar-led grooves of the hypno-stoned variety. For this writer it's the most more-ish album of the four. Also included is a 12" x 12" insert full of photos and background info and two posters, for both the films, as well as three related quality band photographs.
The Madness The Madness (BMG) + The Redskins Neither Washington Nor Moscow (London)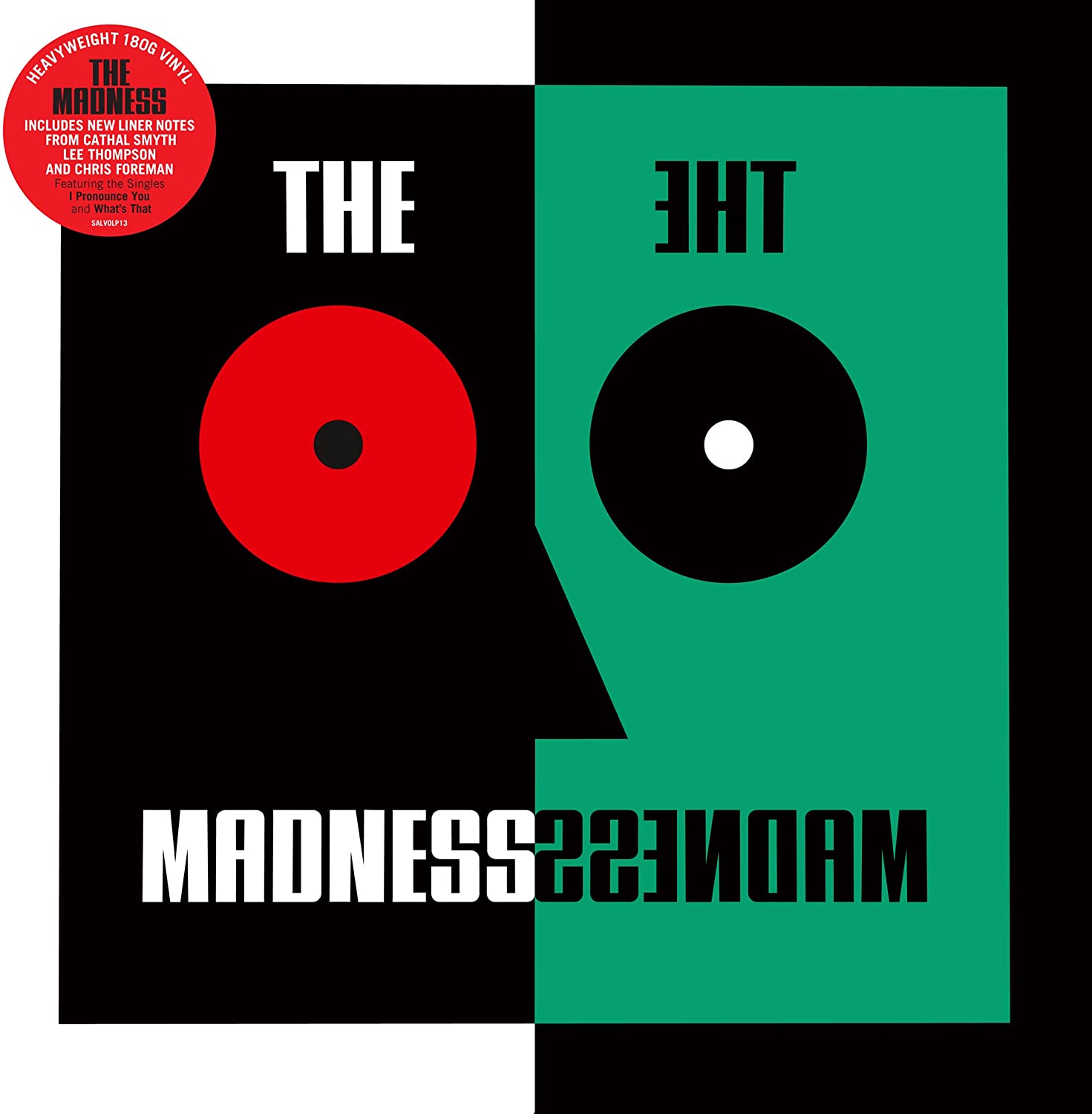 A couple of 1980s reissues of differing quality. I've been a music journalist for over 25 years but I have never seen a set of sleeve notes like the one for the album by The Madness. Bit of back story first. Madness lost co-founder and key member Mike Barson in 1984, then squeezed out their rhythm section a few years later. Reforming as The Madness, the four remaining members created this album, their worst performing record by some distance, reaching No.65 in the album charts, with both singles not even making the Top 40. So to the sleeve notes; this is the only time I can recall a reissue with an oral history of the album (on a 12" x 12" insert) wherein the whole band basically says, "We should have quit before we made this album, it was a bad idea, it didn't really come together and it's not very good." While it does have some decent songs on, including the wedding-cynical single "I Pronounce You", it's a curio really, with most of the music drowning in hideous, closed-off mid-Eighties digital production. The band were experimenting, with Cathal "Chas Smash" Smith leading on a lot of it, including vocals, not that its faults are down to him. Its creation was heavily assisted by members of The Attractions, UB40 and The Specials, and it's worth a look for poignant songs such as "In Wonder" and "Song in Red", but "Oh" is more typical, a horrible fretless bass monstrosity, anonymous unfunky funk. In April
1988, when The Madness appeared, acid house was already a twinkle in Britain's eye, a new generation was rising and, while the remaining Nutty Boys were utilising the same tech, they had unwittingly become yesterday's men. They took the point and disbanded for a few years. The Redskins only album, from 1986, on the other hand, is one of the albums of the decade. Raging skinhead socialists in the era when Thatcher ruled all, The Redskins used to proclaim they were a cross between The Supremes and The Clash. It's an assertion that, from a distance of three-and-a-half decades, holds some water. Neither Washington Nor Moscow is jammed with catchy, brass-fuelled songs that, instead of pleading, "Stop, in the name of love," charge that "you've never had it so good" is "the favourite phrase of those who've always had it better," and that "it's a crying shame, that those who hold the future in their hands hold themselves in chains." But this album is not po-faced, it has a light, hard-punching funk energy, a joyousness at the possibility of change. Unfortunately, change went in the opposite direction and raw free market economics/rapacious consumerism became the religion of my lifetime instead. But it's pleasing to be reminded in such a spirited manner of the musical voices of resistance. Comes richly mastered in polemic art/lyric inner sleeve in gatefold containing an essay by Paul Morley.
Tom Dissevelt and Kid Baltan The Fascinating World of Electronic Music (We Are Busy Bodies) + Tom Dissevelt Fantasy in Orbit (We Are Busy Bodies) + Roman Angelos Music For Underwater Supermarkets (Happy Robots)
The long dawn of electronic music was a curious landscape. It was inhabited mostly by vanguard modern classical composers, soundtrack experimentalists and sonic science boffins. It was certainly not somewhere that synchronized much with pop culture (the massive notable exception being the BBC Radiophonic Workshop's 1963 Doctor Who theme). There was also a sub-strata of eccentrics who attempted to appeal to the nascent home stereo hi-fi buff market with releases that focused on optimistic futurism, offering a bizarre, nigh-on-avant-garde easy listening. Such is the case with Dutch electronic music-makers Tom Dissevelt and Kid Baltan (Dick Raaijmakers) whose 1959 album The Fascinating World of Electronic Music is packed with twee melodies of the kind jazzy lounge orchestras might play, but they are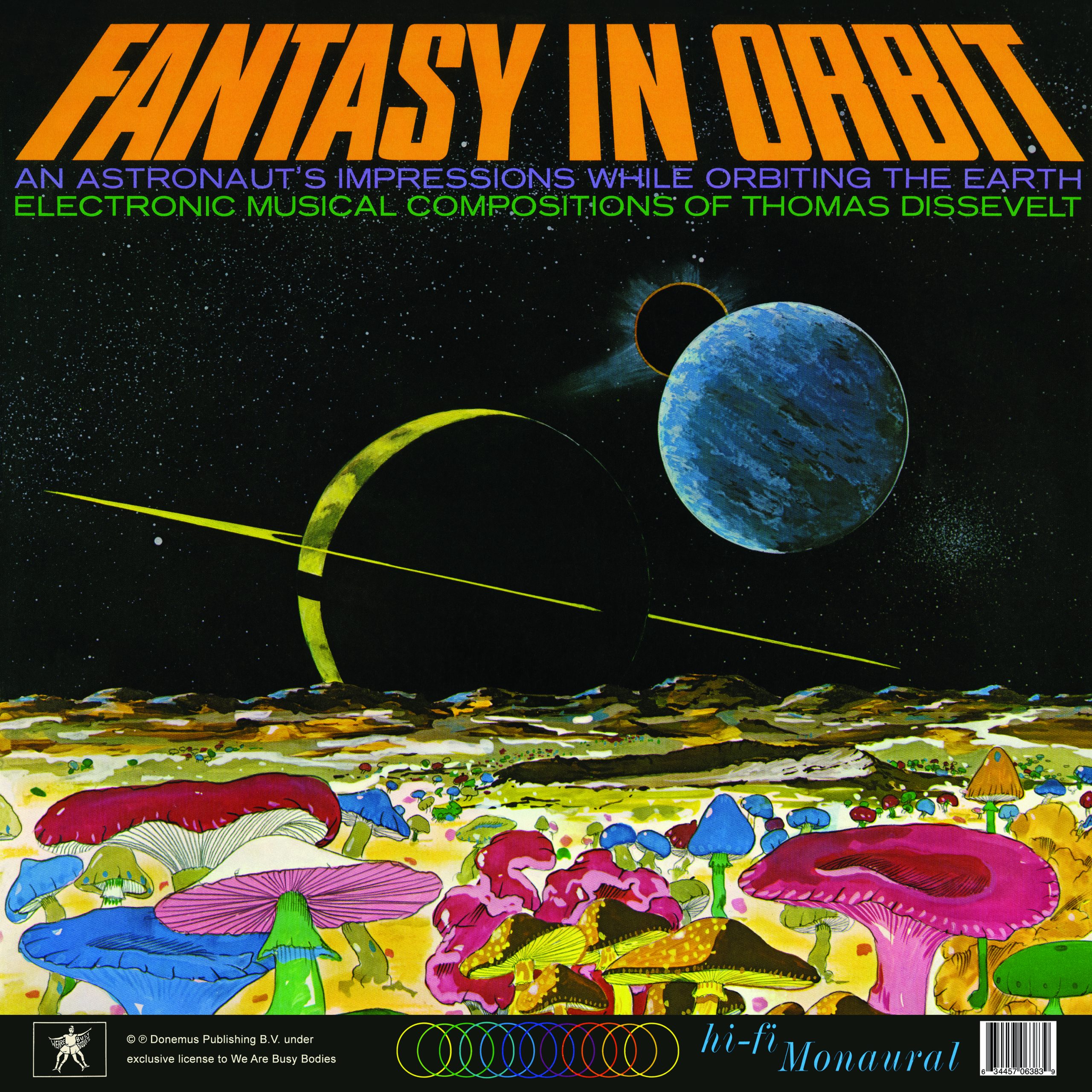 surrounded by bleeps squeaks, wibbles and uncanny proto-synth sci-fi effects. For connoisseurs of this kind of thing, such as theartsdesk on Vinyl, it's a complete treat. David Bowie, incidentally, was also a huge fan of this record. Also reissued by We Are Busy Bodies is Dissevelt's 1963 sequel Fantasy in Orbit, a double which makes less effort to muster jolly tunes and more to create a suitably space-themed atmosphere of hums and oscillations. It sometimes recalls Bebe and Louis Barron's seminal 1956 soundtrack to The Forbidden Planet but, mostly, it's like a stark conceptual great great grandparent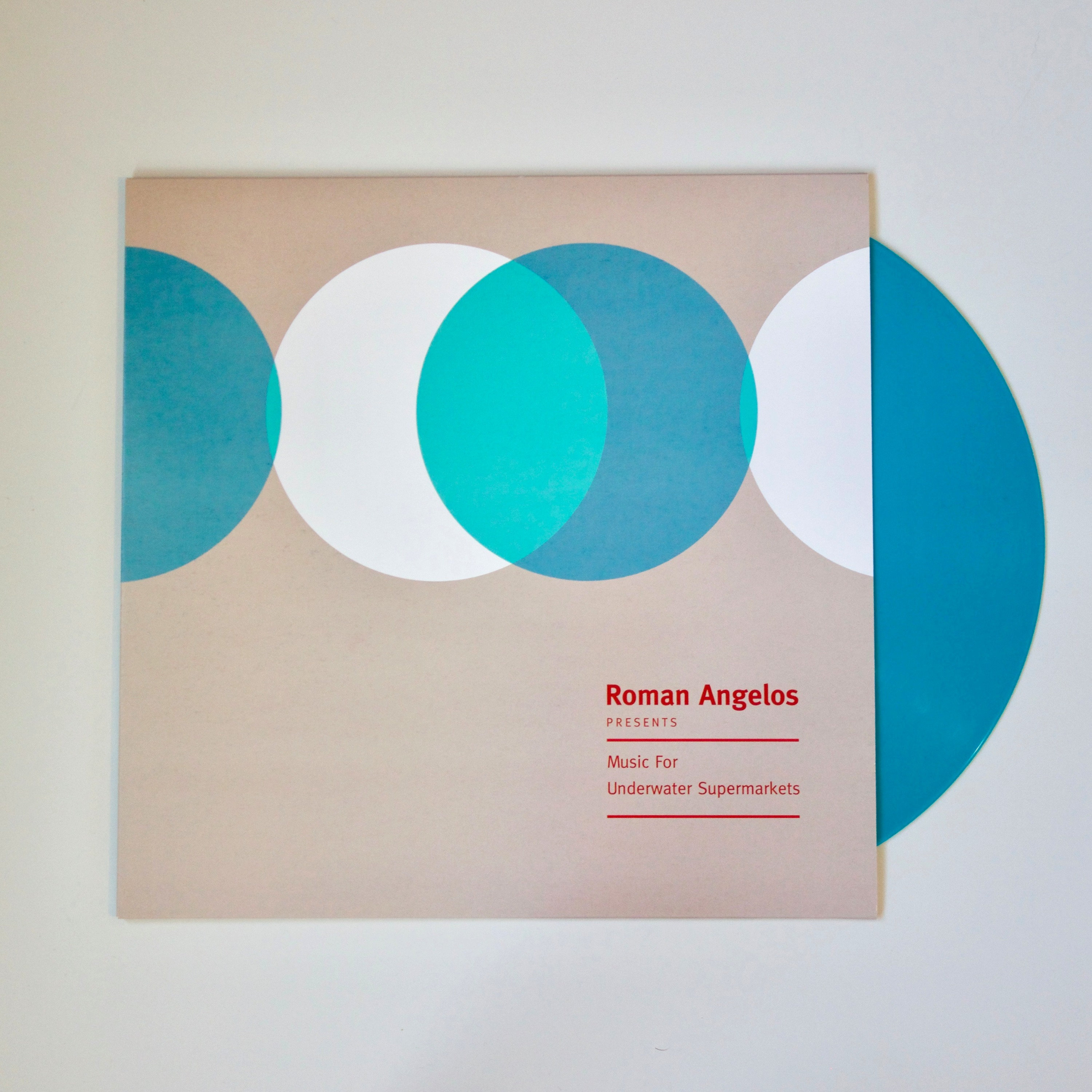 of Pink Floyd's Dark Side of the Moon. Comes with a plain insert of the album's original notes. Roman Angelos – a project name for New Yorker Rich Bennett – may be a fan of the above albums. He is certainly into the oddball end of mid-Twentieth century easy listening, and his latest album is a carefully crafted fan letter. The album title also a post-modern gag in this vein (also in tribute to Brian Eno). Cuts such as "Aisle 3: New England" could actually hail from one of those old stereo tester curiosities, although much of the album is chill-out tuneage, xylophones, flutes and twangy guitars that soothe and smile rather than test. Comes on bright aquamarine vinyl.
Los Bitchos Let The Festivities Begin (City Slang)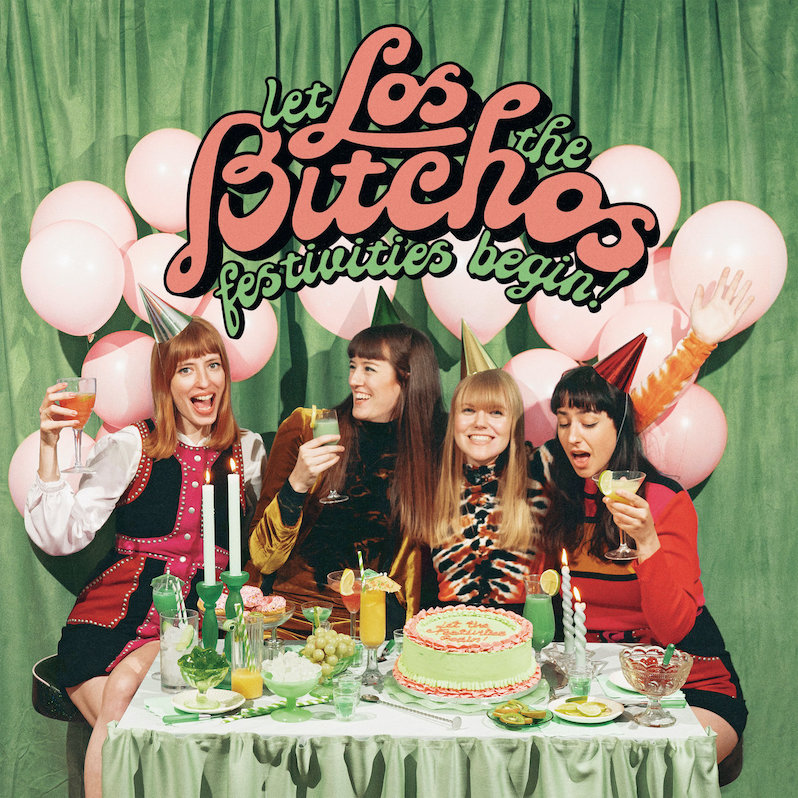 Following on from the above review's fetishization of old easy listening, another similar trend during the era in question was exotica, the replication of music from all over the world to supposedly give suburban living rooms a well-travelled cocktail lounge cool borrowed from all over the planet (Hawaii was especially popular!). Produced by Franz Ferdinand's Alex Kapranos, the debut album from Los Bitchos, a London-based all-female four-piece whose origins lie as far apart as Australia, Sweden, Turkey and Uruguay, is all instrumental and wanders the world with unpretentiously frollicky aplomb. It runs the gamut from the souks of Turkey to the ballrooms of South America, combining a good-natured tropical beach restaurant band chug with occasional sonic theatrics and a good seasoning of indie attitude and surf music zing. Containing one completely bananas track (closer "Lindsay Goes to Mykonos") the rest of it (mostly...) swings by with unforced charm. And it contains a tune called "Tripping at a Party", which is all to the good. Comes with colourful photo-info insert.
Daemönik Fonce Eye Love Daemönik Fonce (Property of the Lost)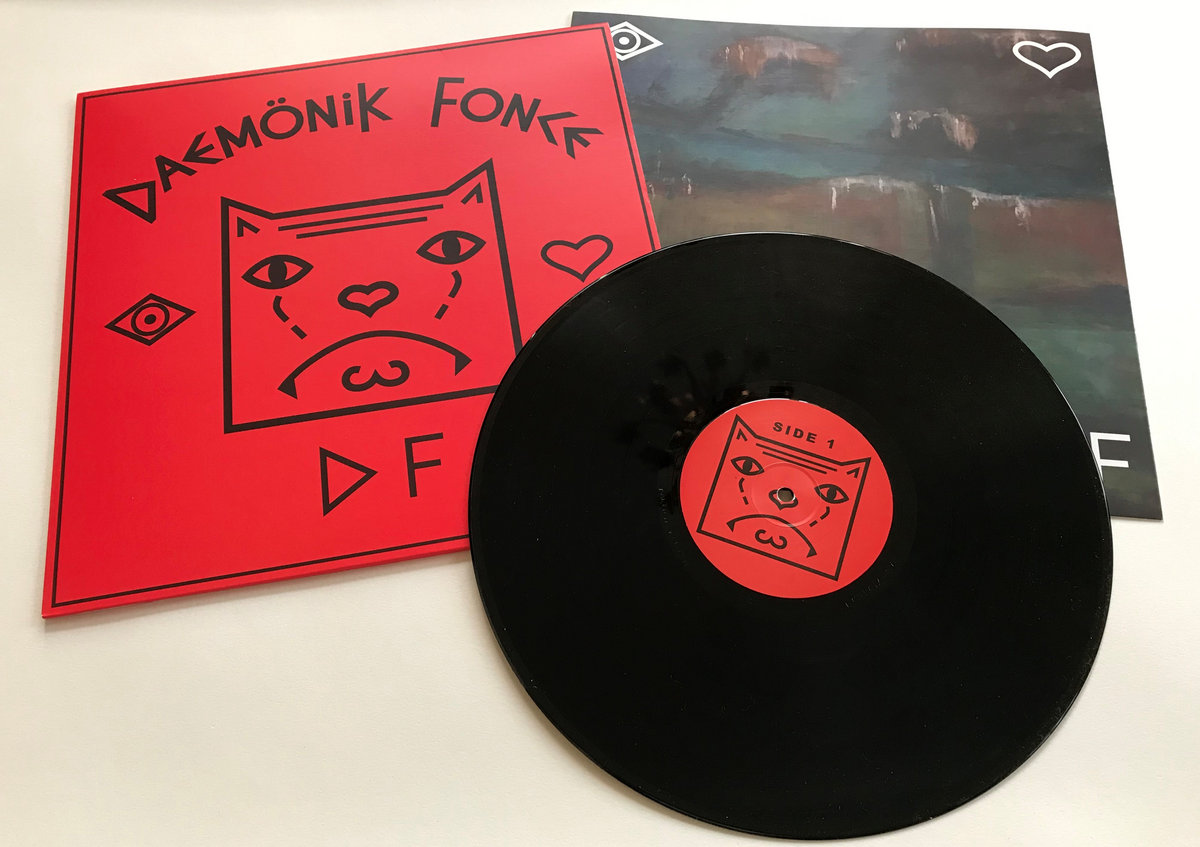 The debut album by the curiously named Daemönik Fonce majors, lyrically, in the rock'n'roll silliness of prime-time garage psychedelia, notably on the song "Badgers + Ferrets", but their overall sound is far from frivolous. They have supported Jim Jones & the Righteous Mind, and that's a good starting reference point. Daemönik Fonce, also have a driven synth-banger aspect, which comes to the fore on the intro sections of songs, but their real appeal is insouciant rock'n'roll sass, as if they were designed for a burlesque post-modern biker bar in an early Tarantino movie. With a vocal style somewhere between Liam out of Flowered Up and Mott the Hoople's Ian Hunter, they have a proto-punk aspect too. Led by Welsh twins Stewart and Paul Summers, the band consists of members of rockin' stalwarts The Rumblestrips, Tits of Death and Los Pepes. I suspect you need to see them live to garner the full ballistic impact. I'll be keeping an eye on Hastings label Property of the Lost…
Dodgy The A&M Albums Boxset + Ace A's + Killer B's (Demon)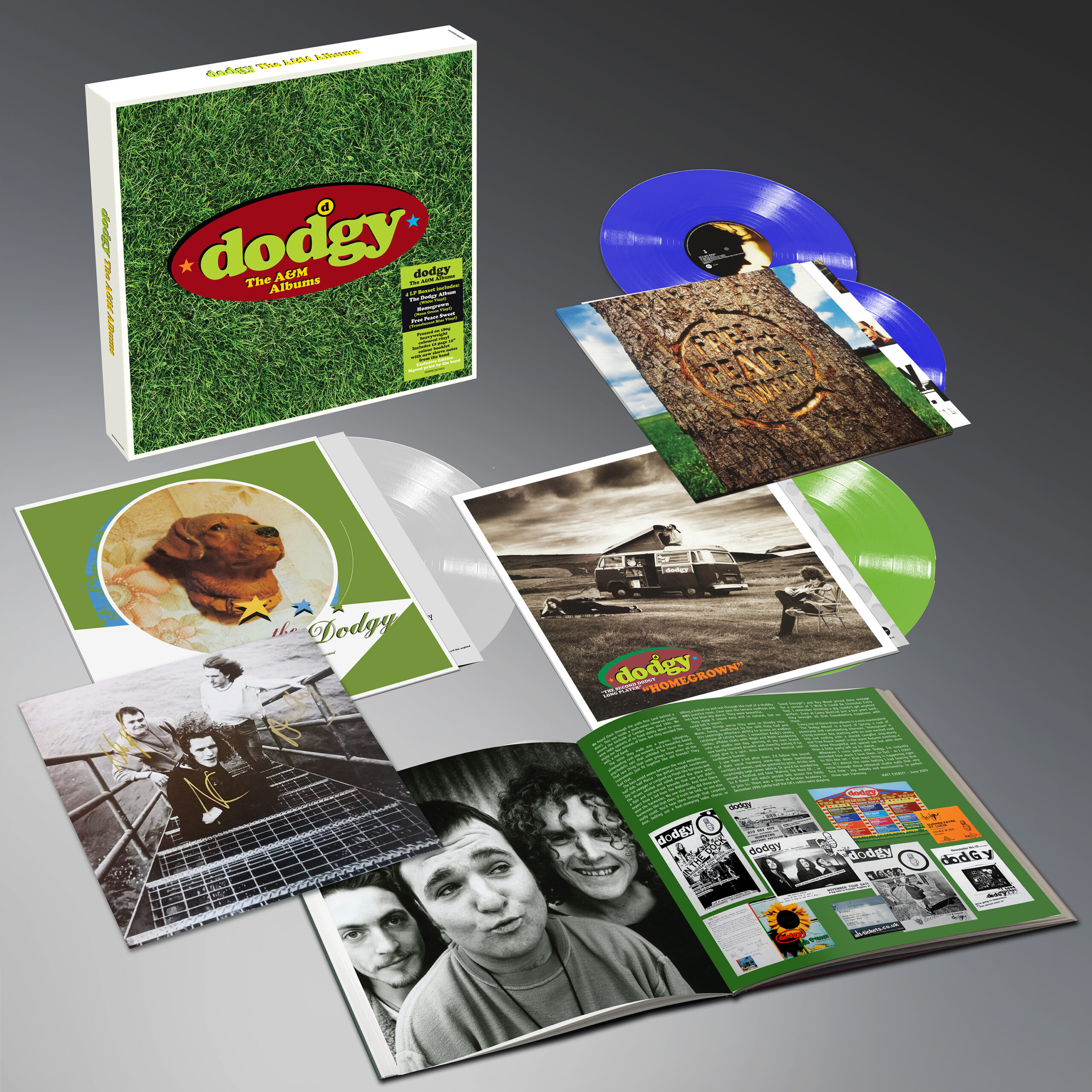 Long, long ago when the world was young and Dodgy first appeared (say around 1991), I could swear they had a song with lyrics that went, "Whatever became of peace and love?/Saturday night and a little white dove". If this is true, which it may not be (those were hazy, ravey times), I can't find them here (or on Google). Those lines endeared themselves to me and I would quote them often. Perhaps Dodgy said them in an interview? Or perhaps the whole thing was nothing to do with Dodgy? Any idea? Them I liked too, anyway, their attitude, their politics, just generally, but the music didn't fit with me at all, not while rave ruled the land. Approaching them again decades later, their genial stew of Sixties pop harmonies, punk-strummed acoustics, festival campfire vibes, and socially conscious hippieness still doesn't reach me most of the time. Occasionally, though, when they go off-piste, as on the ballsier baggy-dance anthemic "U.K.R.I.P." from the Free Peace Sweet album, I am right back on board. Demon release a boxset of Dodgy's three A&M albums, including 1993's The Dodgy Album on white vinyl, 1994's Homegrown on bright green vinyl, and on gatefold double on blue vinyl their big one, Free Peace Sweet from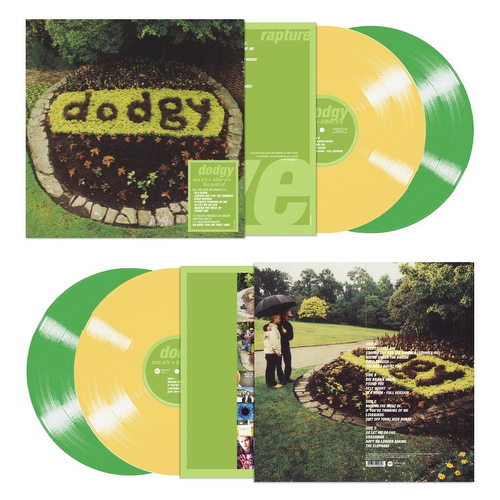 1996. That latter includes bonus track "Is It Me" and the likeable "Grateful Moon", which has a touch of Noel Gallagher's better material about it. Limited to 750 copies, there's also a signed print and a booklet rammed with photos and bits'n'bobs, plus words from the band and BBC Radio 6Music DJ Matt Everitt. The Ace A's + Killer B's double set on gatefold was originally out on CD in 1998 but returns here on green and yellow vinyl. It's well-pressed and has all the hits and more, notable (for completists) for the George-Harrison-on-his-Indian-trip-esque "The Elephant" from The Black and White Single, the lush strum-pop of "Big Brown Moon" (B-side of "Lovebirds"), the Reef-ish funk-rock of "(Get Off Your) High Horse" (B-side of "Staying Out for the Summer"), "Self Doubt" (B-side to "In a Room"), and 1998 non-album single "Every Single Day", a cracking shot of trip hop psyche-pop. Most of these are proof that when Dodgy aren't sounding like a cross between Wonderstuff and Supergrass, they're more up theartsdesk on Vinyl's strasse.
A Espetacular Charanga do França The Importance of Being Espetacular (Mais Um) + Orquesta Akokán 16 Rayos (Daptone)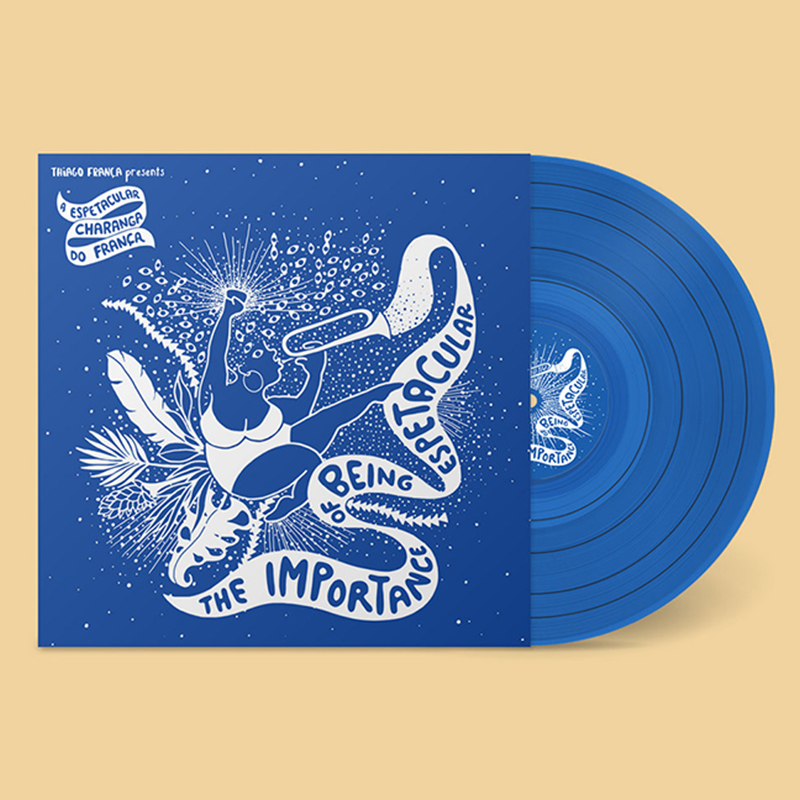 A couple of albums that blaze with glorious Hispanic roots music energy. A Espetacular Charanga do França hail from San Paulo where their performances are one of the carnival season's biggest draws. Their first full global release arrives on blue vinyl and is jammed with a brass-fuelled selection of cumbia-styled tuneage, with guest vocal appearances including Lucas Santtana, Tulipa and Jucara Marcal. It's an eclectic, bouncing and varied outing, including an instrumental tale on Michael Jackson's "Don't Stop 'Til You Get Enough". Band-leader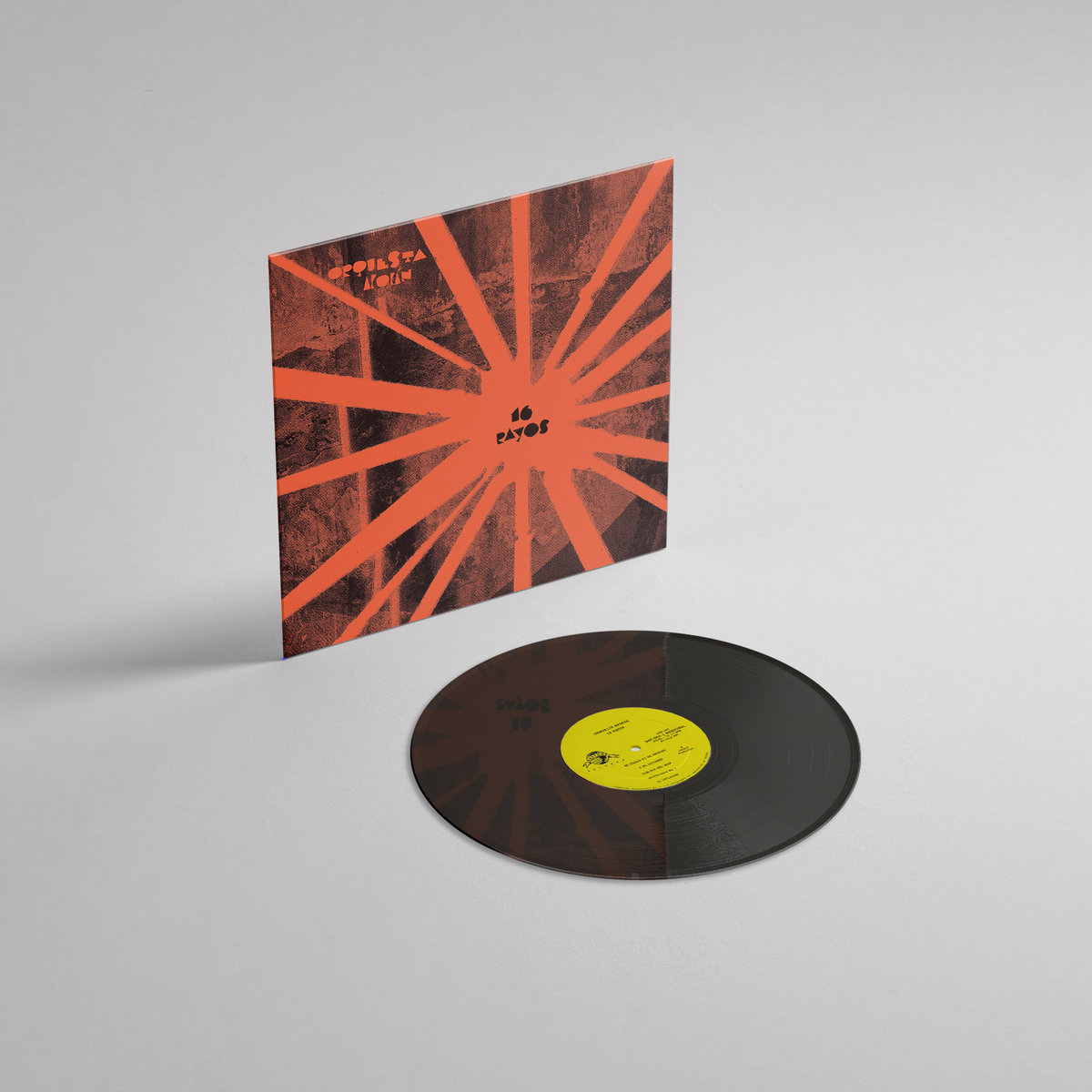 Thiago França lives up to his reputation for not just taking the obvious trad path. Orquesta Akokán, meanwhile, burst out of Cuba ready to unleash their revitalized, rekindled version of mambo on the world. Their album matches an adventurous jazz spirit with an, in places, frenetic dancefloor rumbustiousness. This is not a chilled, Gotan Project-style revision; while there are big band ballads and sonic tributes to Perez Prado aboard, it's also full of in-yer-face bangers and percussive jumpers that boast a modernist polish.
PJ Harvey Let England Shake + Let England Shake – Demos (Island)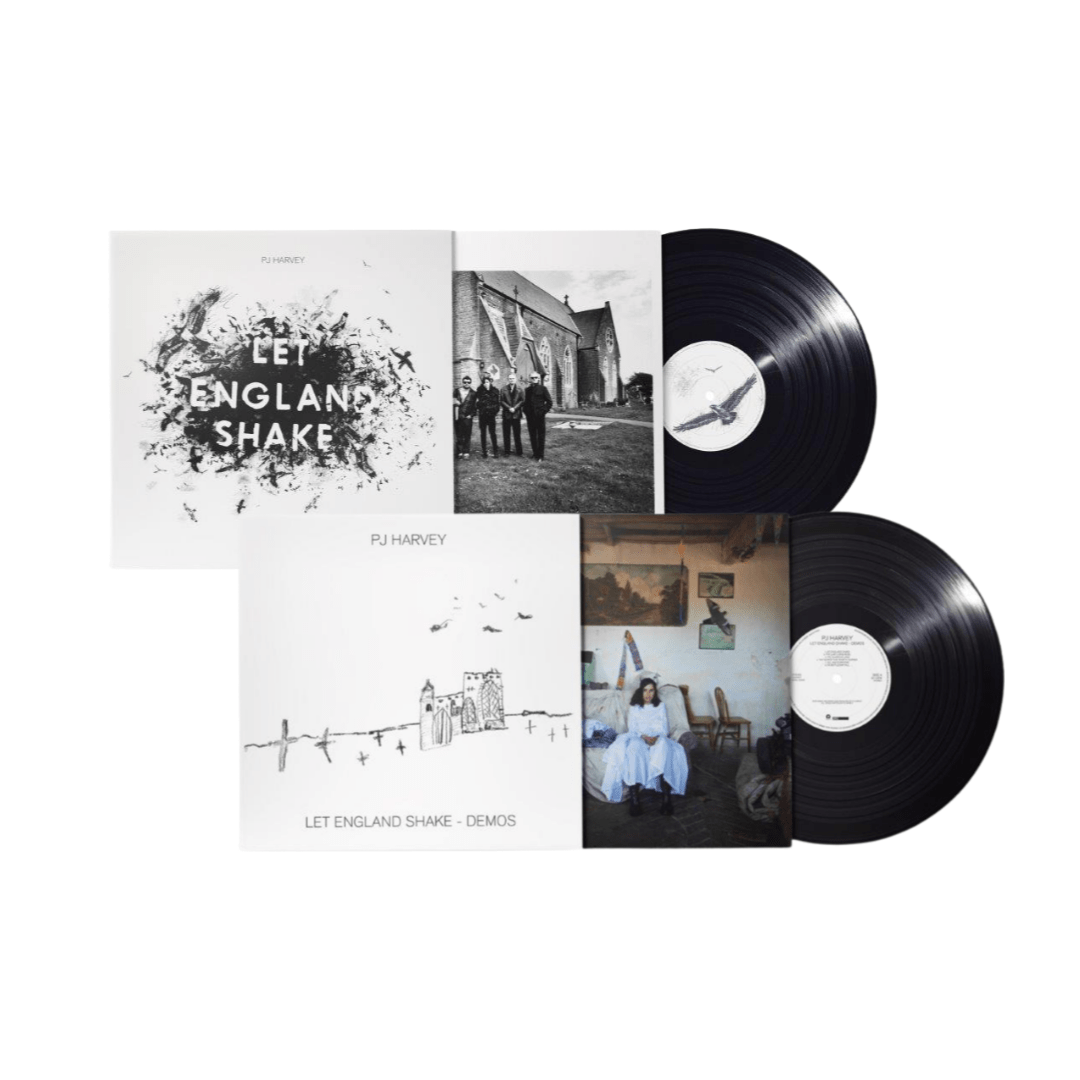 There are those who prefer PJ Harvey's earlier, grittier works of howling feminist indie-guitar rock but at theartsdesk on Vinyl her more exploratory works and the albums attributed to her and John Parish are more our speed. Chief among them, perhaps, is this Mercury Music Prize-winner from 2011, wherein Harvey offers a melancholic concept album, a folkish meditation haunted by First World War poetry, nostalgia for rural England, and generally – in a tragically timely fashion – by blood shed on behalf of a country. From the woozy, haunted psychedelic chugger "Written on the Forehead" to the falsetto folk of "On Battleship Hill" to the brass-fuelled jangle-pop of "The Words That Maketh Murder", this is an eclectic yet thematically focused album that bears repeated listening. For my money, if you could only own one PJ Harvey album, this would be it. The Demos set is well worth a listen too. Samples of songs around which some of the numbers are based are audible as backing tracks (eg Eddie Cochran's line, "I'm gonna take my problem to the United Nations" from "Summertime Blues", looped through "The Words That Maketh Murder"). These are enjoyably raw early takes of the kind we've come to expect from the Demos albums that have accompanied recent Harvey reissues. Both come with photo/lyric/info inner sleeves.
Aloa Input Devil's Diamond Memory Collection (Siluh)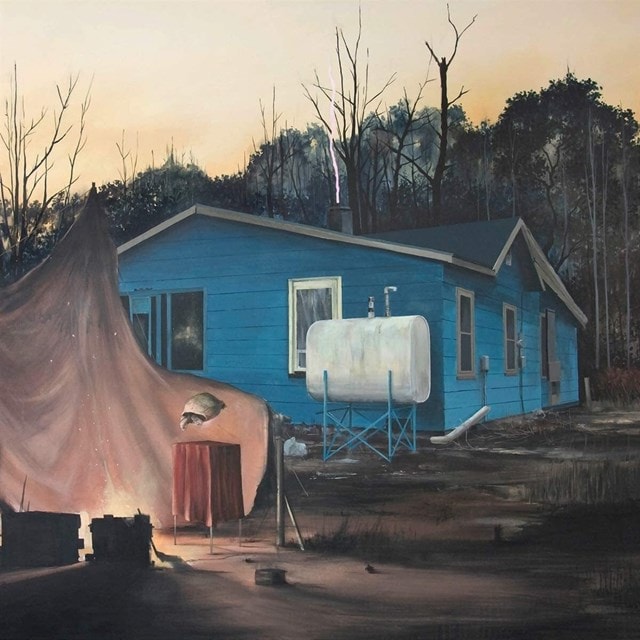 "Bavarian indie supergroup" Aloa Input return after a break of six years with an album that dwells opaquely on the inconceivable nature of the relationship between time/eternity and matter/life. A trio who all have deep roots in Munich's culture-scape (Cico Beck is more widely known through being in The Notwist), their third album comes on art gatefold in lyric/art inner sleeve. It is warm metronomic bedroom pop, harmonic and sweet, as if Django Django were trying to put their brains together after overdoing it on LSD-laced MDMA. So, yes, also fuzzily psychedelic, beamed in from somewhere other-ish via a faulty radio signal, with electronic wibbles and bleeps enhancing the gauzy feeling. The lyrics are abstract word pictures (redolent slightly of Yoni Wolf/Why?) and the overall impression is of something small but perfectly formed which will slowly reveals itself over many listens.
Various British Mod Sounds of the 1960s (Demon)
Lifelong mod and Acid Jazz MD Eddie Piller has been on fire lately on the compilation front. His recently released two volumes of obscure and not-so-obscure late-Seventies and early-Eighties mod revival tunes are will worth picking through. And now this. Proceedings open with "I'm a Face" by The High Numbers, The Who in disguise on a number written by their then-manager, ultra-mod caner Pete Meaden. It's a rhythm & blues number so monotone in its riffage as to be almost Krautrock-like. From there, the four sides of vinyl explore multiple styles: the happy-clappy soul of Geno Washington & the Ram Jam Band's "Michael (the Lover)"; the very-of-its-time-titled skiffle-pub-blues of Rod Stewart's lost 1964 song "Good Morning Little Schoolgirl"; garage organ instrumentals such as "Bert's Apple Crumble" by The Quik and "Henry's Panter" by Wynder K Frog; the brassy kitsch-pop of "Emergency 999" by The Alan Bown Set"; the proto-punk psyche-rockin' of The Birds (nor The Byrds!) and The Creation; various Northern soul cuts by the likes of PP Arnold and Love Affair. The eclecticism is thoroughly enjoyable and showcases what a broad church mod could be, often as much about certain stylistic tics as any narrow musical framework. Comes on bright blue and red vinyl in inner sleeves featuring a detailed, densely written essay about the development of mod by DJ and author Paul "Smiler" Anderson.
Ploy Rayhanna EP (Deaf Test)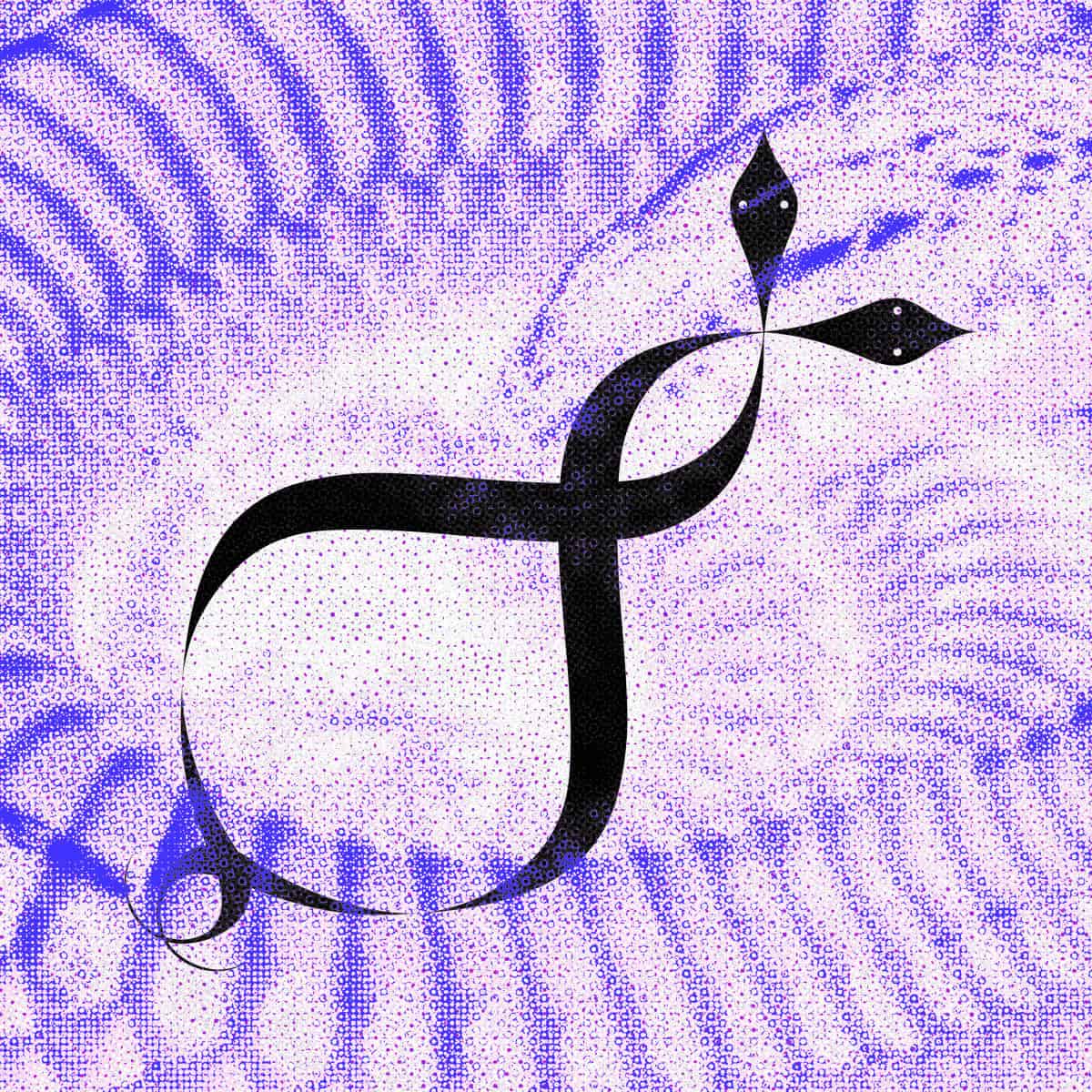 The A-side title track of this 12" comes on like an original dubstep record from a dozen years ago that's been slung, very raw, into a tribal-industrial cement mixer. With sampled female hype shouting endorsing the clattering groove it's an alternate dancefloor banger lathered with the spirit, if not the sound, of techno. Ploy is Bristol producer Sam Smith, who used to record as Samuel. It does feel very Bristol, like a twist on the older Tectonic tunes. On the flip "Dark Lavis" is a skittering Middle Eastern-sounding pulser, as well as the snarling, cut-up, machine electro of "5G Bats", which recalls the likes of Dead Fader and Two Fingers, the toughest tune of the three. For those who want vanguard electronica that hammers, this is the gear.
ALSO WORTHY OF MENTION
Paul McCartney and Wings Wild Life (Capitol): How had I not heard this album before? It's much better than I was expecting. I mean… Side One is really good! Thrown together quickly in 1971, McCartney is still in his anti-polish post-Beatles mode – it's his third album since the split – and he and wife Linda are clearly enjoying the company of new band-mates Denny Laine and drummer Denny Seiwell for Wings' debut. Side Two is the more classic Macca stuff, the sweet, twangy balladic duet "I Am Your Singer" with Linda and the lonesome, piano-led "Dear Friend", a famously heartfelt plea to the then-estranged John Lennon. These are what they are, not so much theartsdesk on Vinyl's favoured territory, they're certainly rawly sincere, but side one's four cuts are corking; the sort-of-calypso rocker "Love is Strange", the playful rock'n'rollin' opener "Mumbo", the throwaway nonsense blues honk "Bip Bop", and the slow but fervent rumination on the human condition (I think?) of the title track. Half-speed mastered at Abbey Road, its sounds suitably fab too.
Bogdan Raczynszki Addles (Planet Mu): One of the original Nineties architects of post-drum & bass percussion-in-a-washing-machine music returns on a label famed for the same. He "came back" after a dozen years away with 2019's Rave 'Till You Cry which mischievously showed that he had not mellowed in the interim. Addles, however, while certainly not easy listening, is less wilfully crazed and, actually, the better for it. Clattering, inventive attack and almost danceable flip-outs are matched by quirked-out but more thoughtful, slower pieces of electronica. The whole adds up to an enlivening listening experience. One of the great things about this sort of music is that, unlike rock, it doesn't matter how old the maker gets. In fact, a professorial oldie behind a laptop turning out this kind of stuff, especially live, has an eccentric charm. Comes on double.
Bertie Marshall Exhibit (Upset The Rhythm): Have to confess I'd not hear of Bertie Marshall. He seems, so the press release suggests, to be primarily known (if at all!) as a writer. In the mid-Seventies he arrived in Britain from Berlin and became a member of now semi-mythic founding fans of London punk, the Bromley Contingent, about which he wrote a memoir Berlin Bromley. He went on to career lived in what we might fairly describe as the art fringes, in locations such as New York and San Francisco. Exhibit gathers together music he made with his extremely obscure early-Eighties band Behaviour Red, then, later, by himself, through that decade and on into the Nineties. The work is mostly defined by his strident tones in abstract Burroughsian poet-monologues against a backdrop of noise or scratchings, with occasional interludes of battering, cacophonic cuts. Not something for everyday listening but a curio for those interested in this niche area. Comes with a 16-page CD-style booklet.
Black Flower Magma (Sdban) + Jerry & the Pelican System Sariani (Yeyeh): Two alt-jazz outings. Belgian act Black Flower are usually a favourite of mine, and their last few records have received effusive reviews on theartsdesk on Vinyl. Mark E Smith, in his book Renegade, suggests that music journalists always say they want bands to experiment and expand their outlook, but when such change happens, we can't handle it. Black Flower's new direction is downtempo, minor key, a bit drone-ish, laced with flute-ish piping, different and more abstracted than their previous lively Ethio-jazz-flecked output, if no less exploratory. But, Mark E Smith, wherever you are currently sniding out righteous vitriol, I'm going to keep listening. Perhaps it's a grower. Right now, though, I'm a bit disappointed. The new six tracker from Polish saxophonist Jerzy Mączyński and his countryman Waclav Zimpel, however, is more immediately engaging. Themed around Mączyński's travels in India, it ranges across mystic semi-ambient head-nodders such as "Temple of Jestsu" and "Everest Inn" and on into motorik easy listening grooves such as "POOLS GAMES". While never throwing itself in the listener's face, it maintains an approachably offbeat originality.
O'Connell & Love Will You Be There? (Mountmellick Music Ltd): O'Connell & Love, meanwhile, are Larry Love of Alabama 3 and his old mate Brendan O'Connell. The pair put out a solid debut album seven years back, Minesweeping, and the follow-up, Will You Be There?, is almost equally engaging, a set of strummed barroom songs tinted with country and even folk, lyrical yarns woven throughout. Less in-your-face than Love's dayjob, but the subtlety often pays off. Check the pithy wordage of "You're Gonna Need Someone" as a point of entry.
Group Listening Clarinet & Piano: Selected Works, Vol. 2 (PRAH) + Oliver Patrice Wender The Pool Project (SA): Group Listening could have been a rather faceless duo, had they not decided to appear on the front cover of their second album wearing strange white Viking-egg helmets (see image left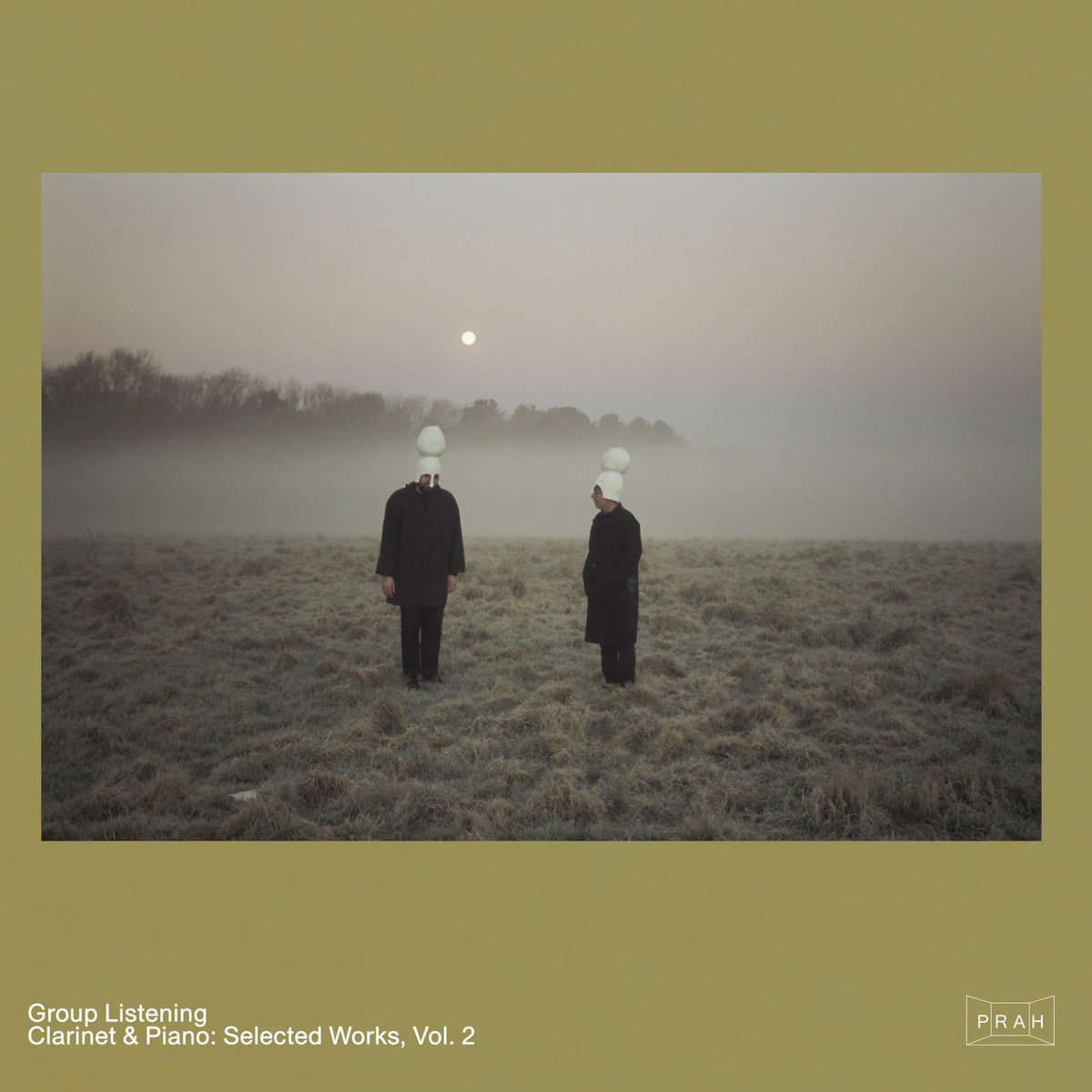 ). Usually these sort of albums arrive with covers so bland and "soothing" I want to scream at the creators that, just because the music is gentle, it doesn't mean the presentation has to be forgettable. As for the music, Clarinetist Stephen Black and pianist Paul Jones return with another collection of warm, reverb-strewn cover version pieces, including ones built around "Seeland" by Neu! And "Take Care" by Big Star. It's easy-going, eyes-closed fare and likeable for it. Comes on pale swamp-green vinyl. Oliver Patrice Wender's The Pool Project covers similar territory but is more deliberately textual and layered, adding flutes, vocalising and electronic manipulation to his treated piano. It's akin to an opiated brain-bath which is no bad thing. Comes on white vinyl on photo gatefold with a cover that absolutely fulfils my above put-down about the art on this kind of music.
Cat Stevens Harold and Maude: Original Motion Picture Soundtrack (Cat-O-Log): Cat Stevens was Hal Ashby's second choice for the soundtrack of his 1971 classic Harold and Maude (Elton John was his first), but his work lifts the film's gloom-touched whimsy well, emphasising positivity in the curious journey the central characters are on. Indeed, they are here, Ruth Gordon and Bud Cort, the film's young/old couple, singing Stevens' "If You Want to Sing Out, Sing Out". The original version his here too, alongside "Don't Be Shy", the two songs he recorded especially for the film. The rest are re-recordings of known cuts such as "Tea For The Tillerman". There are also dialogue excerpts and two classical pieces used in the film (Strauss's "The Blue Danube" and Tchaikovsky's "Concerto No.1 in B"). The whole comes, well-packaged on photo gatefold with an extensive 36-page booklet with lyrics, images, and notes and more.
JW Francis Wanderkid (Sunday Best): The second album from New York bedroom-popper JW Francis is jangly, everything purposefully very slightly distorted through amplification, which is one of the signature sonic tics for this sort of everything-but-the-kitchen sink indie. It pootles along pleasantly, his voice following the not-really-singing traditions of Lou Reed and Eighties indie, a sense of it being carefully crafted but also slung together, taking pleasure in the messy edges. While not outstanding in its field, it's affable stuff. I wonder if he's one of those you go and see live as much for the between-song chat as the songs themselves. Comes on transparent fuchsia vinyl.
Toundra Hex (Sony) + Paul Draper Cult Leader Tactics (KScope): Two flavours from the multifarious church of 2020s prog. Toundra are a Spanish outfit who term themselves "post-rock", and whose music delves into the areas where Mogwai-style head-jams bleed into the outrageous concept metal of bands such as The Ocean. Unlike the latter band, though, Toundra's eighth album is instrumental, building melodic interweaving layered and heavy pieces that will either sweep the listener off or make them turn it off. While the sound's originality may be open to question, there's no denying it has a certain epic power. Comes in photo-art gatefold. Ex-Mansun frontman Paul Draper, on the other hand offers a completely different aspect of prog, via 21st century prog label mecca KScope. His latest album is a concept affair based around "a fictitious self-help manual", it's prog-ness also deriving from the way it skitters very deliberately across music styles, from the wordy, strident electro-pop of "Everyone Becomes a Problem (Eventually)" to the raucous, vaguely Pulp-ish title track, to songs that recall John Lennon and ELO. It's all a long way from Gentle Giant, Jethro Tull et al – and it is also and undeniably self-aware alt-pop with elements in common with the likes of Luke Haines. But something about the way it seems aware of its own cleverness puts it firmly in the prog camp! Comes in lyric inner sleeve.
Mood Taeg Anaphora EP (Happy Robots): Some great titles on this 12" six-tracker, "Squirrels Dancing Among Elephants" and "Tachistoscopic Interval" among them. Mood Taig is the music aspect of a collective split between Dussefdorf and Shanghai. Owing a debt to Krautrock (that word again!) their music is brain-mesmerising doped-out stuff which arrives on bright scarlet vinyl. Occasional plain-spoken voices intrude to make TV presenter-style announcements, but mostly this one simply majors in ear-pleasing motorik chillage.
The Divine Comedy The Best of the Divine Comedy (Divine Comedy): Like Dodgy, reviewed somewhere above, Neil Hannon's The Divine Comedy were a mid-Nineties pop phenomenon that didn't float my boat at the time. Time for a rethink? Possibly. Their Best of collection arrives on well-mastered double vinyl. It contains the biggies, such as the kitsch easy listening observational "National Express" and "Generation Sex" but, while clever, these sound wilfully cute to these ears. Better, perhaps, are non-hit 21st century songs such the lovely "Norman and Norma", a poetic cross between Al Stewart and Jarvis Cocker, or the strummed nostalgia of "At the Indie Disco". "The Pop Singer's Fear of the Pollen Count", which was recorded for another 1998 hits collection, is not here but the less well-known and more recent material makes up for any such losses.
Jessica Moss Phosphenes (Constellation): The press release says this is "immersive isolation music" and that's an apt description. Canadian violinist Jessica Moss has been in various alt-indie bands and played on albums by Arcade Fire and others but has also now built up quite a body of solo work. On Phosphenes her instrument is at the heart of doomy smudged seams of echo and tone, the whole thing mournfully minor key, adding up to a starkly forlorn-sounding music. It's wilfully miserable but also chilled-out and kind of interesting. Comes on art-photo inner sleeve.
Soft As Snow Bit Rot (Infinite Machine): The second album from Berlin-based Norwegian alt-electro duo Oda Egjar Starheim and Øystein Monsen – Soft As Snow – is a step forward and sideways from their debut. Where that release was defiantly abstract, their new one offers a diseased, uneasy, twisted synth-pop. Starheim's queasy baby-girl vocals are tethered to darkly bubbling, mildly psychedelic slow-rolling electro-beats. It's not a million miles away from a fusion of The Knife and Alice Glass-era Crystal Castles. Comes on transparent lime juice-coloured vinyl in lyric inner sleeve.
Soul Revivers On the Grove (Acid Jazz) + U-Roy Solid Gold (Trojan Jamaica/BMG): Two new reggae-centric albums, each with a theme. Soul Revivers is the work of two longstanding dons of London's music scene, Nick Manesseh and David Hill. The pair originally joined forced to work on the soundtrack of Idris Elba's Yardie film. They've now put together a team of solid musicians, and also gathered top rank vocalists such as Ken Boothe, Earl 16, Ernest Ranglin and Alexia Coley. The resulting album is easy-going, as much concerned with a laid back jazz and soul feel as with reggae, a fact emphasised by the presence of Kokoroko's trumper-player Ms Maurice. It's built for sunny summer Sunday afternoons. On double with 12" x 12" photo/info insert. U-Roy, who died in February, was the artist who popularized toasting in Jamaica, chatting DJ-style over backing tracks. His recordings consolidated a new style of reggae. Solid Gold, on double vinyl in photo/info gatefold is an ebullient collection wherein a host of his contemporary admirers appear beside his voice on new versions of his more famous tunes as well as other material. Those on board include Shaggy, Big Youth, Mick Jones of The Clash, Robbie Shakespeare, Scientist (who creates a dub of "Every Knee Shall Bow") and Santigold (who sets "Man Next Door" alight as only she can). It's a more lively creature than the Soul Revivers set but also, by the nature of its central concept, less originally conceived.
Jessica's Brother Just Rain (Fika) + Simon Bromide Following the Moon (Scratchy): A bassist and a drummer who were in the framing business (picture framers not blackmailers) got together in 2016 with singer-songwriter Tom Charleson. The drummer was also, incidentally a member of The Wave Pictures. Their second album as Jennifer's Brother makes no pretentions to ground-breaking but does contain a set of decently wrought songs that bridge county, indie and folk with gentle, room-pleasing aplomb. Conservatively conceived, perhaps, but heartfelt. Comes on water colour art inner sleeve. Simon Berridge is the frontman of London indie guitar perennials Bromide and Following the Moon is his solo album, born out of south London's Easycome acoustic/open mic night. Less guitar-bashing than Bromide, these are songs adhering to the Eighties indie-pop model, as defined originally by the TV Personalities and co-opted by Creation. These songs are not in the league of the former but a match for some of the output of the latter.
Various PRSNT (Modern Obscure Music): Modern obscure music, indeed. It takes some Googling to find what this even is, such is its wilfully ant-commercial presentation. This isn't to say the package is physically unappealing, a gatefold with a classily produced booklet of writings and artistic photos (by Wolfgang Tillmans, Juergen Telle and the like) stapled in the middle, meanwhile the vinyl is a one-sided affair at 45 RPM. Limited to 500 vinyl copies, it contains 12 30 second pieces by artists such as Ryuichi Sakamoto, Nicholas Godin, Laurie Spiegel and Lucretia Dalt, which range from ambient noodle to oddball spoken word samples to bubbly noodle. I am not sure who'd want to own this or why or what they'd do with once they did, but it does have a certain "objectness" that might make it desirable to those who covet opaquely conceived art.
AND WHILE WE'RE HERE
The latest from massive-yet-still-underground-somehow DJ-producer Bonobo is the Fragments album on Ninja Tune, a double on photo-art gatefold. He's taken the long route to where he is today and deserves his success but I've not been as moved as others by his elegantly presented, soulful house-tronica of recent years. I mean it's not bad exactly, it's just there. House is going through a funny phase; massively popular but mainly a homogenous backing track for selfie-taking. Bonobo's work is classier than that, and more deeply crafted, but still a smidgeon too tasteful. Danish musician Andreas Trentemøller, on the other hand, might be a touch too wound up with 4AD-flavoured Eighties gothic on his new album Memoria (In My Room). When he first appeared he was kind of a dark-techno DJ but mention of his of DJing has now been excised from a number of his online biogs as he mutates into the composer of mournful post-Cocteaus-tronica, sometimes featuring the wispy vocals of Lizbet Fritze. On gatefold double, it's a moody late night outing. As is the Speechless album by Polish composer Resina on 130701, which is is gloomy historiographical art music, themed we read, around a variety of Poland's socio-political troubles and featuring Warsaw's 441 Hz Chamber Choir. Edgy and boasting an atonal attack, it's interesting and filmic but not massively more-ish. Düsseldorf's post-Krautrock outfit Kreidler usually temper their art music with a certain motorik funk which, on their latest album Spells and Daubs on Bureau B does, indeed, crop up on the space-groove of "Toys I Never Sell", but much of the album consists of an ear-intriguing post-industrial glitch-ambience that noodles about well enough but without their usual chutzpah. Eric Chenaux is a Canadian guitar experimentalist and avant-jazz balladeer. The latter is the persona he adopts for his first new solo album in four years, Say Laura on Constellation. His falsetto-reaching voice leads the way, sparring with wibbly backing, farty under-funk and gloopiness, leaving him to fly alone above. It's an acquired taste, unique but demanding the full attention of a listener. Comes on lyric inner sleeve with 12" x 24" collage art-looking insert. A more traditional singer, in all senses, is crossover folkie Seth Lakeman who reappears with his 11th album, Make Your Mark, a double on British racing green-coloured vinyl in photo/lyric/info gatefold. It mingles guitar pop with a folky feel, less indie than Mumford and Sons, more actually bedded into roots music, with feeling in the lyrics. A sturdy effort that will do his following no harm.
Finally, one that's already been reviewed on theartsdesk but which are worth having on plastic.
Dot Allison Heart-Shaped Scars (SA): On double in gatefold in lyric inner sleeves on transparent green vinyl, the seventh album from the singer adored by early-Nineties E-heads of refined taste. It's gossamer delicate, her frail voice floating round minimal folky instrumentation, and has been comprehensively reviewed on thartsdesk by Joe Muggs here.
We welcome any and all vinyl for review. Please hit thomash.green@theartsdesk.com for a postal address.
As if Django Django were trying to put their brains together after overdoing it on LSD-laced MDMA
Explore topics
Share this article