The Great Escape Festival 2019, Brighton review - a juicy smörgåsbord of new music from all over |

reviews, news & interviews
The Great Escape Festival 2019, Brighton review - a juicy smörgåsbord of new music from all over
The Great Escape Festival 2019, Brighton review - a juicy smörgåsbord of new music from all over
Brighton's annual band beano and music biz conference is as busy and entertaining as ever
Sink Ya Teeth in full flow at the Great Escape
Now going for over a dozen years, ever-busier since Live Nation took over its parent company in 2015, The Great Escape Festival is the annual multi-venue band showcase and music conference which sees Brighton swamped with
music biz sorts. This year these especially seemed to be young men and women called Piers and Hannah watching female-fronted
indie
bands. This writer only catches the last of the three days – Saturday – but is sucked into the venue-trawling spirit of the thing.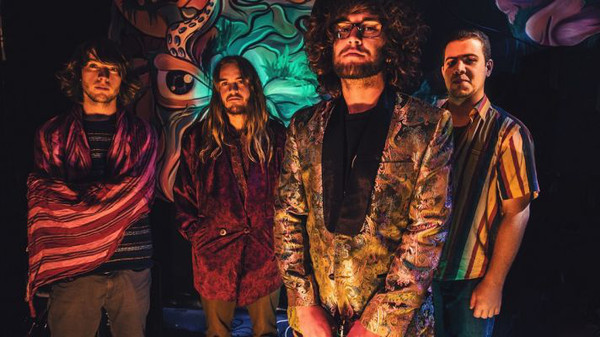 Down on the seafront an encampment of marquees has appeared on the eastern end of Brighton beach, enclosing three venues – The Dive Bar, Ditto and Deep End – and a host of eateries and bar spaces. At two in the afternoon a large queue forms to see the Psychedelic Porn Crumpets (pictured left) from Perth, Australia. With a name like that, it's not surprising there's interest. From their music, it'd be easy to assume there's little to do in Perth other than smoke bongs and listen to the sounds of the early Seventies.
All with chest-length hair, they begin with singer Jack McEwan announcing "We got one song for ya", which made me envisage an endless Yes-style odyssey but, in fact, he's fibbing and they play five, all prog-grunge with changing time signatures, recalling fellow Aussies King Gizzard and the Lizard Wizard. They've a riff or three up their sleeves, swerving easily between sudden spacey interludes and full-on headbanging. By the time they reach closer "Cornflake", they've convinced of their potential, although the prog thing is never going to win with me.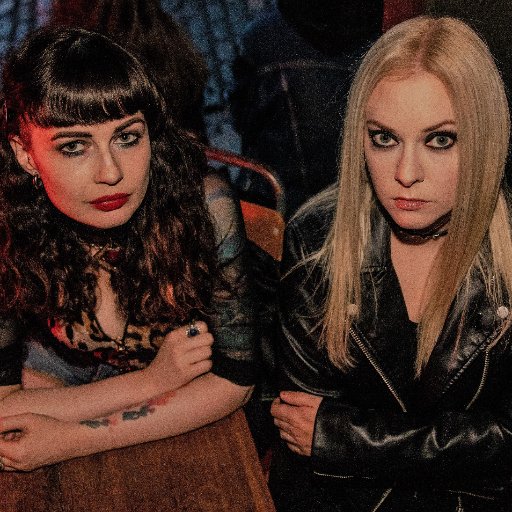 Happily they also played through a rainstorm so that once I leave the sun is back in the sky and I scoot up to Latest Music Bar to see Dublin duo Vulpynes (pictured right). They are fronted by black-bobbed Maeve Molly, wearing a low-cut dark purple tartan bondage mini-dress and knee-high sock-effect tights with Art Deco cats on each knee. There is a lot of Betty Page about her. She plays guitar while her partner in crime, drummer Kaz Millar, blonde, in sequinned black shorts dungarees and pink fishnets, is a whirl of arms attacking her kit. They look like a punk burlesque Suicide Girls turn and create a solid-rockin' sound.
Imagine LA two-piece Deap Vally, but channelling The Cramps instead of Led Zeppelin, and that's Vulpynes. Molly spits her songs deadpan or surly, firing out lines such as "I don't wanna be liked/I wanna be left alone!" They have attitude, they look good, and the lyrics have bite, but no songs yet leap out as gems you walk away with. Give 'em time.
Rushing up to Jubilee Square, out in the open air, Fata Boom (pictured left) are playing, a Dutch three-piece fronted by an outrageously camp, heavily made up bearded dude in a mauve wig and a singer clad in a sequinned hood and facepaint who might be female or might not be, and who cares anyway?. They come on like prime Larry Tee electroclash was yesterday instead of 18 years ago, but leavened with a dose of dancehall and a hip hop underpinning. They bring the party and the crowd whoop where required but, unfortunately, possibly because we're right next to Brighton Library, the sound level is feeble.
Nonetheless, by the end of their short set, they manage to whip up some sort of atmosphere, climaxing with the hi-BPM Euro-stomp bitch-off of "Don't Like You". By now it's late afternoon and, after a very edible battered haloumi burger – how very Brighton – in the William the Fourth pub, it's on, through a short monsoon, to Patterns where downstairs, usually a nightclub, is opening early at 6.00 PM.
Big Heath (pictured right) is a bespectacled MC from Cambridge who, as his name suggests, is not small of stature. He has the crowd chanting "Big – Heath! Fat – Fucker!" and terms himself at one point "the 21-stone spliff chief", but also refers regularly to being bullied at school and has a song called "Blessed" about how life has turned out. The latter is his weakest cut but he has others that showcase a smart tongue, wry self-awareness and very English humour (lines such as "I feel like Keith Floyd when he ran out of wine"). He finishes with a bass-bangin' party cut called "Pablo" which he says he usually devotes to all the coke-heads in the room but he won't bother today as it's a bit pointless with so much music biz about. He's entertaining, a name to watch out for at festivals.
Passing a percussionist in Pavilion Gardens playing drum & bass by hitting an adapted upside-down bicycle, I make my way to the Green Door Store. There are two rooms here, the bar and the performance space. I check the latter. It has hardly anyone in so I go and buy a cider and a Maker's Mark whisky. There's a bit of a scrum so it takes about ten minutes. By the time I'm done I cannot get in the room to see Los Bitchos (pictured left). They're from London and, from afar, they look and sound great, four women at the stage front swaying with their guitars, turning in a rolling indie-flavoured swing at the instrumental music of the Andes. Sounds nuts but it works.
I make sure I am in the room for Sink Ya Teeth (main picture) and am very glad I do. This duo are the best thing I see today. Fronted by Maria Uzor, a presence in black beret, white shirt, braces and baggy trousers, bashing percussion, her musical partner Gemma Cullingford on bass, wears an inscrutable expression and lays down the rhythmic architecture of the songs. Names such as PiL, ESG and A Certain Ratio immediately spring to mind but filtered, through modern electronica. During "Glass" they drop into Donna Summer's "I Feel Love" while "If You See Me" is a catchy ode to comedowns that they wrote, Uzor tells us, after they partied "then felt ill for two days". "I pushed it too far," Uzor sings, "Got in the car and pushed it to 99 miles an hour". They are exhilarating.
From there, the idea is to see London band Pumerosa (pictured right) at Coalition but they come on late and the atmosphere is a bit odd in the crowded venue, more suburban nightclub than Great Escape. I stay and watch a couple of songs. Pumerosa have a great number called "Cecile" but I don't hear that. The little I hear sounds competently indie-rockin', a bit like The Breeders, but I move out.
Next to the Black Lion which is holding an anti-Great Escape event, replete with anti-delegate badges. There is an Alternative Escape, now partly under the Great Escape umbrella, but there's still a small degree of local antipathy towards the event, with Brighton talent occasionally feeling left out and a few local businesses claiming their concerns have been overridden. This is not the place to comment further on that but it was unpleasing to see security taking apples off people at the entrance to the corralled beach venues – apples! – as if that would encourage them to SPEND MORE MONEY at licensed traders vans. Not a good look.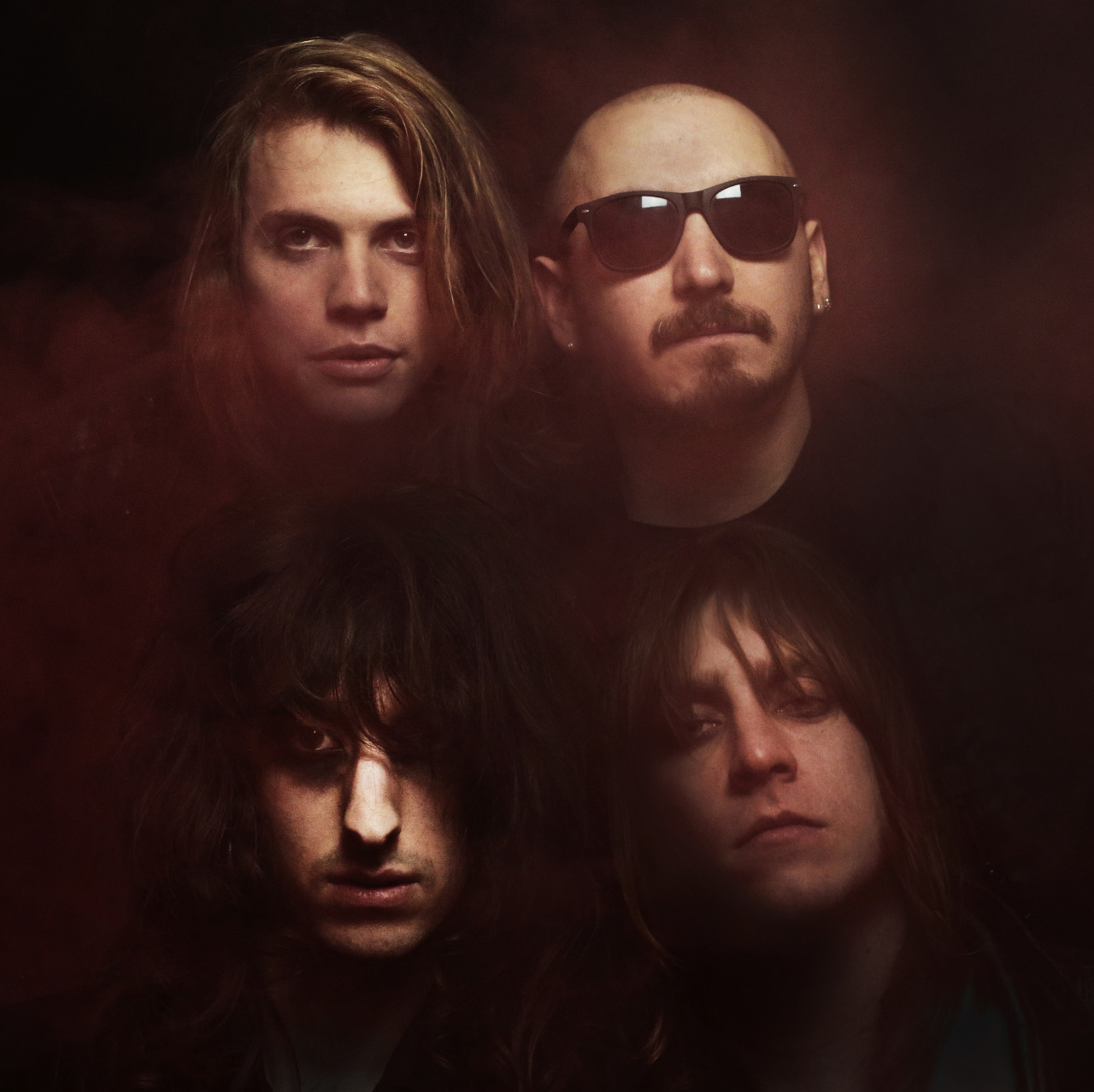 Anyway, playing here are Pink Cigar (pictured left), a London outfit who come on like The Stooges crossed with The Sweet, their guitarist kohl-eyed, their singer – Whiplash Jackson! – clad in a leopard print flip-collar shirt. They bust out proper scuzz-rock with catchy tunes. "We might be the best rock'n'roll band of your life but we take ourselves with a pinch of salt," Jackson tells us. If anyone remembers Earl Brutus, there's a touch of that about them.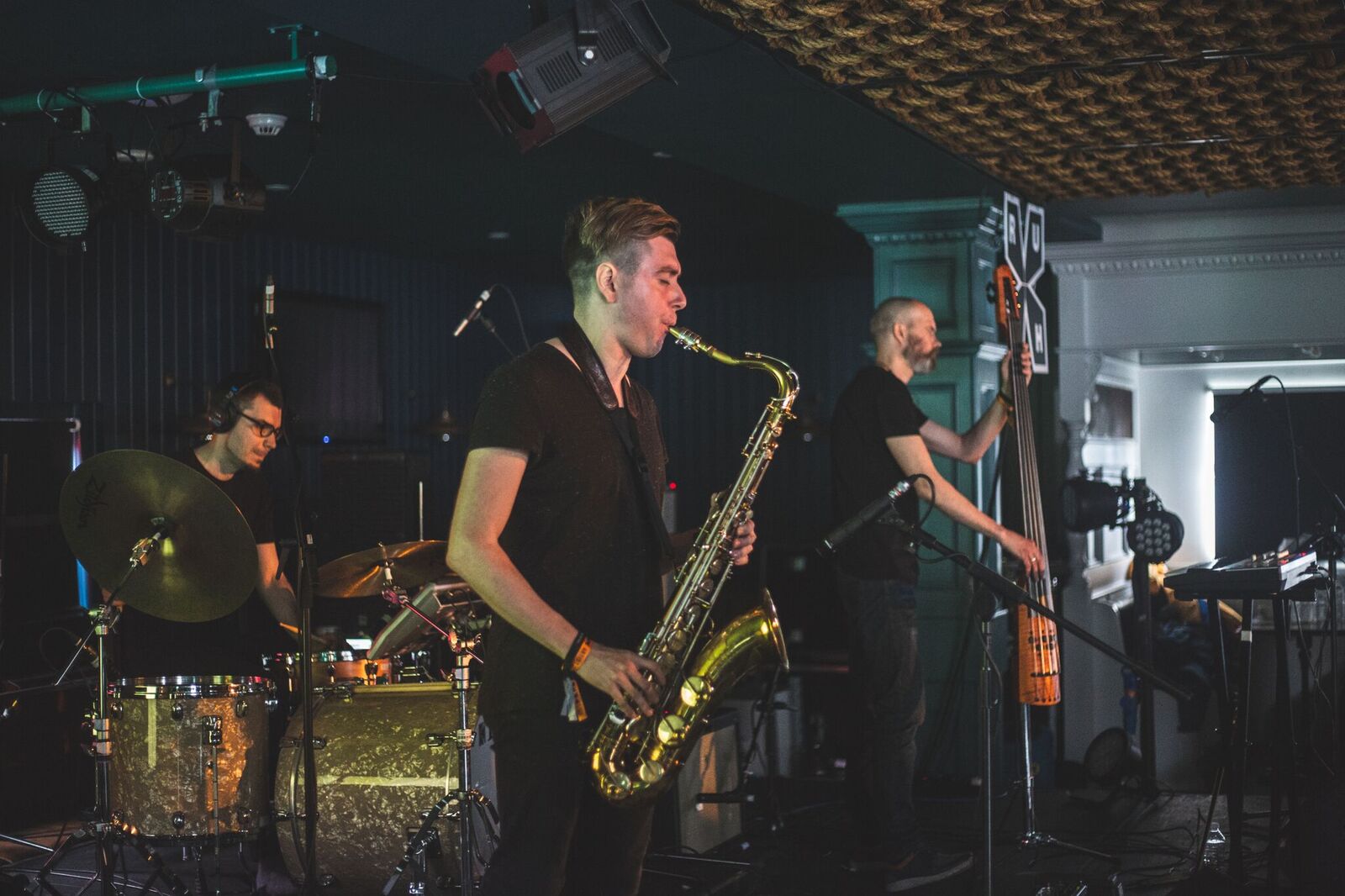 I don't stay for all their set but run off to catch some Russian jazz at a converted church and art gallery called called Fabrica where Fogh Depot (pictured right, live at The Great Escape) are playing. They cut quite a picture; double bass, drums and sax, against the backdrop of a huge stained glass window in which Jesus's halo glows bright via, presumably a street light. I only catch less than half their set but their woozy spin on jazz makes me want to investigate further.
And that's it. I spend too long drinking at the Latest Bar then try to get into Patterns again where Mount Kimbie are DJing followed by some London-Chinese experimental techno, but the queue is now round the block so, instead, I retreat to a late night drinking haunt and guzzle turpentine until a zoot chariot sweeps me off to bed.
Below: Watch the video for "If You See Me" by Sink Ya Teeth
I pass a percussionist in Pavilion Gardens playing drum & bass by hitting an adapted upside-down bicycle
rating
Explore topics
Share this article