Le Mystère des Voix Bulgares, Barbican |

reviews, news & interviews
Le Mystère des Voix Bulgares, Barbican
Le Mystère des Voix Bulgares, Barbican
Charming and moving Soviet versions of Bulgarian pagan music
Sunday, 25 September 2011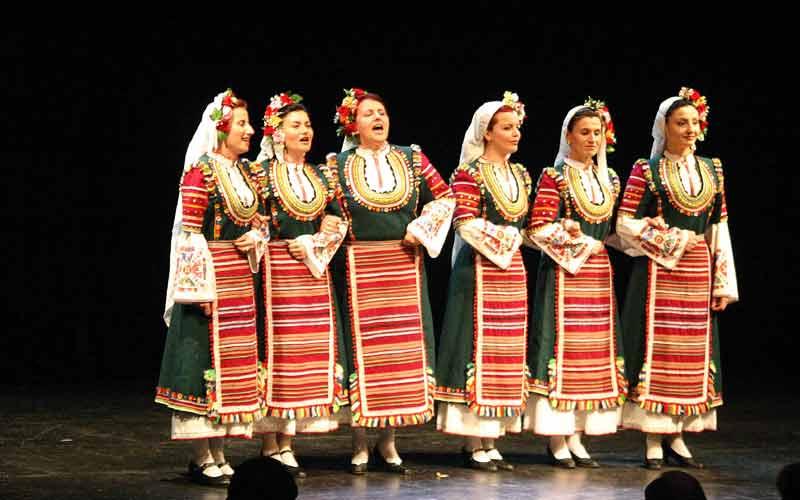 Bulgaria's world-famous female choir accessing the 'music of the centuries'
Some countries have a particular talent for choral music. Georgia, for example, has wonderful choirs, as does South Africa and, it seems, Bulgaria. Unfortunately, due to the expense of touring, we hardly get to see them. So when Le Mystère de Voix Bulgares, the female choir who embody the strange and powerful music of their homeland, came to town last night, lovers of global choral music were out in force.
How they came to be here is a curious tale. The music, while based on folk singing, was actually a Soviet-era idea of creating a national musical language. In 1952 Philip Koutev created the first such choir, which was recorded, among other ensembles, by a shadowy Swiss musician called Marcel Cellier, who put it out on his own small label in 1975. This was a real cult recording until Peter Murphy, the lead singer of Bauhaus, gave it to his record label boss at 4AD and re-released the material in 1986.
The album, with its enigmatic and mystical title, became one of the first break-out world music hits, selling hundreds of thousands. As a result numerous choirs from Bulgaria toured under the name. Eventually, it was decided that Cellier held the rights to the name and he awarded the Women's Choir of Bulgarian Radio-Television the right to use the title.
The women will often break down into chatter, gossip and whoops which gives a certain avant-garde element to the traditional melodies
The music is powerful, spine-tingling and resonant - you are overwhelmed at times by waves of timeless sound. Certainly the roots of the music are in pagan times, and you feel feminine energy enveloping you – much of it immensely tender, long-suffering and moving. A song like "Danyova's Mother" is about a woman who has lost her husband when he went off to fight, and now her son has left to "fight for freedom" also. "Come back home/ Let me live to see you married/ Let me look after my grandchildren" is her lament. It's a story that has been repeated over the centuries.
Lighter material is focused on the cycles of nature, of courtship and marriage, with lovers dreaming of each other, old bachelors being mocked for chasing young women, lusty monks regretting their vocation. The women will often break down into chatter, gossip and whoops which gives a certain avant-garde element to the traditional melodies, with their strange, sometimes dissonant harmonies arranged by different composers.
Watch Le Mystère de Voix Bulgares perform
There are different regional variants within the music – and even a couple of songs with a Sephardic Jewish component from composer Nikolai Kaufman. By now the choir has got its stage dynamic worked out – with the full choir alternating with quartets and duets. There's even a couple of token men who come on for two songs.
The strongest material for me was Philip Koutev's "Polegnala e Todora" (Todora's Dream), a deceptively simple tune of a girl dreaming under a tree of her lover. I'd been lucky enough to see the Philip Koutev Ensemble in Sofia, and would say while this choir are hugely enjoyable to hear, Koutev's have the slight edge in terms of what Koutev's daughter calls "the music of the earth", which also manages to be unearthly - that sense of the pagan roots of the music, centuries of women's celebration and pain, powerfully sung. But this choir, currently touring, are absolutely worth hearing for their freshness, commitment and passion.
You feel feminine energy enveloping you - immensely tender, long-suffering and moving
rating
Explore topics
Share this article