Susheela Raman, Islington Assembly Hall |

reviews, news & interviews
Susheela Raman, Islington Assembly Hall
Susheela Raman, Islington Assembly Hall
Tamil roots music and Western rock make for a potent mix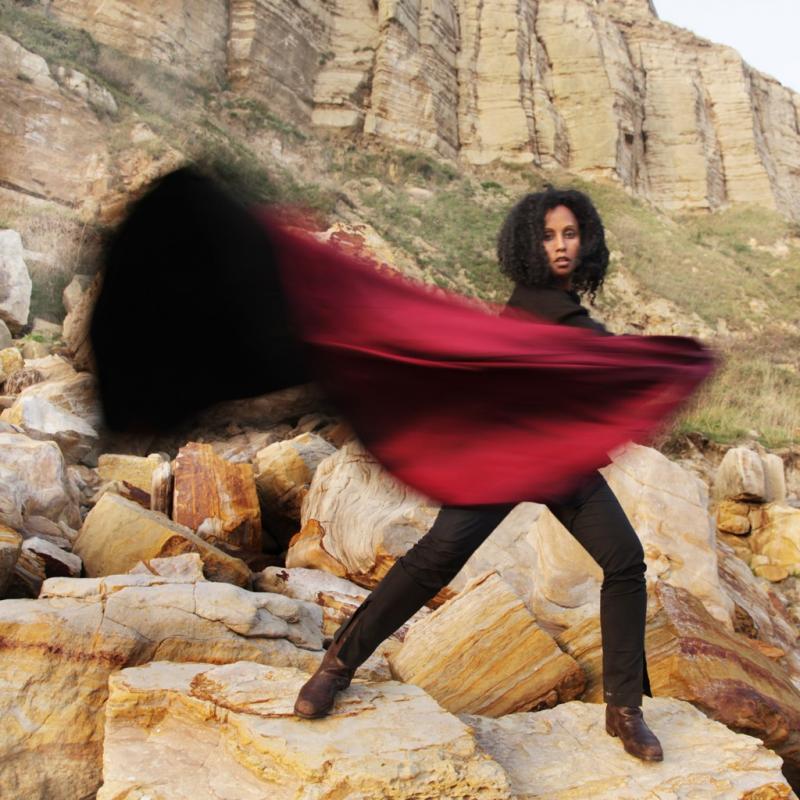 Susheela Raman and her Batman-like cloak
Over the past decade I've always been more an admirer than a fan of Susheela Raman, wanting to like her music more than I did. But her latest album Vel has changed all that. It's an uncompromisingly dark and powerful statement that makes no concessions to what one might call "world music" tastefulness.
It still incorporates some of the languid sensuality and meditative mood associated with previous works, but incorporates a harder, at times even angrier edge which makes it wholly unique.
So when I turned up at last night's gig to find myself in a large hall that felt like the inside of a 1930s wedding cake, full of people sat at tables draped in white (presumably Egyptian) tablecloths, I was somewhat dumfounded. Appropriately enough, things got off to a low-key start with a couple of songs on which Raman was just accompanied by her guitarist (as well as producer and co-writer) Sam Mills. Mills is an exceptionally energetic musician who throughout the concert – to his credit – preferred to rely on his trusty acoustic guitar for even the most rigorous rhythm and solo work. Fortunately the acoustics of this venue were perfect, so every strummed and plucked note resonated like a bell.
What Raman is currently doing so well is taking the menace and power of art-house rock and folding in the deeper, more ancient elements of her own hypnotic Tamil roots music
The love songs were the highlights of the evening. "Magdalene" felt almost like one of those late-Sixties Stones ballads but with the "exotic" element being natural rather than affected. "Fools" was sheer spine-tingling bliss with its movingly sad closing line, "Last night I dreamed we were alright again", echoing in the mind long after the song had finished. Then there was the fever-dream of "Orfea" (a female Orpheus, we were told) which was not actually a ballad in the traditional sense of the word, but rather a mood piece full of forebodings yet paradoxically conjuring an atmosphere that was irresistibly inviting. On the new album it's almost a ghost of a song, constantly on the cusp of dissipating altogether, even as it draws you further under its spell. Understandably, Raman created a more substantial arrangement for this live performance but it's no less powerful for it. It began with a slow, slightly discordant guitar motif. Then in came sometime tabla player for Sting and Nitin Sawhney, Aref Durvesh, tapping out an almost subsonic heartbeat which anchored the whole song.
If she comes to a venue near you, demand that she play 'Raise Up'
Eventually Raman persuaded the largely seated and inanimate audience to abandon their tables and come towards the stage so that the remaining half-hour of the concert could feel like a proper gig. It was a wise and, quite frankly, necessary move because then the band really got into gear and we were treated to some music that had the same intensity of Vel. At one point, Raman threw herself about the stage with such abandon that her velvet Batman-like cloak briefly became a bib. What Raman is currently doing so well is taking the menace and power of art-house rock (at different times of the evening I thought of Patti Smith, Diamond Dogs-era Bowie, Siouxsie Sioux and Nick Cave) and folding in the deeper, more ancient elements (elemental elements) of her own hypnotic Tamil roots music.
The only disappointment of the evening was that Vel's opening track "Raise Up" wasn't performed. It's the most anthemic and commercial (in the best sense of the word) track Raman has written, and seems tailor-made to be a concert crowd-pleaser (see video below). So not playing it seemed perverse in the extreme. I asked Raman afterwards for an explanation, and her answer was simply that no one had requested it. Can an artist really expect requests for a song which has barely been in the public arena for six months? Surely as a matter of course she should be playing the flagship track from her latest release? But perhaps we should just think of such a curious decision as being another part of the enigma that is Susheela Raman. But if she comes to a venue near you, demand that she play "Raise Up". For your sake, not hers.
Susheela Raman performs "Raise Up"
Raman threw herself about the stage with such abandon that her velvet Batman-like cloak briefly became a bib
rating
Explore topics
Share this article