Fleisher, London Philharmonic Orchestra, Jurowski, Royal Festival Hall |

reviews, news & interviews
Fleisher, London Philharmonic Orchestra, Jurowski, Royal Festival Hall
Fleisher, London Philharmonic Orchestra, Jurowski, Royal Festival Hall
Prokofiev festival finds showmanship if not soul in the composer's ballet music
Thursday, 26 January 2012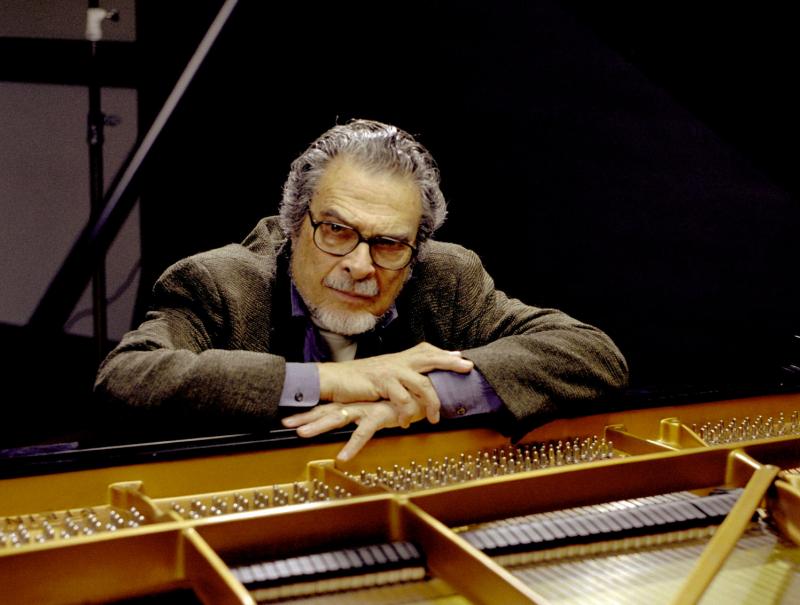 Leon Fleisher: a resonant but unduly forceful soloist in Prokofiev's Piano Concerto no 4
The London Philharmonic's current festival – Prokofiev: Man of the People? – is all about the question mark. While the festival's concerts, lectures and even its classical club-night each make their own statement, the overarching spirit here is one of exploration, of questioning. Jurowski and his orchestra are peeling back the composer's grinning modernist mask and attempting to expose the human face (or possibly faces) behind it. It's a provocative process, and one that calls Prokofiev's lesser-known works to testify against the evidence of such popular, high-gloss favourites as Romeo and Juliet and Peter and the Wolf. Last night it was the turn of the composer's ballet music to take the stand.
Chout ("The Buffoon") was composed between 1915 and 1921, while Prokofiev was still at large in the West, balancing his revolutionary musical instincts with the notional role of Soviet cultural emissary. Playing to the crowd in this, his first successfully staged ballet, Prokofiev pillages, satirises and exoticises Russian folk traditions, creating a work whose grotesque little plot is more than matched by the music for lurid colour.
All Jurowski's astringent precision was needed to keep this magnificent musical obscenity on the right side of absurd
What the story lacks in coherence (I'm still not entirely clear where the goat comes in) it makes up for in sensation, kicking off with the casual murder by seven buffoons of their wives. The architect of all this bloodshed is an eighth buffoon, who thanks to some strategic cross-dressing and surreal plot convulsions survives the ballet to scheme another day. Gaudy in its musical characterisation, and no less lavish in its orchestration, the score revels and romps its way through various musical set-pieces. A lumbering round dance spells doom for the wives in its baleful minor, while the buffoon's attempt to disguise himself as a young woman is exposed in the harmonic wrong-footedness of harp accompaniment.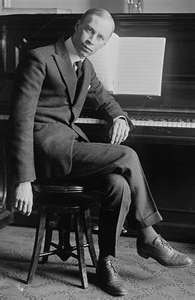 It's all very knowing, very deliberate, right up to the Russian-accented Hollywood finale, where orchestral technicolour sees a crazed string tarantella climax into brassy fireworks. All Jurowski's astringent precision was needed to keep this magnificent musical obscenity on the right side of absurd. Marshalling the overgrown sprawl of the LPO, he gave Prokofiev (pictured right) the benefit of the doubt, leading the audience to the witty jazz inflections, the many colours in the orchestration (some beautiful work from brass and flutes especially), without dwelling too much on the ballet's more reductive elements.
What a difference a few decades make. Cinderella (1944) finds the composer back in Russia, bound by state censorship and stylistic whims. The result is much the more conservative work, the product of Prokofiev's desire to create an intelligent yet accessible genre that would speak directly to the nation. The self-styled "people's artist" here favours generous string melodies (though often undercut as in the Introduction by some subversive chromatic mutterings in the brass), and programmatic writing that conjures a Dalí-esque soundscape of midnight, complete with frantically ticking woodblock.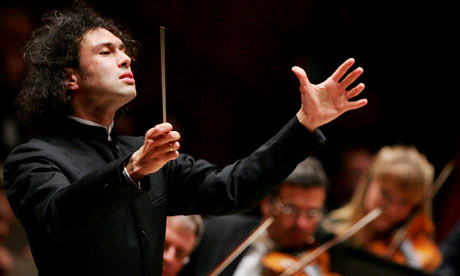 To hear chamber poise from an orchestra of this size – precision that goes beyond neatly dovetailed dialogues and sees the musicians really listening – is thrilling, and while Cinderella is entertaining enough, it was the purely musical narrative that was most compelling here. The LPO have made this music their home, and whether or not the composer's fabled humanity was much on display matters little when the orchestra's own was so amply evident.
Yet there were moments when the Royal Festival Hall acoustic could have taken more, moments where another conductor would have ramped up his forces further, faster, harder. It would have been exhilarating, but would have sacrificed the evening's greater arc for a few glorious seconds. Jurowski (pictured above) played a long game here, withholding at times, but always with one eye to the greater context of the evening and (I suppose) the festival.
The cooler tones of the Fourth Piano Concerto played into this, paring back the orchestra to a back-up group for Leon Fleisher's solo line. Written in reaction to (and rejection of) Ravel's left-handed piano concerto, Prokofiev's proved less successful with its commissioner. You can hear why; in place of glassy lyricism there are passages of rather thankless arppegiating (negotiated efficiently if not entirely fluidly by Fleisher), often coloured by orchestral doublings. At his best in the rhythmic eddies and flurries of the opening and closing Vivace movements (though I missed any real sense of glee in the latter), Fleisher never quite seemed to overcome the work's own limitations, delivering a more forceful performance than the piece seemed able to withstand.
A few slips of ensemble in the concerto aside, there can be little doubt of the supremacy of Jurowski and the LPO in this repertoire. If they didn't quite manage to turn a question mark into a full-stop last night, it was a failure more interesting than many successes. The jury are still out on Prokofiev's humanity, but when modernist showmanship sounds this good a soul is an extra I for one am happy to do without.
To hear chamber poise from an orchestra of this size is thrilling
Explore topics
Share this article
Subscribe to theartsdesk.com
Thank you for continuing to read our work on theartsdesk.com. For unlimited access to every article in its entirety, including our archive of more than 10,000 pieces, we're asking for £3.95 per month or £30 per year. We feel it's a very good deal, and hope you do too.
To take an annual subscription now simply click here.
And if you're looking for that extra gift for a friend or family member, why not treat them to a theartsdesk.com gift subscription?