St Vincent, Shepherds Bush Empire |

reviews, news & interviews
St Vincent, Shepherds Bush Empire
St Vincent, Shepherds Bush Empire
Annie Clark proves she's arrived, with the help of some fret-mangling
Tuesday, 28 February 2012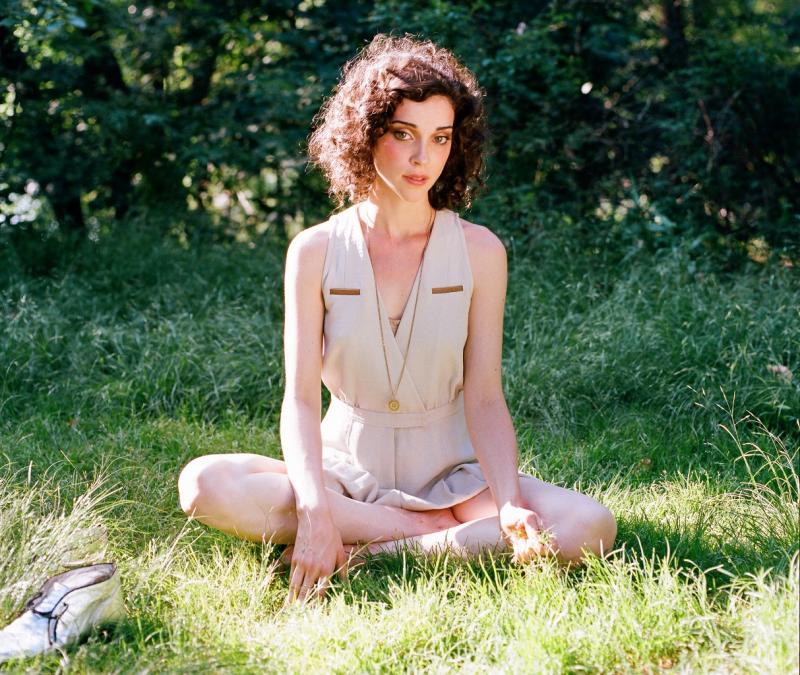 St Vincent: Annie Clark wonders where her guitar is
It ended with Annie Clark on her back, being passed around the audience like a volleyball. Scrubbing at her guitar, the squall didn't stop. As encores go it was pretty memorable, the confirmation that Clark – as St Vincent – has arrived. Earlier in the set she'd remarked that she was last at the Empire four years ago, playing in The National. Now she's selling it out.
Her success, including the appearance of last year's Strange Mercy on many best-of-2011 lists, has come via a circuitous route. Born in Oklahoma and now living in Brooklyn, Clark graduated from high school in Texas and entered Berklee College of Music. After dropping out, she joined Texas's mass-member symphonic pop chorale The Polyphonic Spree and also played with New York's minimal noise-nik Glenn Branca. Then it was a spell in Sufjan Stevens's band, after which she issued her first solo album, 2007's Marry Me, and had that stint in The National. Actor followed in 2009. So did a duet with Bon Iver.
Clark's music operates on numerous levels. References abound
Clark's music operates on levels more numerous than the number of stepping stones she's hopped between to reach Shepherds Bush Empire. References abound. The name St Vincent comes from the hospital where Dylan Thomas died. Strange Mercy's opening cut, "Chloe in the Afternoon", is a reflection on monogamy inspired by Eric Rohmer's Love in the Afternoon (released in America as Chloe in the Afternoon) and its character Chloé. "Surgeon" quoted from Marilyn Monroe's journals. In a recent appearance on US TV's Conan she preceded "Cheerleader" with a snatch of Elvis Costello's "Radio Radio", reprising his infamous 1977 Saturday Night Live appearance.
In the flesh, however, Clark is as much about the guitar as the songs. She's a muso. Several moments last night strongly hinted she's got a fair few Jeff Beck and Jan Hammer albums sorted away. She could easily slot into Frank Zappa's band circa "Baby Snakes". Carlos Alomar's bendy guitar style, showcased on David Bowie's "Fashion", wasn't far away either. Yet the weird thing is that St Vincent is firmly indie – albeit at the arty end of the spectrum – and signed to the cool imprint 4AD. Her audience aren't chin-strokers but a crowd that have glommed on to the potential next big thing. Clark has pulled off a major artistic coup by melding her whizz-bang playing to a quirky music that's essentially a less-wordy, less-agitated Fiery Furnaces.
It's compelling stuff. Strange Mercy is a little dry, but in the live setting headlong dashes like "Cheerleader" and "Champagne Year" were warmer, more human. Clark wasn't helped by her two-keyboard and drums backing trio, who had the well-drilled precision of session players, but once she got going they didn't matter. It was all about her. The 15-song set was balanced towards Strange Mercy, but earlier songs – Actor's "Black Rainbow" and "Save me From What I Want", Marry Me's "Your Lips Are Red" (played during the encore) – were given new life too. The subject could also be more personal: Strange Mercy closer "Year of the Tiger" was about Clark's 2010 depression, suffered in the Chinese year of the tiger.
The set really crunched the gear box two-thirds of the way in, when she tossed off her wild cover of The Pop Group's "She is Beyond Good and Evil". You wish she had cut loose a little earlier. On record, nothing can be taken at face value and apparent spontaneity is measured. But in a live setting, that's all easily forgotten. Guitar strapped on, St Vincent rocks. Which is what mattered last night.
Watch St. Vincent perform "Cheerleader" on Conan
The set really crunched the gear box when Clark tossed off her wild cover of the Pop Group's 'She is Beyond Good and Evil'
rating
Share this article