Into Thy Hands, Wilton's Music Hall |

reviews, news & interviews
Into Thy Hands, Wilton's Music Hall
Into Thy Hands, Wilton's Music Hall
A new play about John Donne is scholarly and sexy in equal measure
"Where once was certainty is now only void." The age of John Donne was also the age of Galileo, Milton, of Hobbes, Francis Bacon and, of course, the King James Bible, whose 400th anniversary we celebrate this year. At the intersection of politics, religion and scientific philosophy, Donne's life under James I holds up a mirror to the conflicted age that produced this extraordinary work of scholarship. Meshing the poet's biography, his work and social history, Jonathan Holmes has produced a play whose scholarship and subject matter may be serious, but whose theatricality is poignantly, evocatively and, at times, even erotically handled.
Tainted by his family's Catholicism and his secret marriage to aristocrat Ann Moore (which earned him a prison sentence), Donne's career as poet and then preacher was one of tensions and contradictions. Fiercely devout while rejecting the prevailing Protestant orthodoxy of his age, we need only read the Holy Sonnets and Donne's love lyrics side by side to see a man whose love of God was matched only by his joy in human physicality.
Framed in the peeling, time-softened splendour of Wilton's Music Hall (generously poached in incense), this Jericho House production offers a fluid and intimate glimpse into Donne's world. Lucy Wilkinson's set (lit beautifully throughout by Filippo de Capitani) reinvents the theatre's domed roof as the cosmos itself, lively with planets and spheres – the secular and scientific revolution giving the lie to the religious absolutes of the age. A wooden chest (the sole piece of furniture in the Donnes' "Croydon craphole" of a home) sits strewn with maps and diagrams that become the bedsheets under which John and Ann frolic in the most tender scene of marital intimacy.
Physical relationships give particular immediacy to writer-director Holmes's drama. Donne (Zubin Varla) is revealed in his relations not only with Ann (a winsome Jess Murphy) but also patroness Lady Magdalene Danvers (Helen Masters) and lover Lucy, Countess of Bedford (Stephanie Langton). Yet his women are more than vessels, debating, challenging and confronting Donne as he struggles with his faith and duty to his family.
Holmes's text knits Donne's own writings to dialogue of his own making, keeping to the playfully wordy idiom of the period. The result is undeniably dense, but articulated with such a sure sense of rhythm and purpose that its dramatic intent is never less than clear.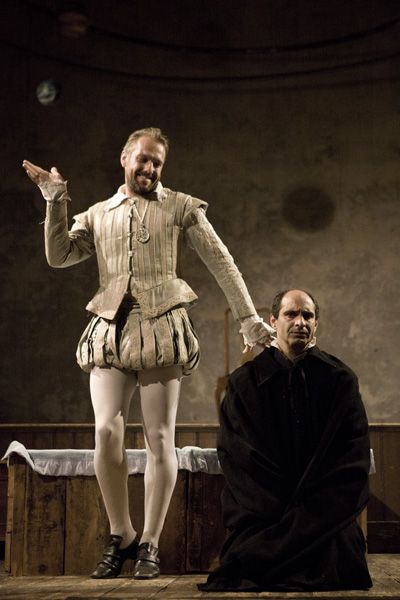 Much of this clarity is down to the cast themselves who seem to delight both in the more grotesque dramatic extremes (Bob Cryer's lasciviously camp King James I (pictured right with Varla as Donne), one hand forever on codpiece, is the most striking, though Stephen Fewell's cameo as Ferrabosco also deserves mention) and subtler portraits, such as Nicholas Rowe's puritanical cleric Lancelot Andrewes and the icy neurosis of Langton's Lucy. Yet the show really does belong to Varla, whose Donne is all swift movement and swifter talk, restlessly casting about with his words for the truth that will give him root and fixity.
Funny and sexy without feeling forced or intrusive, the joy of Into Thy Hands is its shameless blurring of registers into the naturalistic muddle of life. We make real inroads into the philosophy of translation, the role and impact of the vernacular Bible, the moral issues of the church patronage system of the 17th century, but we also get a vivid portrait of a marriage, of the isolation of the woman of independent means and the vulnerability of an ageing beauty. It's a delight to see theatre so utterly sure of itself, and hear writing so unapologetically scholarly. With Holmes at the helm, theatre company Jericho House promises much for the future. I only hope that the magnificent space of Wilton's itself survives long enough to see their return.
Share this article