Case Histories, BBC One |

reviews, news & interviews
Case Histories, BBC One
Case Histories, BBC One
Kate Atkinson's likeable private eye solves crime quirkily in Edinburgh
Jason Isaacs as Jackson Brodie scowls against the brooding Edinburgh skyline in 'Case Histories'
Thanks to her evergreen bestseller Behind the Scenes at the Museum, Kate Atkinson can call on an army of fans to buy her work whenever it appears in print. Its debut on screen is, perhaps, another matter. Will they buy the BBC's rendition of Case Histories? Those who have not had the pleasure of reading it are less advantageously placed to grumble about hideous revisions, outrageous changes and all manner of infidelities.
But even an Atkinson newbie might find it a bit rum that Scotland seems to be entirely populated by people with English accents.
Welcome to the BBC casting department's version of Edinburgh. At least the city played its part to the hilt. "Non le ciel n'est pas sodding bleu," private detective Jackson Brodie advised the nice woman on the Teach Yourself French CD in his car. In the first of three two-part cases, Auld Reekie's gloomy brickwork brooded darkly as Brodie pursued any number of loose ends and one lost cat.
Case Histories provides Jason Isaacs with a part that feels like a very snug fit. As Jackson Brodie - or Mr Brodie to his clients, in a drama that keeps faith with old-fashioned formalities - he is part hunk, part mess, all sleuth. A regular set of contradictions, he jogs and he smokes, he smiles and he scowls. Wife long gone, along with the police job, he has limited access to his daughter and the case files of mysteries he's hired to solve. It's not quite clear which frustrates him more. "You're so desperate to belong," Brodie's old colleague (Amanda Abbington) told him, "but there's something in your character that will never let you do that." It's good to have these things heavily signposted. A fiver says that something's to do with the haunting memories of a drowned sister, whom we saw being climactically fished out of a canal.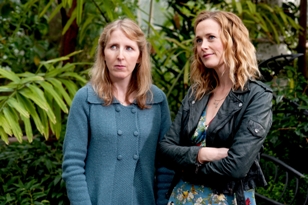 To crowbar three books into six hour-long episodes, there are times when it all feels that atmospherics and the finer brushstrokes have been sacrificed to the crude requirements of exposition. Brodie inherited his first case when, hired to look for an old bat's cat, he heard screams in the neighbouring garden. "Everything OK?" he said, poking his head over the wall, and within two lines of dialogue he was on a new case. A diehard Atkinson fan may well, no doubt, write in to explain that's exactly how it happened in the book; I've a hunch it was subtler.
As adapted by Ashley Pharaoh, Atkinson's world view seems to encompass an ambivalent attitude to murder and other perversions. Yes, it was brutal and horrid to see a young woman have her throat slashed, blood spurting wiggly lines on the wall of her father's law firm, thus sending Brodie on the hunt for a killer the police can't track down. But the ghastliness has its frothy side too. Brodie has also been asked to investigate the long-unsolved disappearance of a little girl by her two posh sisters. Played for comedy by Natasha Little and Fenella Woolgar (pictured above), it was hard to buy into their anguish. Little's character is flirting with Brodie without let-up, though not as successfully as a more pragmatic vamp who humped him simply so he would take on another missing person's case.
Case Histories is dripping with character actors doing their thing (none more than Phil Davis as the bereaved lawyer who can't believe his murdered daughter might actually have had a sex life). But Isaacs' most watchable co-star is Millie Innes (pictured below left with Isaacs) as his precocious eight-year-old Marlee, who has a knowing attitude to gore and, happily accompanying her father as some kind of junior sidekick, sticks just the right side of intolerably cute. (Another reason to high-five her performance: she's actually Scottish.)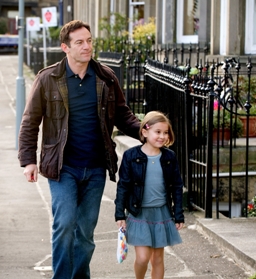 Brodie also has excellent taste in mournful music: it was a deep pleasure to hear him spin Nanci Griffith's version of John Prine's "Speed of the Sound of Loneliness". "Why do we always have to listen to sad music?" wondered Marlee. I guess because we need to have these things spelled out.
But Case Histories will live or die on Isaacs' immensely likeable performance. Trouble is, enough people have to like him being liked by a lot of female characters (he doesn't talk to men much). Look what happened to Rufus Sewell and Zen, the much-admired outing for Michael Dibdin's suave detective which BBC Drama ruthlessly culled and dumped like a victim in a murder mystery.