theartsdesk in Los Angeles: The Film Festival Without Stars |

reviews, news & interviews
theartsdesk in Los Angeles: The Film Festival Without Stars
theartsdesk in Los Angeles: The Film Festival Without Stars
Starry starry lite: the Tinseltown fest for low-budget independent movies
The primary venue itself, the luxurious Regal theatre complex in downtown Los Angeles, remains an odd choice for this sort of arts event. Its location in an area dense with other large venues - directly adjacent to the Staples Center and the Nokia Theater – makes it vulnerable to snarls of traffic that are painful even by Los Angeles standards. The plethora of events on a single night yielded such incongruities as clusters of newly minted FIDM (Fashion Institute of Design and Merchandising) graduates in punishing high heels hobbling past the altogether beardier cinema buffs.
In 2010, the festival hosted the first showing of The Twilight Saga: Eclipse, a somewhat pyrrhic coup. Although it raised the event's profile, it unbalanced the programme and summoned a mostly teenaged army of screaming fans. Without such a behemoth to wrangle, this year's programming benefited from greater coherence and a tighter focus on promoting the work of promising new film-makers.
Hollywood glamour remained in the mix with the opening and closing night films: Richard Linklater's dark comedy, Bernie (starring Jack Black, Shirley MacLaine and Matthew McConaughey), and the horror thriller Don't Be Afraid of the Dark, directed by Guillermo Del Toro (Pan's Labyrinth). These bookended a collection of films chosen to fulfil the mission of the festival's parent organisation, Film Independent, with its emphasis on supporting independent cinema.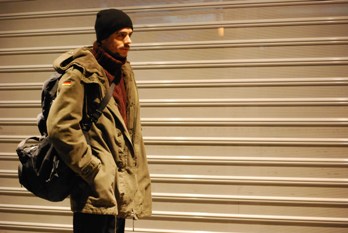 Continuity and development could be seen in some thoughtful curation. Directors whose shorts did well in previous years, like Gustavo Taretto (Side Walls) and Mike Akel (Chalk) showed feature-length films this year. These two and others benefited from the passionate support of the programmers, who scheduled an introduction before each screening and afterwards led discussion and audience Q&A whenever cast or film-makers were available.
From Taretto, a bright new talent, came a feature-length remake of last year's short film. Also called Side Walls (pictured above right), it's a clever, charming romantic comedy: Martín blames the city's aesthetic and ethical irregularities on architects while Mariana, a young architect, suffers from a pathological aversion to elevators. Martín carries a "toolkit" - a backpack with condoms, anxiety medication and Tati films - while Mariana is demoralised by  the mysteries of Where's Wally? "If I can't find a person when I know who I'm looking for," she asks, "how can I find one when I don't?" Love and architecture intertwine as the two seek not only a connection with other people, but some sense of their own place in the world. Martín explicitly identifies the setting, Buenos Aires, as a metaphor, and the production design knowingly drops a breadcrumb trail of little touches for art nerds - Mariana scavenging a battered Eames chair from the street, or a wearing a T-shirt that reads "I would prefer not to" - rather than beating viewers over the head with the writer and director's erudition. Side Walls is a perfect festival movie: you leave it looking forward to the next film, and the one after that.
Mike Akel's step up to features is An Ordinary Family, a thoughtful treatment of two brothers struggling with a different sort of love and longing. Seth and Thomas have a deep affection for the church and for each other, but have been driven apart. When Seth brings his boyfriend along on a family holiday, Thomas finds himself isolated, struggling to accept Seth's certainty about himself. This film seems determined to sidestep a whole host of clichés about religion and gay identity, and most of Seth's family manages to reconcile their religious beliefs and Seth's sexuality without skipping a beat. Movies sometimes address more than their creators intended, and this one winds up dealing as much with male friendship and the subtleties of fraternal intimacy as with its overt subject.
Higher Ground (pictured left), the directorial debut of actress Vera Farmiga, Oscar-nominated for Up In the Air, also deals with a religious family, but the focus is on one woman's internal struggle. Corinne, played by Farmiga, is profoundly nourished by her faith and community, but still finds it an imperfect fit. Hers is the sort of family that declares their love of Jesus in vinyl letters across the back window of their car. Corinne herself discomfits her church congregation by discussing a personal experience with a fellow congregant, sharing a realisation about Christ's place in her life in a way that comes uncomfortably close to pulpit-jacking. Where pushing aside stereotypes seems to have been a primary aim in the making of An Ordinary Family, something more intimate is the goal in Higher Ground. The story sticks close to Corinne, whose warmth, humour and specificity of experience make this more a tale of husbands and wives, parents and children, and friendship between women than it is the story of a woman in a restrictive religious community.
This theme of a search for identity brought together films from across a spectrum of genres. Somewhere Between, a documentary about teenage girls adopted from Chinese orphanages into American families, dealt with the issue very explicitly. The film's young subjects showed a depth of understanding and emotional sophistication that belied their age. While the sometimes painful material had the audience sniffling audibly from the first few minutes, the teens' resilience left the audience with a feeling of hope. The Destiny of Lesser Animals, an existentialist spin on the noir archetype of the crooked cop, weaves musings on Ghanaian national identity around the anti-heroic Inspector Boniface Koomsin's struggle to retrieve a forged US passport from an elusive thief (a compelling turn by writer Yao B Nunoo).
The most spectacular and inventive take on this theme, however, came from the "Films That Got Away" segment of the festival, featuring special selections by the Los Angeles Film Critics' Association of notable works that for some reason have not been distributed in the US. Mr Nobody presents a flashback that might also be a flashforward, as a nine-year-old boy and 118-year-old man tell the story of their lives and loves - all nine of them. Nemo, played as an adult by Jared Leto, appears in nine incarnations, each dreaming of and dreamed by another born of slightly different choices. As Jaco Van Dormael noted in his very brief director's comments before the film began, if you don't get it as you go along, you shouldn't worry, because you won't get it at the end either. He urged the audience to take the experience at any of the three levels it was intended to address: the brain, the heart or the skin.
It is heartening to see a diverse selection of works from around the world that employ new sorts of cinematic language
Fittingly, this dazzling blend of science fiction, philosophy and coming of age was presented at one of the festival's alternative venues, the REDCAT theatre. Housed in the Frank Gehry-designed Walt Disney Concert Hall, it is a futuristic structure of great sheets of curved steel, located far enough from the LA Live complex to alleviate the swells of vehicular and human traffic. As the programmer who introduced it noted, it's hard to understand why this was the first showing of this film in the US. It seems to have everything going for it: mainstream Hollywood stars like Leto and Sarah Polley, as well as an international cast that includes Diane Kruger and Rhys Ifans (pictured above with Natasha Little), a big budget, lots of special effects, and a director with a Camera d'Or from Cannes (for Toto the Hero) and credibility to burn. Without sanctioning piracy outright, Van Dormael did thank "the internet" - presumably networks of film fans who connect online - for helping spread the word about his work. If the festival can spark a second life for this film the event's organisers will absolutely be able to count it a great victory for independent cinema.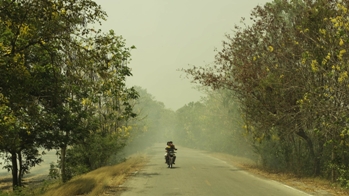 Not every film shown made such a case for champions. While some of the shots in Thai director Sivaroj Kongsakul's Eternity are exquisite, capturing people in soft-lit, gauzy tents of fabrics, ruffled by a light breeze, the transitions between the film's three sections are jarring and confusing. It moves from ghost story to love story to a collection of family scenes without the self-assurance of a similarly contemplative film like last year's Woman on Fire Looks for Water. Still, it is heartening to see an effort being made to include a diverse selection of works from around the world that employ new sorts of cinematic language.
At the same time, the programmers took pains to embrace and promote films that are incredibly local in their tone and feel. Additional showtimes were added for the first feature from Nicholas Ozeki, Mamitas. Like Side Walls, this is an expansion of an earlier short. High-school students Jordin and Felipa are struggling to find a place for themselves in difficult social and familial circumstances in this pitch-perfect depiction of not quite a loss of innocence. He is a would-be ladies' man who has just been suspended for insubordination; she is a pretty girl hiding behind her glasses who lives with her more glamorous but less studious cousin while her life back home in New York falls apart. Although this is not a message film or tale of redemption, the sweetness and false bravado with which Jordin and Felipa slowly move toward one another is true to ordinary life, and all the physical details of gesture, inflection and setting are perfectly accurate.
The festival is, perhaps, something of a metaphor for Los Angeles itself: multicultural, heterogeneous and disproportionately affected by traffic jams. In its search for an identity, it can be easy to mock, but it is ultimately sincere as it seeks out new beginnings.
Watch the trailer for Mr Nobody
Los Angeles Film Festival 2011: The Winners

Documentary Award (for Best Documentary Feature) Wish Me Away (dir Beverly Kopf and Bobbie Birleffi)
Best Performance in the Narrative Competition Amber Sealey, Kent Osborne, Amanda Street and Gabriel Diamond in Amber Sealey's How to Cheat
Audience Award for Best Narrative Feature: Attack the Block (dir Joe Cornish)
Audience Award for Best Documentary Feature: Beats, Rhymes and Life: The Travels of a Tribe Called Quest (dir Michael Rapaport)
Audience Award for Best International Feature Senna (pictured right) (dir Asif Kapadia)
Best Narrative Short Film The Wind is Blowing on My Street (Saba Riazi)
Best Documentary Short Film I Am a Girl! (Susan Koenen)
Best Animated Short Film The Eagleman Stag (Mike Please)
Audience Award for Best Short Film Blind Date (Joe Rosen)
Audience Award for Best Music Video "Can't Shake This Feeling" (The General Assembly's Adam Littke, Ryan McNeill, Adam Willis)
Share this article