Classical CDs Weekly: Elgar, Goebbels, Baiba Skride |

reviews, news & interviews
Classical CDs Weekly: Elgar, Goebbels, Baiba Skride
Classical CDs Weekly: Elgar, Goebbels, Baiba Skride
Elgar's greatest hits, 20th-century violin concertos and strange sounds from Heiner Goebbels
Heiner Goebbels: 'If you're into peculiar, mixed-media staged wackiness, he's your man'
Elgar: Enigma Variations, Cockaigne Overture, Pomp and Circumstance Marches 1-5 Royal Philharmonic Orchestra/Barry Wordsworth (RPO)
Elgar: Enigma Variations, Cockaigne Overture, Pomp and Circumstance Marches 1-5 Royal Philharmonic Orchestra/Barry Wordsworth (RPO)
Never underestimate the Royal Philharmonic Orchestra. Less generously funded than the other major London orchestras, most of their concerts are now given in the lovely Cadogan Hall near Sloane Square and not the Festival Hall. They soared under the directorship of Daniele Gatti, and are currently led by Charles Dutoit. And while their string sound is occasionally less refulgent than that of the LSO or Philharmonia, their brass and winds are consistently superb. Barry Wordsworth conducts this Elgar greatest hits disc, and the results are delectable. Elgar can sound too refined, too smooth, orchestral colours too slickly blended. The Cadogan acoustic lets individual voices shine through in an account of Cockaigne bursting with lively vulgarity. Cornets and trombones are extra-prominent. It bounces along, and Wordsworth doesn't overdo the tiny stops and starts.
I've never quite "got" the Enigma Variations. The all-important theme is completely characterless – though it's this quality which lets Elgar transform it so beguilingly. Several of the variations have always struck me as a little flimsy, though at least they're all short. Wordsworth handles Nimrod's swelling big tune very nicely by refusing to ham it up – you're moved rather than slightly embarrassed. The boisterous variations provoke smiles. The best moment is the penultimate variation, ***, at the one point where the music seems to come to a chilling, temporary halt. The RPO's eloquent principal clarinet is so hushed as to be almost inaudible. We also get the set of Pomp and Circumstance marches. Best are the lesser known ones, full of quirky instrumental detail and repressed edginess. Strange to think that the final march came as late as 1930.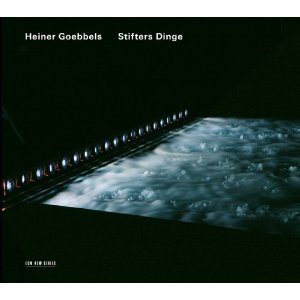 Heiner Goebbels: Stifters Dinge (ECM)
I encountered Frankfurt-born composer Heiner Goebbels through a recording of his startling Eislermaterial and a staged performance of Hashirigaki, the latter a bonkers, bewitching fusion of Gertrude Stein and backing tracks from Brian Wilson's Pet Sounds. In an interview with theartsdesk's James Woodall, Goebbels states that "I'm attracted to things which don't have only one meaning." If you're into peculiar, mixed-media staged wackiness, he's your man. Stifters Dinge, first staged in 2007, takes as a starting point the work of the melancholy 19th century Austrian writer Adalbert Stifter. Stifter was renowned for his nature worship, and there are places where Goebbels fills his work with natural sounds – raindrops and wind dominate. As do five prepared grand pianos which shift positions onstage, each one mechanically controlled to produce an assortment of groans, scrapes and bell sounds.
Goebbels overlays the piano noises with a range of recorded samples, including a prominent chunk of Bach's Italian Concerto. The voices of William Burroughs and a heavily-accented Claude Lévi-Strauss appear. Eerie incantations recorded in 1905 in Papua New Guinea jostle with a Greek song taped in 1930. The English translation of a section of Stifter's own work is spoken by Scottish actor Bill Patterson, so you'd be forgiven for mistaking this section for an obscure Ivor Cutler number. All the while, Goebbels's pianos continue to grumble, thud and moan. The results are never less than gripping, especially when listened to with headphones. Exactly the sort of unhinged, adventurous madness which would never come into being without public subsidy. ECM's production and presentation are excellent.
Watch the trailer for Stifters Dinge
Frank Martin, Stravinsky: Violin Concertos etc Baiba Skride (violin) BBC National Orchestra of Wales/Thierry Fischer (Orfeo)
The bonus items on their own make this Orfeo release worth a punt. I gave up trying to relate Honegger's "symphonic movement" Rugby to my sketchy knowledge of the game, and instead marvelled at Thierry Fischer's ability to keep his orchestra on top of the notes. Eight minutes of exuberant, unfocused scrabbling end with a brash major chord. Even better is Pacific 231, a machine-age classic. Rather alarmingly, Honegger claimed that "I have always had a passion for locomotives… I love them as others love women or horses." He'd probably be the subject of a C5 documentary were he alive today. Pacific 231 still thrills. Technically it's cleverer than it might sound at first hearing, the music's pulse neatly slowing down as the train accelerates.
Latvian violinist Baiba Skride is fully attuned to the circus ambience of Stravinsky's Violin Concerto, a work which can inspire giggles as much as awe. A showpiece which can seem little more than an irreverent neoclassical romp gains gravitas through Skride's poetic handling of the two delicate inner movements. Tension is released in a breathtaking final Capriccio, and credit is due to Orfeo's engineers for letting us hear so many details in the accompaniment – grumbling bassoons in the Toccata and several brilliant duets for piccolo and trombone. The real rarity is Frank Martin's 1951 Violin Concerto. Skride's playing will make you believe that this is the greatest concerto you've never heard, and fans of this underrated Swiss master needn't hesitate. Few composers wrote music so impeccably crafted, each paragraph unfolding with Bachian logic. Stravinsky's goofy Circus Polka closes the disc. The BBC National Orchestra of Wales play beautifully. A fantastic disc.
Explore topics
Share this article