Reissue CDs Weekly: Hawkwind, Dual Form, The Children's Hour, Buddy Guy |

reviews, news & interviews
Reissue CDs Weekly: Hawkwind, Dual Form, The Children's Hour, Buddy Guy
Reissue CDs Weekly: Hawkwind, Dual Form, The Children's Hour, Buddy Guy
Budget issue of freak landmark, musical explorers gather, Josephine Foster obscurity rescued and odd flashes from blues legend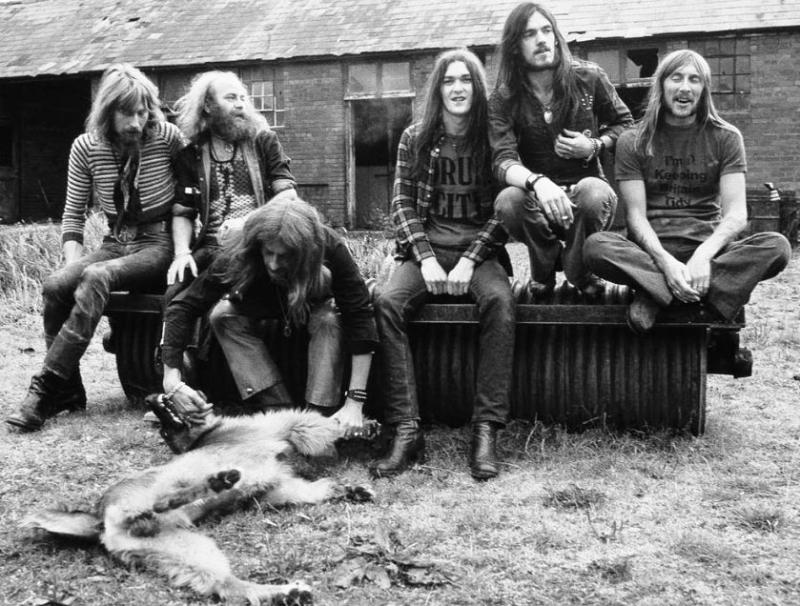 Hawkwind and furry friend look out for John Lydon
Although it was released 40 years ago, Space Ritual sounds contemporary. Hawkwind's repetition, simplicity and single-minded focus effectively created trance-inducing mantras. Now, they cast a shadow over Six Organs of Admittance, Om and other voyagers into inner space. Space Ritual was a statement of intent and there's no excuse not to get this reissue should your life lack one of British art-rock's supreme achievements.
In its original form, Space Ritual was a double album with a spectacular fold-out sleeve designed by the late Barney Bubbles. It was recorded live – it doesn't sound it – at two shows in late 1972. Last time out, in 2007, it was reissued as a remastered 2CD package with three bonus tracks and the content from the original album also included on an enhanced audio DVD. Marketed as a "Collector's Edition", the packaging mirrored the album and there was a booklet with liner notes by the band's Nik Turner. This new budget version (sloppily) still sports that banner, the 2007 tracklist and remaster, but loses the booklet, the DVD and the swank packaging. It comes in a standard jewel box and sells for £6.99.
Viewpoints on Hawkwind are probably fostered according to when the initial exposure occurred. They were massively popular and fluked a hit single in 1972 with the Lemmy-sung "Silver Machine" (not included on Space Ritual, but check out James Last's amazing, soul-inflected overhaul at the bottom of the next page) and largely drew a hairy, greatcoat-clad freak audience – one of whom, tellingly, was John Lydon. "Silver Machine" had been recorded live, so it was logical that a live album followed. Sonically, at this point Hawkwind were close cousins to the Roxy Music of "Ladytron" and, like them, drew from a finely-tuned musical toolbox. "Upside Down" – a title later co-opted by The Jesus and Mary Chain – borrows from Pink Floyd's "Vegetable Man" (which the JAMC covered). A German-derived motorik drive underpins the whole of Space Ritual – guitarist Dave Brock had written liner notes for the British issue of Neu!'s first album. Hawkwind represented the British wing of Krautrock as much as Roxy's Eno. Whatever the interpretation and however it is reissued, this is a landmark, and an essential album.
Various Artists: Stones Throw and Leaving Records Present Dual Form
Psych-nauts of a more recent vintage are showcased on the splendid Dual Form, a joint release from the hip LA imprints Stones Throw and Leaving Records. Leaving's first foray into conventional formats – until this point all their releases have been cassette only – Dual Form comes as a either a CD, a double album or a double cassette. The contributors have all appeared before on Leaving and, broadly, these exclusive, often J Dilla influenced, cuts draw from the same exploratory, hallucinogenic well as Oneotrix Point Forever and Ariel Pink. Julia Holter is the big draw. Run Dmt's "Bardo States Dream Walker Version" lays it on pretty thick – their punning name references the drug DMT and "states of Bardo" are achieved while tripping. Trance Farmers' slurred "Purple Hay" would be just the ticket for David Lynch if he fancied making a swinging psychedelic film and needed a nightmare soundtrack for the comedown.
The Children's Hour: SOS JFK
One of last year's best albums was Josephine Foster's subtle Blood Rushing, which emphasised her place as an unpredictable composer who is tough to categorise. Neither folk nor psychedelic, she slips between readily defined genres. The reissue of 2003's SOS JFK, the sole album she made with Andrew Bar as duo The Children's Hour, underlines the difficulty in pinning her down. A default reference point is her aspirations towards opera, but she has also touched on American standards, jazz and music for children. SOS JFK is nominally folky, particularly on tracks like the crystalline opener "Little Boy", with its circular fingerpicking, and the similarly inclined but more fully arranged "Mary". After this, however, the album takes a more jagged path with less linear playing, additional instrumentation and a darker tone. The voice is Foster's, and this must be seen as more her album than Bar's. A welcome return to her catalogue.
Buddy Guy: Live at Legends
"It's time for the legend himself, it's time for the multi-Grammy award winner, the Rock 'n Roll Hall of Famer, the baddest motherfucker in town", declares the announcer, opening proceedings on this new album from the Chicago blues stalwart. Considering most listeners will have an idea who Guy is, the immodest declaration wasn't really necessary. More puzzling is that this – despite the title - isn't strictly a live album, but a collection of nine cuts recorded at Guy's own Chicago club in January 2010 and three studio outtakes from his 2010 (yes, Grammy-winning) Living Proof album. Otherwise, little surprises: we hear the soloing which influenced Eric Clapton, nods to his place as a sideman in blues history (covers of "Mannish Boy" and "I Just Want to Make Love to You") and assertions of his influence (Hendrix's "Voodoo Chile" bolted to Cream's "Strange Brew"). The studio cuts aren't essential. Instead, head to "I Just Want to Make Love to You" for the crazy, atonal solo which kicks off just over a minute in.
Watch The James Last Orchestra perform Hawkwind's "Silver Machine"
Hawkwind represented the British wing of Krautrock as much as Roxy Music's Eno
Share this article