Spiral: State of Terror, Series 4, BBC Four |

reviews, news & interviews
Spiral: State of Terror, Series 4, BBC Four
Spiral: State of Terror, Series 4, BBC Four
The return of dark French cop drama paints the City of Light in shades of grey
Caroline Proust as Captain Laure Berthaud in 'Spiral': under the cloud of the last series' transgressions
A lot has happened since uncompromising French cop drama Spiral was last on our TV screens in May 2011. More of continental Europe has arrived. Attention has shifted northwards to Denmark for The Killing and Borgen. Sweden's Wallander and Sebastian Bergman were never far. The Bridge closed the gap between both countries.
French contender
Braquo
threw down the gauntlet too, but it was never going to steal
Spiral's
thunder as it was just too cartoony, too brutal to clench to your bosom. Can the return of
Spiral,
its flawed heroine Captain Laure Berthaud and her scruffbag chic raise the flag again for France?
Based on the first two episodes of series four, yes. This was a more measured, more downbeat Spiral than before. It took over half an hour in the first episode for someone to stomp out of a room in huff. There were no bloodbath shoot-outs. The atmosphere was drab. Berthaud (Caroline Proust) may have taken off her trousers and created a make-do dress to show her feminine side, but this was a new, low-key Spiral. It was fantastic too. Modern Noir that wheedles its way in.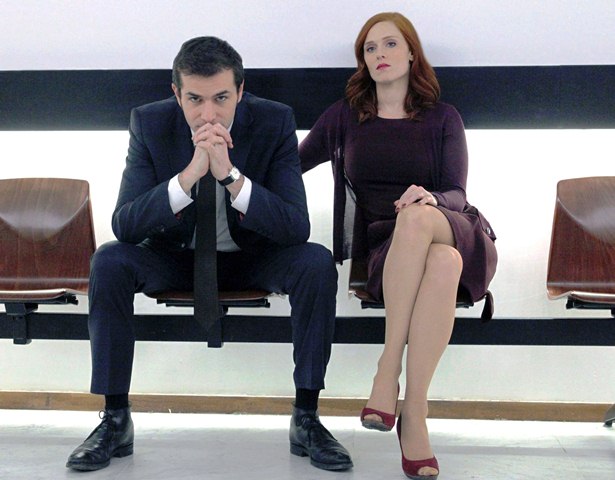 Berthaud and her team remain under the cloud of the last series' transgressions. She's being investigated by a judge to determine whether or not she killed in self-defence. Her team supports her, but a new boy isn't so unquestioningly loyal. The day-to-day grinds on. There's a death to investigate. The deceased dragged himself along a lane to expire, despite both hands and most of an arm having been blown off in an explosion. In parallel, a man from Mali is arrested at a bank for false papers while he and his pregnant girlfriend are opening a joint bank account. He's carted off to a detention centre and readied for deportation.
It's not long before the strands intertwine, brought together by lawyer Joséphine Karlsson (Audrey Fleurot). She's still working with former prosecutor Pierre Clément (Grégory Fitoussi), also currently decorating Mr Selfridge on Sundays (pictured above right, Grégory Fitoussi and Audrey Fleurot). The magnificently vulpine Juge Roban hasn't cropped up yet. No doubt he will soon.
Much was familiar, reheating Spiral's meat and potatoes. Criminal brothers from North Africa, judges as the enemy, hints (so far) of corruption in the legal system, a dodgy Russian, Berthaud's team member Gilou (Thierry Godard, pictured below) having no fixed abode. Fresh elements include a new Chief Superintendent who declares "things are going to get exciting here." Watch out for him. Shocks come - especially the unforgettable, unexpected final moments of episode two.
Occasionally, the spell is broken by touches which are either heavy handed or clichéd. Establishing shots of the detention centre place it in the shadow of La Défense, Paris's equivalent of London's Canary Wharf. The building is by a railway track. It's on the other side of the tracks – geddit. Clément's walk down the corridor of a jail is seen in black and white via a CCTV camera. Yep, it's grim in prison. Clément complements Karlsson on her new dress. She appears surprised, yet it's the clingiest, most décolletage-heavy gown she's worn so far in the series.
That could have been humorous, but was - gratifyingly - not developed. The same goes for Gilou's idea of what constitutes a date with a female colleague: asking her out to meet his informants.
More intriguing is a gentle slippage between the French dialogue and the English sub-titles, models of colloquial translation. A late license for a nightclub was refused "pour rien" – for nothing, no reason. The sub-titles had it as "who knows." Police are a "pain in the neck" in subtitles but "la rage" – rabies – in the dialogue. None of this reduces appreciation, but it is an insight into the efforts undertaken to bring this to British screens.
Berthaud's return isn't going to extinguish attachments to The Killing's Sarah Lund or Borgen's Birgitte Nyborg. They'll have to co-exist in reveries. But as this already compelling new series of Spiral unfolds, balances might shift.