Ohlsson, LPO, Alsop, Royal Festival Hall |

reviews, news & interviews
Ohlsson, LPO, Alsop, Royal Festival Hall
Ohlsson, LPO, Alsop, Royal Festival Hall
Decidedly muted American roadtrip for the Rest Is Noise Festival
Saturday, 23 February 2013
Marin Alsop: a no-nonsense musician with a flair for texture
The Southbank Centre's The Rest is Noise Festival has reached the American leg of its year-long tour through 20th century music, and with it safe musical ground. In the second of three concerts with the LPO, American conductor Marin Alsop showcased the two equally appealing sides of America's musical history: its cleanly-scrubbed, western classical face in Copland and Ives, and the grubbier, jazz-infused gestures of Joplin and Gershwin.
Alsop (pictured below) is the real deal - a no-nonsense musician with a flair for texture and a real affinity for this generous, rhythmic repertoire. Her little educational segments before each work (a regular feature of the festival) were brisk and funny and resisted the urge to sprawl (ahem, Jurowski). It's a shame then that the LPO were not on form, tired perhaps from their tough schedule which sees them performing solely 20th century repertoire this season.
Ohlsson is a difficult performer to get wildly excited about
The bold opening clarinet sally of Gershwin's Rhapsody in Blue failed to shimmy or show any leg, and things went decidedly squiffy as the phrase progressed. Brass ensemble was a contradiction in terms, the big rallentando into the big finale spattered and snagged, and only the ululating, throaty husk of a muted trumpet redeemed things. Soloist Garrick Ohlsson is a supremely undemonstrative pianist which here played neatly into the drama, setting his effortless cool against the strivings of the orchestra. But he's a difficult performer to get wildly excited about, so self-contained is his approach.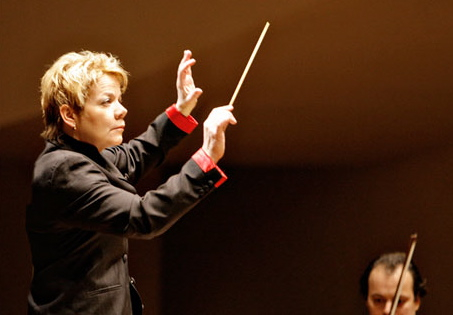 In Copland's Piano Concerto it was Ohlsson's turn to play straight man to his orchestra's deep jazz cats. The writing of this early work is wilfully unvirtuosic, luring the orchestra into a dialogue on the piano's own monochrome terms. Jazz is here certainly, but only of the French-cigarette-smoking, existentialist-philosopher-reading variety. There's some gorgeously idiomatic wind writing, and the LPO's players turned dramatic ensemble for a sequence of carefully-characterised cameos that supplemented the colours that Copland denies his piano part.
Charles Ives's Three Places In New England is a contemporary classic, its three programmatic movements unfolding as a brightly contrasting triptych of landscape scenes. The filmy textures of the first movement failed to peg themselves successfully to any kind of cumulative narrative, so the arrival at the broadly comic second movement (with its brilliant parody of amateur bandsmen) was less startling that it should have been. Strings felt tentative and underpowered and we missed something of vulgarity in this central section. Only the final movement gained the warmth, the hazy affirmation of Ives's vision.
Rounding out the programme was a suite taken from Scott Joplin's opera Treemonisha. It's a piece well worth staging, but in excerpts (and against such rivals as Copland and Gershwin) it didn't quite justify its place here. The tunes are broad, the rhythms catchy, but the whole never quite caught that grinning energy that this music needs to sell itself.
A missed opportunity here for the LPO as American ambassadors, but Alsop's preambles alone would make it worth risking their final concert in this sequence.
The jazz here is of the French-cigarette-smoking, existentialist-philosopher-reading variety
rating
Share this article