Reissue CDs Weekly: Eddie Noack, The Dictators, The Allman Brothers, Clifton Chenier |

reviews, news & interviews
Reissue CDs Weekly: Eddie Noack, The Dictators, The Allman Brothers, Clifton Chenier
Reissue CDs Weekly: Eddie Noack, The Dictators, The Allman Brothers, Clifton Chenier
Dark country, US pre-punk, Southern rock and the King of Cajun accordion
Eddie Noack in 1970, watched over by Jimmie Rodgers
Eddie Noack: Psycho – The K-Ark and Allstar Recordings 1962–69
Eddie Noack's 1968 single "Psycho" was virtually unknown until Elvis Costello released his cover version in 1981. By that time, Noack had been dead for three years. After its resurrection "Psycho" was recognised as one of the strangest songs ever. Although musically it is straight, George Jones-styled country, in its lyrics an unrepentant killer describes his actions to his mother – whom he had just killed. There was no redemption, no punishment, no pay off. Just the cold refrain "You think I'm psycho, don't you mama?"
"Psycho", inspired by the Hitchcock film, was written by Leon Payne, whose "Lost Highway" and "They'll Never Take Her Love From Me" became classics when recorded by Hank Williams. It so inspired Noack that he composed the even stranger "Dolores" as its follow up, another flop which failed to establish him as Nashville's king of darkness. These two singles had been preceded by the bleak, self-penned "The End of the Line", a seemingly autobiographical account of the life of a singer on the skids, riddled with booze and desperate for any booking that comes along.
Psycho – The K-Ark and Allstar Recordings 1962–69 is the first time these deeply peculiar records have been given their musical context. Noack's earlier releases have been previously reissued, but this is a first. This top-notch package also includes a riveting in-depth account of a man dogged by tragedy, bad deals and alcoholism. Yet he never stopped trying. Even without the trio of oddball singles, this collection of wired, bare-boned country would be worth hearing. With them, it's essential.
The Dictators: Go Girl Crazy!
Originally released in March 1975, the debut album from these New Yorkers makes more sense now than it probably did at the time. Still vital sounding, it's not quite punk rock in what became the accepted sense, and was far too knowingly poppy to have become instantly popular on mid-Seventies US radio. Instead, The Dictators provide the missing link between the late Sixties Detroit explosion of the MC5 and The Ramones. Indeed, they covered the mid-Sixties surf hit "California Sun" on Go Girl Crazy!, a song which later became a mainstay of The Ramones' live set. With "Master Race Rock" they also provided the template for The Ramones' early fascination with Nazis, a fetish shared by those other clients of their producer, Sandy Pearlman, the Blue Öyster Cult. A divisive band on the New York scene (their singer "Handsome" Dick Manitoba had an on-stage bust up with the cross-dressing Wayne County), at the starting gate, whatever their idiocy, musically The Dictators were a blast of fresh air.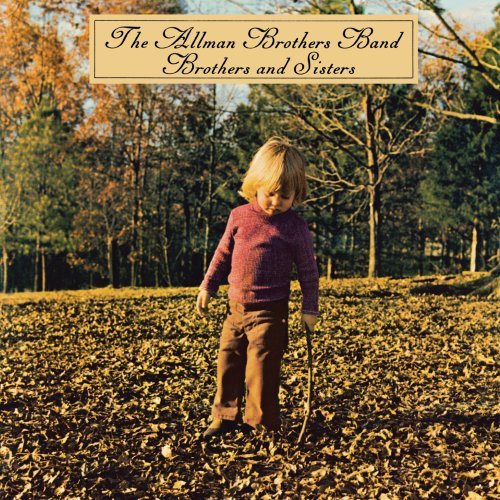 The Allman Brothers Band: Brothers and Sisters Deluxe Edition
The Allman Brothers Band could have been forgiven for failing to complete their fifth album, 1973's Brothers and Sisters. Their co-founder and guitarist Duane Allman had died in 1971 in a motor cycle accident. The same fate befell bassist Berry Oakley during the album's early sessions: he is heard only on opening cuts "Wasted Words" and their US hit single "Ramblin' Man".
This Deluxe Edition supplements a newly mastered version of the original album (which includes "Jessica", later to become the theme of the BBC car programme Top Gear) with a second disc of unreleased material. Tracks recorded at rehearsals include an instrumental of "Southbound" featuring Oakley, who is not on the album version. A 16-minute blues jam is for fans only, but "Double Cross" and "Early Morning Blues" (both written by Greg Allman; the latter was reworked as the album's "Jelly Jelly") are fully formed and would have fit snugly on the finished album. A Super Deluxe Edition has also been released but was not supplied for review: it ups the disc count to four by adding a previously bootlegged live show recorded at San Francisco's Winterland in September 1973.
Clifton Chenier: Shake 'em up Baby – The Crazy Cajun Recordings 1966–1967
This poorly annotated edition of recordings by the great zydeco accordionist Clifton Chenier is a fine reminder that it's possible to rock and swing no matter how unlikely the instrument. Chenier had been recording since the mid Fifties and fetched up the Crazy Cajun label in 1966. Its proprietor, Huey Meaux (who, in the 1990s, was imprisoned for child pornography charges and sexual assault) was on a roll in 1965 as "She's About a Mover", the Cajun-style rocker he'd produced for The Sir Douglas Quintet, was a national hit.
Chenier wasn't going to come up with chart-friendly goods despite issuing eight singles for Crazy Cajun. The tracks here range through jump blues, country-tinged swing and slow, boogie-tinged blues. This comp has 18 tracks and, as the original release details are not given in full, it is not possible to ascertain what was issued at the time and which tracks were A- or B-sides. Determining which cuts were Chenier's potential hits and which were shelved is therefore impossible.
Listen to Eddie Noack's "Psycho"
Noack was dogged by tragedy, bad deals and alcoholism. Yet he never stopped trying
Share this article