Lucan, ITV |

reviews, news & interviews
Lucan, ITV
Lucan, ITV
Murder and moral squalor in the playgrounds of the aristocracy
Thursday, 12 December 2013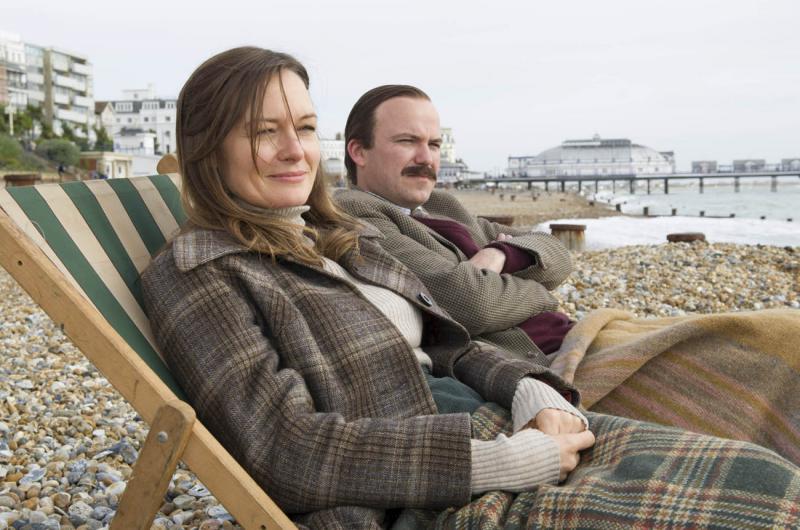 Portrait of a happy couple (not) - Catherine McCormack and Rory Kinnear as Lord and Lady Lucan
The disappearance of Lord "Lucky" Lucan in 1974 remains one of the most teasing enigmas of recent-ish history. Following the collapse of his marriage and a bitter battle with his wife Veronica for custody of their three children, the gambling addict Lucan is presumed to have battered the children's nanny to death, attacked his wife, then fled the country by boat from Newhaven. Elvis-like sightings of the disgraced peer have poured in from around the world ever since.
This TV version of the story (it concludes next week), adapted by Jeff Pope from John Pearson's book The Gamblers, uses the story of Pearson's authorly research as a framework. Pearson (Paul Freeman) is seen musing over his typewriter and tracking down friends and witnesses from Lucan's repulsive milieu of affectless, supercilious aristocrats as he tries to unpick the riddle. He unravels chunks of the story, but then the self-protective shutters come down, as the likes of Suzie Maxwell-Scott (a cobwebby Jane Lapotaire) close ranks and pull up the ancestral drawbridge (Lucan in his element, pictured below).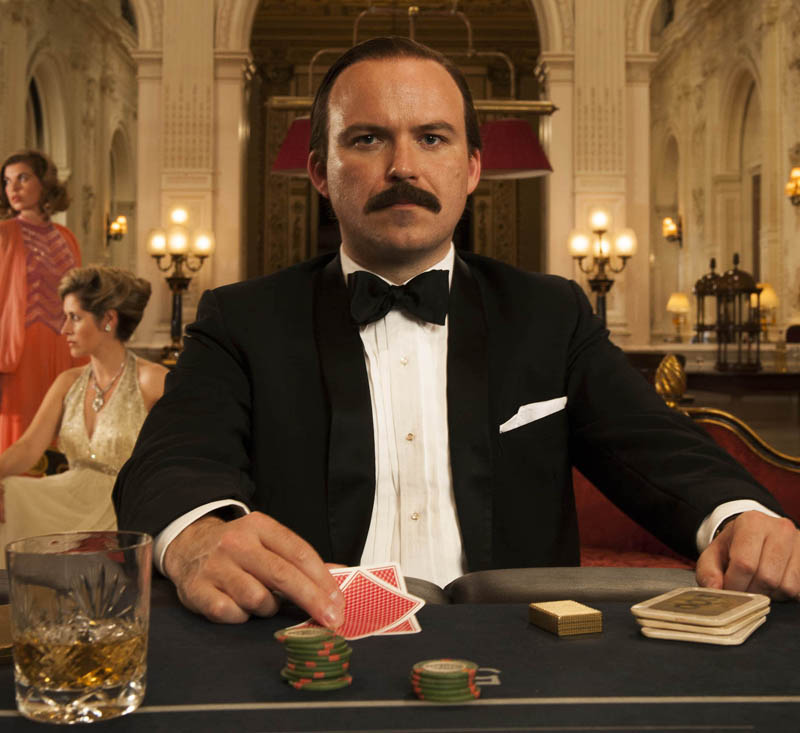 The obvious flaw in the conception of the piece is that the real answers aren't known, so that what we're watching is a hypothesis built on some unfinished foundations of fact. But viewed simply as drama, it's fascinating enough, in a morbid, downbeat kind of way. If you were sitting in the pub tossing around potential names of actors to play Lucan, it would probably take you a few large ones before you got to Rory Kinnear. Lucan was, according to Wikipedia, "once considered for the role of James Bond", which one senses Kinnear possibly hasn't been. It's a mark of what a fine actor he is, then, that he has created a compelling portrait of a dry, emotionally stunted Lucan, a man who demands complete control in his family life but who signally lacks it when confronted with the lure of the gaming tables.
Kinnear also imparts the sense that his Lucan is not especially bright - for instance, he considers gambling to be his career, despite the fact that he always loses and is bankrupt. It's left to his close friend John Aspinall, unscrupulous gambling magnate and creator of the toffs' Mayfair playground the Clermont Club, to apply piercingly chilled logic to the question of how Lucan can rid himself of his wife (the Lucan clan hit the beach, pictured below).
As Aspinall, Christopher Eccleston is seriously intimidating, reducing potential murder to a simple case of genetic desirability. Also a pioneering zoo-owner, Aspinall is fascinated with apes and the dominant role of the alpha male. Should he decide to murder his wife, Aspinall reasons to Lucan, "you would of course be free to breed again and increase your bloodstock." Bearing the brunt of Lucan's detachment and warped self-image is Catherine McCormack's Lady Veronica, eager to be a good wife and mother and unable to comprehend her husband's self-destructive trajectory. Understandably, she was stressed out and prone to tearful outbursts, to which loveable Lucky responded by dropping her off at a psychiatric hospital and trying (unsuccessfully) to have her committed.
McCormack's performance triggers pangs of empathy, which is just as well since everybody else in the cast is either utterly repellent or wholly despicable. It's enough to give Britain's top people a bad name.
Lucan was once considered for the role of James Bond, which one senses Kinnear possibly hasn't been
rating
Explore topics
Share this article