Reissue CDs Weekly: Love, Poetry and Revolution |

reviews, news & interviews
Reissue CDs Weekly: Love, Poetry and Revolution
Reissue CDs Weekly: Love, Poetry and Revolution
Gems aplenty on a journey through a Beatles and Pink Floyd-free alternate psychedelic universe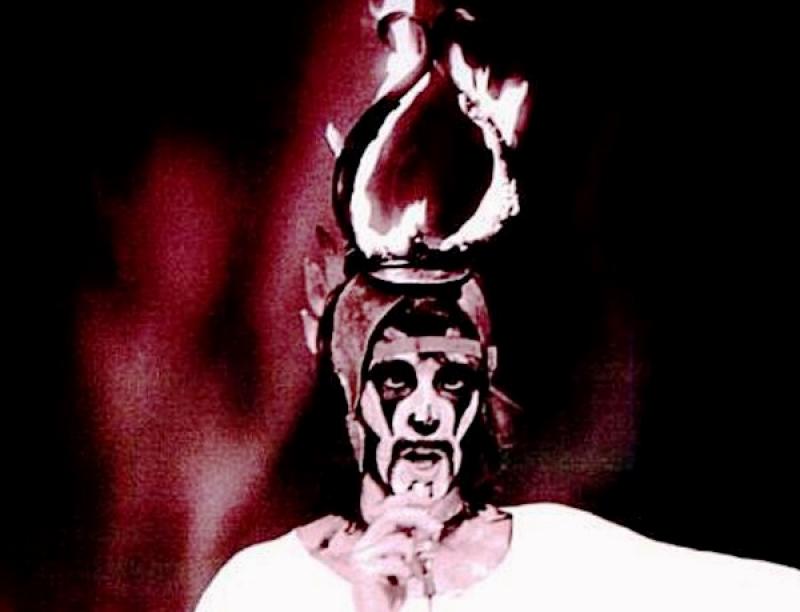 Arthur Brown anoints the British psychedelic and underground scene with some hellfire
Various Artists: Love, Poetry and Revolution
Various Artists: Love, Poetry and Revolution
The subtitle "A Journey Through the British Psychedelic and Underground Scenes" – with "A" as the operative word – suggests this box set isn't going to tell a familiar story. Most of the bands were and still are barely heard of. Twenty-four of the 65 tracks compiled were not originally issued.The opening shot is "Pretty Colours", by obscure West Midlands band Deep Feeling which included future Traffic member Jim Capaldi. Although unreleased at the time of its October 1966 recording, The Animals' Eric Burdon cocked an ear and declared it "psychedelic". Love, Poetry and Revolution concludes with Kevin Coyne's wracked 1972 album track "Evil Island Home".
Few of those sampled could have made a ripple, let alone waves. Only 99 copies of the Love Cycle album by Cambridge's Forever Amber were pressed. After their one hit, The Sorrows went to Italy in search of new fame and recorded an album for a Milan-based label which hardly sold. But it did feature the freaky gem "The Makers", heard here.
This alternate universe does not feature The Beatles or The Stones. There is no Jimi Hendrix Experience, Pink Floyd or Soft Machine. Underground staples The Crazy World of Arthur Brown appear with "Devil's Grip", their flop debut single and predecessor to "Fire". The closest the set gets to Hendrix is a track from Fat Mattress, the side-band formed by The Experience's Noel Redding. Future ELP man Greg Lake appears as a member of Shy Limbs. Most bizarrely, Brian James, the co-founder of punk legends The Damned, plays on a lost single by the deeply obscure Taiconderoga. If the term had not already been coined, "magical mystery tour" would be an apt description for Love, Poetry and Revolution.
Most of the band names are familiar to collectors and ought to be more widely known: transplanted Americans and John Peel favourites The Misunderstood, the (appropriately) sonically fractured Mirage, the harmonious Crocheted Doughnut Ring and so on. In the main, the collection is a series of musical footnotes to footnotes.
Love, Poetry and Revolution is not, though, a parade of low-grade cast-offs which should remain forgotten. A major release, it's stuffed with amazing and idiosyncratic music begging to be heard. It also has an uncredited concluding track almost as bizarre as The Liverpool Scene's 1969 proto-industrial, concrête-influenced but previously unreleased "We'll All be Spacemen Before We Die". Despite their absence, The Incredible String Band loom large over Mark Fry's intense "The Witch" as does – no doubt coincidentally – the rhythmically ascending melody of Can's "Mother Sky". An intense message from the edge, it was issued on another rare Italian album. The liquid and moody "Strange Ways" by Please is utterly fantastic and could pass for an outtake by Eighties New Zealand band The Chills. The Fut's "Have You Heard the Word" is an outlandish and convincing Beatles soundalike (in best-ever fidelity) featuring a drunk and moonlighting Bee Gee, and was bootlegged as a Fabs outtake. Hear these last three treats below.
Inevitably, there are chancers who were trying on flowers and kaftans as the flavour of the time. Nonetheless, former soul band The Alan Bown Set sound great. Equally inevitably, a few tracks aren't worth lingering on: the Band-influenced "Tomorrow Today" by Hardin-York lacks any trappings of psychedelia or the underground, and one offering by the band they sprang from – the post-Steve Winwood Spencer Davis Group – would have been enough.
As no-frills as a box set can be, the three discs come in card sleeves within a clam-shell box also housing a CD-sized booklet with great track-by-track annotation. This means the price is keen. There is no excuse not to buy it. The first airing of a demo of Tintern Abbey's "Beeside" is worth the price of admission alone. In its nascent form, as "Busy Bee", it sounds uncannily like Arthur Lee's Love and shows an American influence which rarely bubbles up over the set's almost four hour duration. But while Lee became a major cult figure, Tintern Abbey's one single was barely heard and they had only an A- and B-side to capitalise on should they have wished to. It's now too late for their time to come, but Love, Poetry and Revolution makes a valiant case for Tintern Abbey and their fellow travellers.
Overleaf: listen to Mark Fry, Please and The Fut
Listen to Mark Fry's "The Witch"
Listen to Please's "Strange Ways"
Listen to The Fut's "Have You Heard the Word"
If the term had not already been coined, 'magical mystery tour' would be an apt description for 'Love, Poetry and Revolution'
Share this article