Reissue CDs Weekly: Oasis |

reviews, news & interviews
Reissue CDs Weekly: Oasis
Reissue CDs Weekly: Oasis
Hyperbole-swamped anniversary reissue of the Gallagher gang's debut album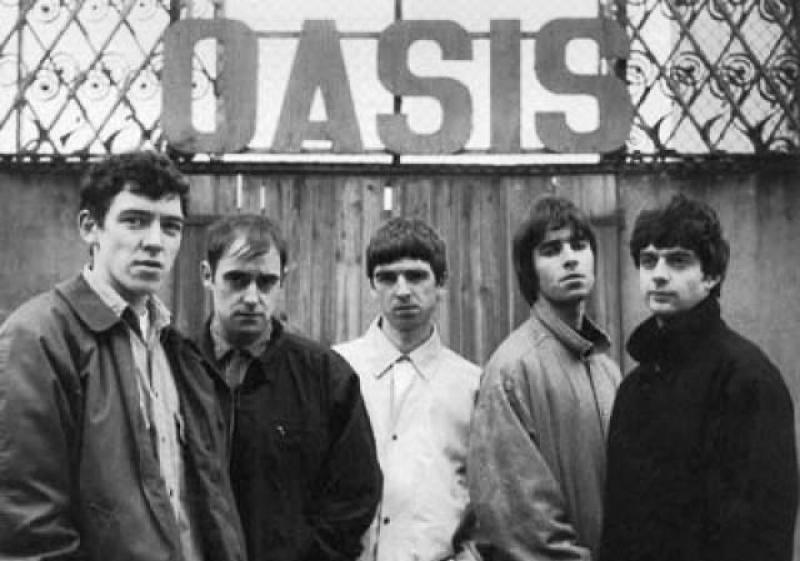 Feeling but not looking supersonic: Oasis in 1994
Oasis: Definitely Maybe
"His onstage presence is supernatural, a good looking boy exuding primal sexual allure while standing stock still, hands behind his back, all effort going into his big chested, raw throated pure and essential singing." The beyond-hyperbolic liner notes to Deluxe Box Set edition of the 20th-anniversy reissue of Definitely Maybe, the first Oasis album, read like a parody. Liam Gallagher may be many things. But supernatural?
Elsewhere, they gush that "the holy grail of British pop music is surely a bunch of longhaired boys with guitars playing swaggering, melodic rock." Naturally, in this lay-it-on-thick world, the pop group with a direct line to The Last Supper were these five chaps from Manchester. Oasis's early contemporaries The Stone Roses, Primal Scream, Massive Attack and Tricky didn't stand a chance as they were "in danger of embodying irrelevance and illustrating powerlessness." Blur, whose Alex James Oasis's Noel Gallagher later wished would "catch AIDS and die", are not mentioned.
All this piffle and more about a band for which the opening lyrics of the ninth track on their debut album were "I need to be myself, I can't be no one else, I'm feeling supersonic, give me gin and tonic."
Hubris defined the arrival of Oasis. That it continues is a shameOnce the sick bag has been found and evacuation completed, the risible liner notes begin making some sense when contextualised. What cannot make sense, while addressing the band's adopted sonic style, is sexist piffle on the order of "it is like ABBA for boys or Led Zeppelin for girls."
As to the context – as it was then, so it is now: hubris defined the arrival of Oasis, their subsequent path through the mainstream and also provided a convenient smokescreen to obscure the fact that everything they released from third album Be Here Now onwards was disappointing, increasingly stale and by-rote. That the hubris continues is a shame given that Definitely Maybe was and remains an Infectious album by a fine pop-rock band which should be allowed to stand and fall on its own merits.
But as it's currently and inescapably the 20th anniversary of Britpop, hubris rears up again to devalue and tarnish Definitely Maybe's reissue. Perhaps this is also why history is being rewritten calendar-wise: the album was issued in August 1994, not May when this hits the shops.
It's evident why drummer Tony McCarroll left the band: he lacked power It is a pity such distracting nonsense has been allowed through the net. Although, inexplicably, the lyrics are not included with the three-CD edition of Definitely Maybe as they were with the original album, this is a nicely designed and packaged reissue – the book-bound three-CD Deluxe edition is the one to go for. Especially as it does not include the liner notes (more is charged for these with the Deluxe Box Set edition), just track-by-track annotation with old (from press quotes) and new commentary from, mainly, Noel Gallagher. Disc Two collects tracks exclusive to singles, bonus tracks from old versions of the album and promo-only cuts including their first release, the limited 12-inch of "Columbia" which, without the imposition of the album's sure-footed wall of sound, is pretty weedy and suffers by comparison, though a string-assisted "Whatever" is charming and holds its own. Disc Three includes live tracks and demos.
Revisiting the album itself (Disc One) is enlightening. Musically, the singles stand out and "Live Forever" and "Wonderwall"-prototype "Slide Away" do so even more as they provide respite from the mono-tempo bludgeoning defining the album. The one-size-fits-all production has little dynamic. Also inflexible and lacking power too is drummer Tony McCarroll. It's evident why he would leave the band. Neat touches leap out in this precise remaster: the one-finger Stooges piano on "Bring it on Down" is especially nice. But shortcomings are also foregrounded: "Bring it on Down" is a chorus in search of song and its dragged-out coda wears out its welcome; hindsight reveals the still-effective album take of "Columbia" cheekily borrows the chassis and some of the bodywork of "Leave Them All Behind" by fellow Creation Records band Ride (compare the two songs overlelaf).
Kudos to Noel Gallagher for allowing tracks which illustrate Oasis weren't all about bombast
Surprises also come with the demos and unreleased tracks on Disc Three. The weak "Strange Thing", from their demo cassette, is little more than a curio. More proof that the thick production employed on the album was clearly needed for impact comes with clumping demos of "Cigarettes & Alcohol" and "Rock 'n' Roll Star", the latter sounding like a fuzzed-up, half-speed version of "Coast to Coast" by pub rockers Ducks Deluxe (not a bad thing). Best of all is a sensitive, solo and acoustic Noel Gallagher demo of "Half the World Away" recorded in a hotel room. Kudos to him for allowing this and other tracks which illustrate that the early Oasis weren't all about bombast.
But what comes across most strongly is that – anniversaries and the attendant commercial necessities notwithstanding – isn't it time, 20 years on, to decouple Oasis from trite Britpop nostalgia and the dead weight of the hyperbole which surrounded both them and it?
Overleaf: Listen to Ride's "Leave Them All Behind" and the Definitely Maybe version of Oasis's "Columbia"

Listen to Ride's "Leave Them All Behind"
Listen to the Definitely Maybe version of Oasis's "Columbia"
'Definitely Maybe' should be allowed to stand and fall on its own merits
Share this article