Reissue CDs Weekly: Crosby, Stills, Nash & Young |

reviews, news & interviews
Reissue CDs Weekly: Crosby, Stills, Nash & Young
Reissue CDs Weekly: Crosby, Stills, Nash & Young
Warts-and-all document of the fantastic four's mammoth stadium tour of 1974
Masters of their domain: Young, Nash, Crosby & Stills take their front room to a stadium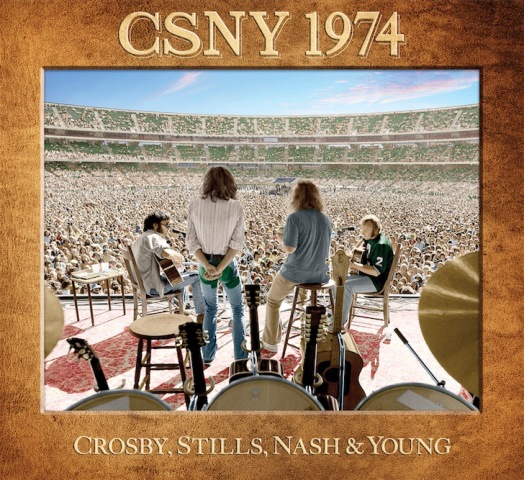 Crosby, Stills, Nash & Young: CSNY 1974
Considering that their 1974 tour was the world's first series of dates limited to outdoor stadia since the Beatles in 1966, it's appropriate the long-gestating collection chronicling Crosby, Stills, Nash & Young's mammoth jaunt is an all-encompassing three-CD box set which also includes a DVD and a hefty, copiously illustrated booklet with a definitive in-depth essay on the tour.
Although previously bootlegged and not hard to find, the dates did not – curiously, since it was a landmark tour designed to rake in cash – spawn a live album souvenir. But perhaps the effort of getting this frequently bickering quartet onto the road may have taken all the energy anyone involved could have expended. After a final date at Wembley Stadium on 14 September 1974, they went their separate ways as they had done in 1973, after coming together and then failing to complete the mooted Human Highway album, and in 1970 when they split after their initial and stellar ascent.
Nonetheless, manager Elliot Roberts knew there were tickets to be sold on the back of their united name, so reunite they did in 1974 alongside three sidemen. During July, August and early September, CSNY were the biggest concert draw in America, and probably the world too.
Stephen Stills' 'Black Queen' clumps along stodgily
The CSNY 1974 box recreates the format of the tour's three-hour-plus shows. Disc One is an electric set, Disc Two acoustic and Disc Three electric. What's heard is not one concert, but 40 tracks drawn from 10 shows. Only 10 tracks come from the Crosby, Stills & Nash and Déjà Vu albums. The balance draws from solo albums, sundry collaborations and also includes songs which would be heard on subsequent albums by the quartet in various non-CSNY configurations or solo. Neil Young's "Love Art Blues", "Traces", "Goodbye Dick" (a slight Richard Nixon-inspired throwaway) and "Hawaiian Sunrise" haven't surfaced elsewhere.
Whatever the other three thought, on this evidence Young is the one with creativity to burn. "Pushed It Over the End", which he had performed solo earlier in 1974 as "Citizen Kane Jr. Blues", is a highlight. The version of "On the Beach" on Disc One scorches like molten tarmac. In contrast, Stephen Stills' "Black Queen", which follows, clumps along stodgily as it overplays its lumpen riff for eight-plus minutes. Stills probably thought he was trouncing Young by rewriting his "Cinammon Girl".
Graham Nash is the wild-card revelation
This set plays out like mix-tape of four solo artists who, when they deign to come together, can and do make beautiful music. The version of "Only Love Can Break Your Heart" is spectral. But the price paid for bringing them together is that sometimes they don't or can't submerge themselves for the benefit of the whole. This can be a good thing though. Graham Nash's "Pre-Road Downs" is a routine chugger but in this arrangement, with its slashing guitar (sounding like Stills rather than Young), becomes more than it ever could have ever been in Nash's hands alone.
Despite Young's unsurprising dominance, Nash is the wild-card revelation. On Disc Two, his simple, elegiac "Fieldworker" is exquisitely affecting. Which is more than can be said for Crosby's toe-curlingly awful crack at "Almost Cut My Hair".
The interplay between the players is seen on the DVD's footage from Maryland and Wembley. Often beaming, Nash seems genuinely happy to be performing and interacting with his friends. Young is a beetle-browed presence with – despite his wonderfully sensitive and nuanced playing and singing – the stolid determination of a panel beater. Crosby is smug and self-satisfied, while Stills mostly appears so unengaged that he looks to be composing shopping lists in his head. But, again, when it comes together, it stuns. Watching them combine to run through "Only Love Can Break Your Heart" is thrilling enough, but the might-as-well-be-solo Young's "Old Man" exudes an extra-terrestrial intensity.
As is usual these days, CSNY 1974 is issued in a variety of formats, including a pointless single CD. The nuttiest configuration is a wooden box with the music on Blu-ray discs in Young's hobby-horse and sure to go the way of laser disc Pure Audio format as well as on vinyl.
Stick with the standard box and do what needs to be done: don't cherry-pick, play the whole lot in order and marvel at how such a ragged, mercurial, sometimes brilliant, sometimes embarrassing and occasionally excruciating musical juggernaut took America on 40 years ago.
Overleaf: watch the promo video for Crosby, Stills, Nash & Young's CSNY 1974
On this evidence, Neil Young is the one with creativity to burn
Explore topics
Share this article