Crosby Stills & Nash, Royal Albert Hall |

reviews, news & interviews
Crosby Stills & Nash, Royal Albert Hall
Crosby Stills & Nash, Royal Albert Hall
Indestructible campaigners can still show the young 'uns a few tricks
Saturday, 12 October 2013
Love the ones you're with: Stephen Stills (left), Graham Nash and David Crosby at the Albert Hall
There was much to be said for attending the third and final show of Crosby Stills & Nash's Albert Hall stint, because this was the night when they played their debut album in its entirety. Clearly much – almost everything, in fact – has changed since 1969, but though the musicians are four decades older, their original collective spirit survives remarkably intact.
The addition of Neil Young turned CSN into a supergroup, but the original trio had a natural cohesiveness the four-piece version could never replicate, despite the fact that they were completely dissimilar characters with very different voices. Put those voices together though, and something miraculous happened, as it still did here when they sang "Helplessly Hoping" (adorned with some neat string-bending country licks from Stills), "You Don't Have To Cry" and "Southern Cross" (a comparative newcomer at only 31 years old).
Even within the trio, there's a clear divide between Stills and the Crosby-Nash axis (pictured right, Crosby and Stills share a joke). The C & N show-within-a-show still has the capacity to brew up a little special magic of its own, as they demonstrated on a staggering version of Crosby's "Guinnevere", their two voices weaving mystically over Crosby's eerie, spidery guitar pattern. They did it again on Nash's "Cathedral" - after an introduction on the massive Albert Hall organ by their keyboardist James Raymond - bringing a force and stature to the piece which was enough to get you scurrying back to Spotify to see if the original recording sounded that good. Raymond was also the writer of a new song, "Lay Me Down", scheduled for Crosby's next solo album, and with Nash lending support it made a comfortable fit with the back catalogue.
Meanwhile Stills prowled stage right, keeping up a bantering, chuntering commentary across the stage with his compadres. Stills, the musical mastermind of the original CSN, likes to remind y'all of his considerable musical endowments, whether that's whipping out torrid electric solos in "Bluebird", a song from his '60s days in the Buffalo Springfield ("this is a song from my childhood," he deadpanned), or driving the combo through an irresistibly chunky, funked-up "Love The One You're With" (Nash at the keyboard, below).
Stills's solo vocals sometimes wandered wildly adrift, but he hasn't lost his wizardry on acoustic guitar. It was showcased to fullest advantage on "Suite: Judy Blue Eyes", the resplendent opening statement from the debut album. Stills had no intention of merely duplicating the recording onstage, and instead launched into extended raga-like patrols around the fretboard, picking out mantra-ish patterns over the droning lower strings. This reached its apogee with a brisk one-man précis of George Harrison's "Within You Without You". This pleased Stills so much that after it, he advanced across the stage towards Crosby, giving him a raised middle finger, then cracked up laughing.
Indeed, their read-through of the debut disc flung up a series of pleasant surprises. "Marrakesh Express", suspiciously like a twee pop song in its original incarnation, had been slowed down a fraction and equipped with a propulsive, elastic backbeat, while guitarist Shane Fontayne (pictured at far right, below) added the parts previously overdubbed by Stills. "Wooden Ships" skilfully exploited its tension-release structure before charging off on a Jefferson Airplane-style jam in the middle, while "49 Bye-Byes" blossomed into a flat-out rocker.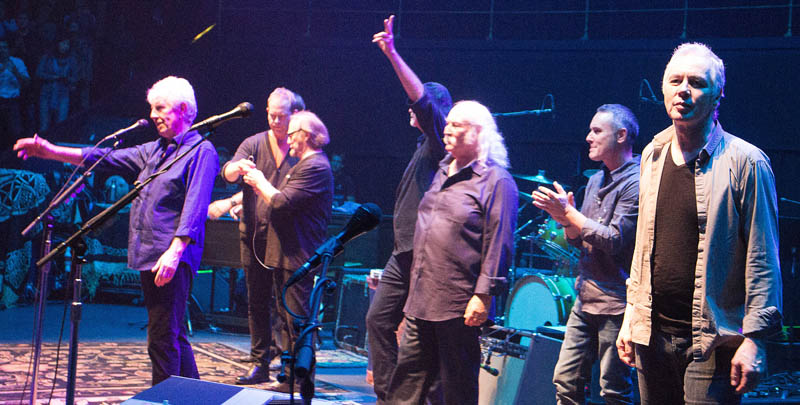 A tense "Long Time Gone", Crosby's requiem for the murdered Bobby Kennedy, was a reminder of CSN's long-standing political streak. This re-echoed through a new Nash song called "Burning For The Buddha", in memory of the Tibetan monks who have immolated themselves in anti-Chinese protests, and a furious version of "Chicago", which was used in a campaign to support internet hacker Gary McKinnon ("let a man live his own damn life!" roared Nash, as he pounded his electric piano).
Obviously 2013's CSN can't replicate the youthful zest and sweetness of their early days, and none of them is likely to replace David Beckham in the H&M underwear commercials, but the dogged old campaigners have learned a few tricks. They know how to exploit their strengths and skirt around their weaknesses, and most of all they still believe their music can change the world, or at least lend a hand. They still sing pretty good too.
Crosby Stills & Nash play Manchester Arena tonight, Glasgow Clyde Auditorium on 14 October, The Sage Gateshead on 15 October and Bristol Colston Hall on 17 October
They still believe their music can change the world, or at least lend a hand. They still sing pretty good too
rating
Explore topics
Share this article