Mary J Blige, iTunes Festival, Roundhouse |

reviews, news & interviews
Mary J Blige, iTunes Festival, Roundhouse
Mary J Blige, iTunes Festival, Roundhouse
Powerhouse performance from the R&B superstar
Friday, 26 September 2014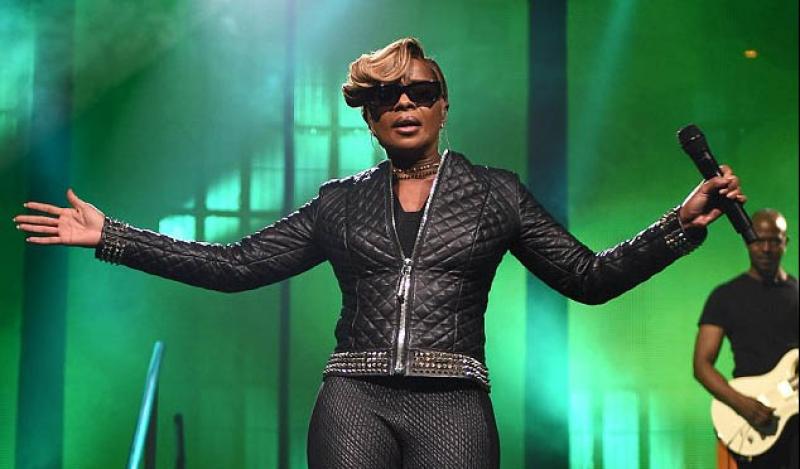 Nothing left to prove? Mary J Blige begs to differ
Trailing a string of Grammys and multi-platinum albums, and now a successful actress and purveyor of her own "My Life" perfume for good measure, you wouldn't think R&B legend Blige had much left to prove. However, she evidently sees it differently, and she ripped through this compressed and streamlined Roundhouse set as if lives were at stake.
The show was handily timed to help stoke up anticipation for her forthcoming album The London Sessions, due in November and featuring contributions from Disclosure, Emeli Sandé, Sam Smith and more. This is evidently a talismanic project designed to kick off a new musical phase for the 43-year-old diva, and will be accompanied by a making-of documentary which we were treated to some snippets from during the show.
She was warmed up and charging ahead like a one-woman armoured division
Before she got to the new material, though, Blige tripped through a brief story-so-far selection of career highlights, including "Bring Me Joy", "Enough Cryin'" and a sleek "Be Happy". Clad in tight leather trousers, black leather jacket and sunglasses, she stalked the stage atop a pair of high-heeled ankle boots, rolling her hips like a gunslinger as she worked the crowd into an arm-waving frenzy.
But when she raised the curtain on the new material, you felt that this was the moment she'd really been waiting for, not least for the emotional way in which she thanked her British fans and collaborators. Something about the new songs seems to have helped her tap into her inner Aretha, as she demonstrated in "Therapy". Over its loose and deliciously swinging beat, Blige cut her voice loose to soar as if she were channelling an entire dynasty of gospel singers. In "Doubt", she visibly dug deep to deliver a torrid lyric of struggle and survival - "I made it to the end... I lost a lot of friends... I can't keep doubting myself". Then it was on into Steve Smith's ballad "Not Loving You" and the tempo-raising punch of "Right Now", with its distinctive stumbling beat.
But she wasn't going to let the new songs steal all the limelight. Now warmed up and charging ahead like a one-woman armoured division, she tore into an epic reading of "No More Drama" that wound up to such apoplectic intensity that one feared for the structural integrity of the Roundhouse itself. And, perhaps offering a little ironic balm to U2 after their embarrassing "free album on iTunes" faux pas, Blige pulled off a barn-burning version of their mighty angst-fest, "One".
Awesome stuff indeed. This show only lasted about 70 minutes, but it felt like living through several eventful lifetimes.
It wound up to such apoplectic intensity that one feared for the structural integrity of the Roundhouse itself
rating
Explore topics
Share this article