Reissue CDs Weekly: Dion |

reviews, news & interviews
Reissue CDs Weekly: Dion
Reissue CDs Weekly: Dion
Confident and previously unheard early Seventies concert from 'The Wanderer'
Dion in 1971: forceful delivery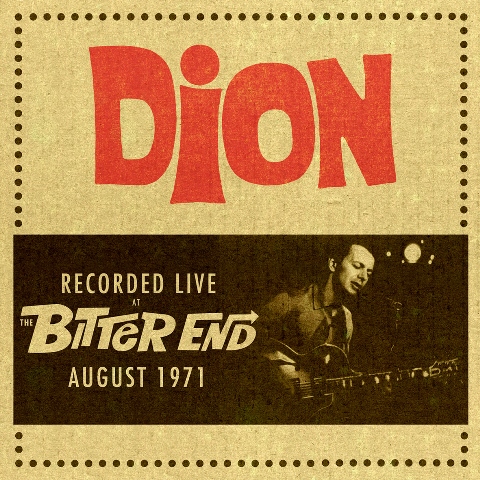 Dion: Recorded Live at the Bitter End August 1971
By 1971, when he was playing the Bitter End in New York's Greenwich Village, Dion DiMucci had already experienced the equivalent of two separate stints as a pop star. In 1961, he began a run of hits with the swaggering "Runaround Sue". From then and into 1963 he racked up other classics such as "The Wanderer", "Ruby Baby", Donna the Prima Donna" and "Drip Drop". The arrival of The Beatles in the US charts in early 1964 put paid to his run of hits. Times had changed. But in late 1968 he was back in the Top Ten with a heartfelt version of Dick Holler's "Abraham, Martin and John."
Recorded Live at the Bitter End August 1971, a previously unissued concert taped at the folk music nightspot, picks up the story in the wake of "Abraham, Martin and John" at a point when he was firmly stating his case as solo artist in the singer-songwriter mould. Many American rockers from the immediate pre-Beatle era were doing oldies or comeback shows. Dion was not.
On the face of it, Dion appeared to have reinvented himself. It wasn't actually that simple. He had been progressing steadily along this path since 1963 when his label boss John Hammond Sr gave him a copy of Robert Johnson's King of the Delta Blues album. Hammond Sr had thought of "Drip Drop" and "Ruby Baby" as urban blues.
While he was away from the charts Dion recorded a string of tracks – some released then, others issued later – which articulated an electric folk-blues as innovative as The Byrds' electric folk-rock makeover of Dylan's "Mr Tambourine Man". They are amongst the best and most important mid-Sixties pop recordings. The commercial comeback of 1968 with "Abraham, Martin and John" may have seemed out of the blue, but Dion had not been standing still while out of the public gaze.
Three of the tracks included on Recorded Live… had been issued on Dion's so-so 1972 album Sanctuary. The live re-recordings of "Ruby Baby" and "Abraham, Martin, and John" were presumably taped to remind potential buyers of Dion's history and also for the practical reason that it would be cheaper to use these performances rather than license the originals from any of his previous labels (he was on Warner Brothers at this point). With its piecemeal tracklist of live and studio cuts, Sanctuary was patchy. Recorded Live… though is much more interesting as it's a real-time snapshot of the Dion seen by Greenwich Village audiences.
He is heard solo, accompanying himself on a forcefully played acoustic guitar. As well as "Abraham, Martin, and John" and "Ruby Baby", other selections plucked from his hit-maker past include "The Wanderer". They are all assured. Much more interesting are his versions of Dylan's "Mama, You've Been on my Mind" (which opens the set) and "One too Many Mornings". Both balance restraint and a tough edge which – as has been said before about this period Dion – posit him as a rougher James Taylor. Leonard Cohen's "Sisters of Mercy" also crops up, as does The Beatles "Blackbird".
Dion really shines though with his own songs: the gospel-ish "Brand New Morning", a yearning "Sunshine Lady" and the choppy, Fred Neil-influenced "Willigo". His blues leanings are evidenced by a version of Sonny Boy Williamson's "Don't Start me Talkin'" (he had recorded an ahead-of-the-times but shelved studio version in March 1964).
Overall, Recorded Live at the Bitter End August 1971 does not sound like the disparate grab-bag the song selection suggests it might be. Dion's confident folk-blues style and forceful delivery render each song of a piece with its predecessor and successor. This is a more satisfying listen than the actual albums he was issuing in this period, neatly summing him up better than any standard hits-driven compilation. Although an unconventional one, this is a fine entry point into Dion and his ever-evolving music.
But a big question remains. When is Sony – who hold the rights to most of his recordings from the period – or some enterprising licensee going to release a definitive summation of Dion's pioneering recordings of 1963 to 1966?
'Recorded Live at the Bitter End August 1971' is a more satisfying listen than the actual albums Dion was issuing in this period
Share this article