Reissue CDs Weekly: Spooky Tooth |

reviews, news & interviews
Reissue CDs Weekly: Spooky Tooth
Reissue CDs Weekly: Spooky Tooth
Box set celebrating a British rock great reveals the need to tread carefully
Spooky Tooth in 1973, when they were ship-shape for the mainstream American rock audience
Spooky Tooth: The Island Years (An Anthology) 1967–1974
After Spooky Tooth called it a day in 1974, various long-time members struck out in directions as unpredictable as their former band's identity was hard to get a handle on. Drummer Mike Kellie joined the Lou Reed-influenced, punk-era band The Only Ones. Their main songwriter, co-vocalist and keyboard player Gary Wright scored a massive US hit in early 1976 with the fantastically atmospheric proto-yacht rock single "Dream Weaver". Guitarist Mick Jones formed the immediately successful (in America) formulaic rock band Foreigner.
Listening to the box set The Island Years (An Anthology) 1967–1974 emphasises that Spooky Tooth were, ultimately, a band without a coherent character. The Island Years is – whatever the continuity of membership – about two Spooky Tooths: the post- and pre-1971 bands. According to the booklet "disharmony reared its head and the band broke up in 1971." Spooky Tooth had released an album in 1970, then split, reformed in 1972 and issued their next album in 1973.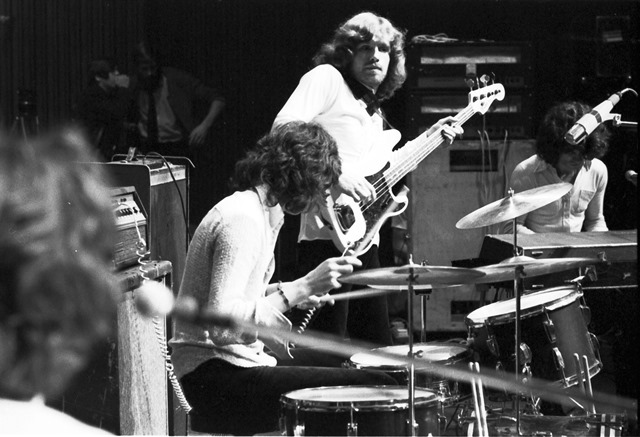 The Island Years is a diligent, smart nine-CD set housing the card-sleeved discs in a slipcase. The sound is fantastic. All the band's original albums are present – there were further reformations in 1998 and 2004 – as well as Supernatural Fairy Tales, their 1967 soul-tinged, psychedelic-era long player, issued when the band traded as Art. As well as many bonus tracks from singles, alternate versions, unreleased recordings and a BBC radio session, the ninth disc is a previously unreleased live show from 1973. The book is good and the package is rounded out by a reproduction of a poster for Art. Sadly, despite pictures of the configuration and its records, nothing from their pre-Art incarnation as The V.I.P.'s, is included. As the last word on Spooky Tooth though, fans will need this. (pictured left, Spooky Tooth live in 1969)
For anyone else, selectivity is necessary. The final album heard, 1974's unmemorable Mirror, is a rock offering along the lines of Bad Company which takes turns into the anthemic ("Hell and High Water") but makes no case for them as a band worth paying attention to. Its predecessor, 1973's Free-flavoured Witness, is similarly turgid. Before Witness, 1973's other album, You Broke My Heart…So I Busted Your Jaw, is another trudge through identikit rock leavened by the torpid ballads "Holy Water" and "Self-Seeking Man".
If the dial is turned back further, a different story emerges. One suggesting that before they made themselves ship-shape for the mainstream American rock audience, Spooky Tooth do merit a good, hard listen.You Broke My Heart… was the comeback album. It had been preceded by 1970's aptly titled The Last Puff. After its release, Spooky Tooth split up.
The Last Puff opens with a wild, slowed-down, organ-driven version of The Beatles' "I am the Walrus". It's heavy. The only parallel is the American band Vanilla Fudge's re-tooling of the hits of Motown and Sonny & Cher. Spooky Tooth's first album, 1968's It's All About, opens with a similarly heavied-up version of Janis Ian's "Society's Child" – which, in its original form, was produced by Vanilla Fudge producer Shadow Morton: Spooky Tooth must have been keen observers of Morton's ouevre. Once the penny drops, the essence of the original Spooky Tooth is revealed. They were, in part, a British answer to Vanilla Fudge, a influential band who also directly informed the sound of Deep Purple. The Band were also in there for Spooky Tooth – there is cover of "The Weight" on It's All About. Their Island label-mates Traffic were in the mix too. It is their first two albums It's All About and 1969's Spooky Two which make the case for Spooky Tooth as a British great.
Yet after the release of Spooky Two, Spooky Tooth had still not quite figured who they were. It was followed later in 1969 by the bizarre Ceremony: An Electronic Mass (pictured above), a collaboration with French experimental musician Pierre Henry. According to Gary Wright, in the booklet, "we went to the studio and recorded some songs and sent him [Henry] the finished masters. Instead of mixing the album properly from multi-track tape, Pierre Henry took the stereo tape of his own electronic music stuff and mixed it in with our masters. He took his two track master and our two track master and he just merged them both together." The result is bonkers. The Last Puff, the 1971 split and the reformation came next.
Spooky Tooth are undoubtedly important to British rock history. At its best, The Island Years (An Anthology) 1967–1974 shows them as really worth digging into. But there is also an awful lot of the musically quotidian. Tread carefully.