Life in Squares, BBC Two |

reviews, news & interviews
Life in Squares, BBC Two
Life in Squares, BBC Two
The elaborate lives and loves of the exhaustingly self-obsessed Bloomsbury Group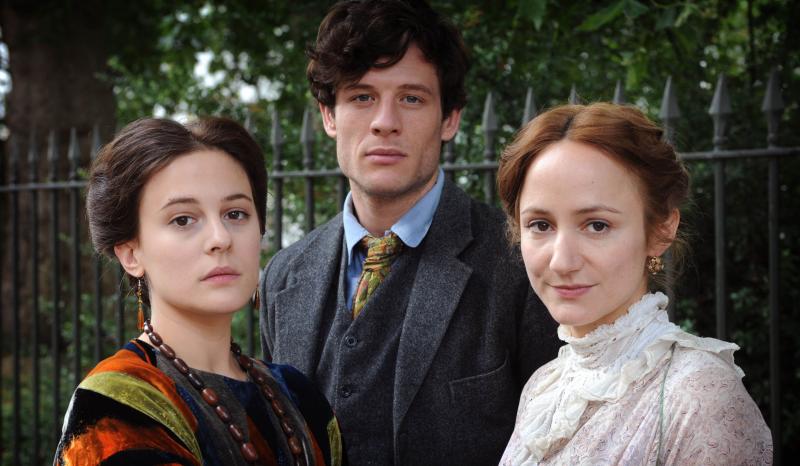 Phoebe Fox as Vanessa Bell (left), James Norton as Duncan Grant and Lydia Leonard as Virginia soon-to-be Woolf
London, 1905. For the Stephen siblings, setting up an independent household in Bloomsbury freed them – especially the sisters, Vanessa and Virginia – from Victorian familial conventions. It resulted in a heady mix of creative endeavour and endless conversation, especially about sex. As some wit commented, the Bloomsbury set was to be found living in squares, loving in triangles and talking in circles.
Introducing this delicate dramatisation of a complex web of relationships among friends and family we first met the predictably outraged Aunt Mary (Eleanor Bron) who worried about the delicate Virginia (Lydia Leonard), nurtured and cared for by her older artist sister, Vanessa (Phoebe Fox), who was still attending the painting schools at the Royal Academy. But her charming bright Cantabridgian brother Thoby Stephen (Rob Heaps), studying for the bar, announced he would be their chaperone.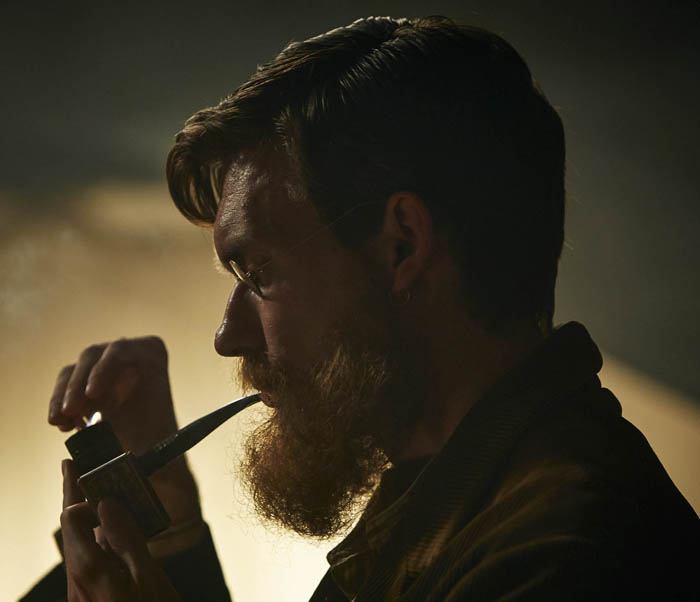 And so we embarked on the first hour of a three-part serial replete with period detail, including the fact that for once the female leads were so lightly and naturally made up we could believe it was 1905, and not 2015 raiding the dressing-up box. The sisters threw away corsets and stays the better to have physical freedom, and pounced on frank discussion about high emotion and physical expression among themselves and the young men attending their Bloomsbury salons. There were soft muted Bloomsbury colours too in the endless smocks sported by Vanessa in painting mode, the light filtering through gauzy curtains into high-ceilinged Bloomsbury rooms.
The Bloomsburys delighted in shocking others while not shocking themselves. Aunt Jane (a delightful cameo by Deborah Findlay) flourished a pamphlet titled "How We Lost Our Virginities", discovered in the bedroom used by the artist Duncan Grant (James Norton). But a moment later Grant was being examined for depravity by a bewhiskered doctor who slyly confessed to some forbidden longings himself. Lytton Strachey (Ed Birch, pictured above), Duncan's cousin, remarked that his mother Lady Strachey never recognised anything below the waist or above the knee.
Then there was Duncan in bed with Lytton, but next thing, true to Bloomsbury tenets of honesty above all else, calmly telling the besotted Strachey that he felt nothing for him; a little later, dining in a grand Edwardian restaurant with both Strachey and Maynard Keynes (Edmund Kingsley), he revealed his loving relationship with Keynes. As Virginia asked Vanessa, of their loved and loving male friends, are they all sodomites?
An extensive jaunt to Europe 1906 ended in tragedy. Thoby was brought home on a stretcher – malaria was mentioned, although it was actually typhoid – and died aged 26. Distraught with grief, Vanessa married on the rebound the persistent Clive Bell (Sam Hoare, pictured above left), and on her honeymoon wrote to Virginia (who would later marry Leonard Woolf) that she was in heaven (actually Italy) with divine weather and food, and copulation seemingly a tremendous success. How soon though, said Lytton, will Vanessa discover that Clive is not clever. Cue Vanessa's subsequent discovery of letters of passionate friendship between Clive and sister Virginia; discovery of an affair between Clive and another married woman; her declaration that with reason we can overcome almost anything; the decision to have an open marriage; and another tumble into bed.
The chat was so natural that it was sometimes indistinct, and Edmund Butt's music often drowned out speech altogether. Yet it's hard, in spite of all the Bloomsbury obsession with acknowledging feeling and emotion, to empathise with the struggles of any of these privileged characters, however much they go on – and on – about art, life and love.
As Virginia asked Vanessa, of their loved and loving male friends, are they all sodomites?
rating
Share this article