DVD: April 9th |

reviews, news & interviews
DVD: April 9th
DVD: April 9th
Poignant story of how Denmark's troops on bicycles couldn't stop Hitler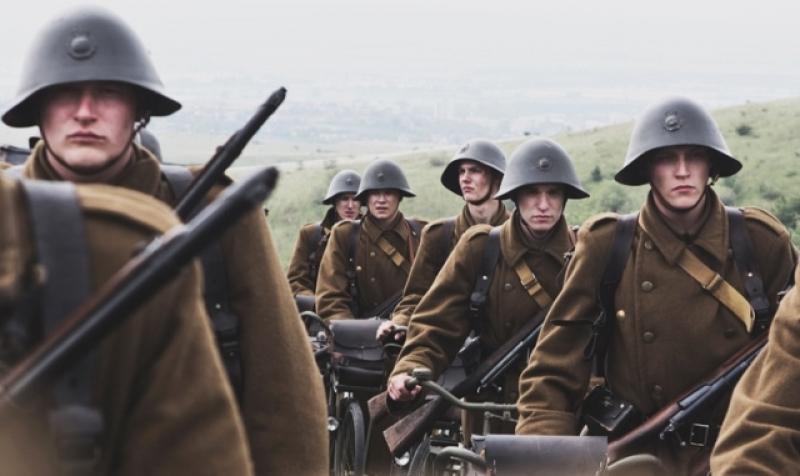 The ill-equipped troops of low-population Denmark set off to halt the enemy in 'April 9th'
Attempting to halt an enemy army with a small unit of troops on bicycles seems impossible and improbable, but this is exactly what happened at Lundtoftbjerg in the south of Jutland in the early hours of 9 April 1940 as Germany invaded the strategically important Denmark.
Although the assault was launched on more than one front, this aspect of the land campaign is the subject of the Danish film April 9th, which tells the true story of how ill-equipped, low-population Denmark had no chance. Even so, the Danish troops did what they could after first sighting the invaders at 4.50am. There were more German than home-side casualties. But it was hopeless. The Danish government capitulated at 6.00am.
April 9th arrives on DVD after BBC Four's screening of 1864, the Danish TV dramatisation of the war which led to Denmark's loss of Schleswig to the then-Prussia. While both examine the country's complex relationship with its southern neighbour, they are linked by more than similar historical fascinations: each features Pilou Asbæk in a lead role. In the poignant, thought-provoking and ultimately depressing April 9th he plays Second Lieutenant Sand, whose unenviable task is heading the Germans off with his bicycle brigade and the unfit-for-purpose weapons they carry. Taken with another of his roles – as Borgen's spin doctor Kasper Juul – Asbæk is posited as the actor with more knowledge than most on what makes his home country tick.
Although April 9th centres on a very specific and not-so well-known aspect of World War II, its broad appeal lies in a David and Goliath quality, albeit one which does not result in the defeat of the giant. It also, in common with the best Danish TV drama (rather than cinema) focuses on the personal: those dealing with this colossal threat are all too human. These heroes are not flawless.
The film's tension is unrelenting and the action is tracked with determination. Asbæk is as compelling and forceful as he was in 1864. Although there are no extras on the DVD – a background featurette would have been good – April 9th thrills and, after 1864, will again raise eyebrows about Denmark's open attitude towards its past.
Overleaf: Watch the trailer for April 9th
Watch the trailer for April 9th
The appeal of 'April 9th' is its David and Goliath quality, albeit one which does not result in the defeat of the giant
rating
Share this article