theartsdesk in Denmark: Ambition and Attack in Aalborg and Aarhus |

reviews, news & interviews
theartsdesk in Denmark: Ambition and Attack in Aalborg and Aarhus
theartsdesk in Denmark: Ambition and Attack in Aalborg and Aarhus
SPOT Festival shows there's more to Denmark's music than Lukas Graham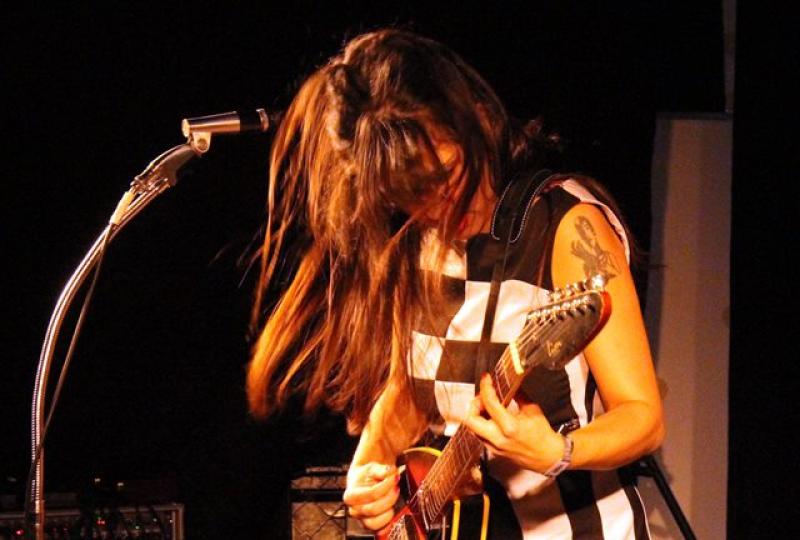 The Courettes' Flavia Couri in action at SPOT 2016: a full-bore attack which would do any festival proud
Denmark is casting a shadow in a way it has not done before. The international success of Copenhagen's Lukas Graham is unprecedented. While Aqua, The Ravonettes, Efterklang and Trentemøller are amongst the great Danes who have made international waves musically, Graham has trumped them all to become a surprise world-wide bestseller with the single "7 Years".
Whether or not his brand of streamlined pop appeals
–
theartsdesk
declared that "7 Years'" parent album has a "shiny plasticity that carries no real weight"
–
it has helped generate interest in the music of Graham's home country which has to be a good thing. Perhaps he could be a Trojan Horse for more challenging music with a bite.
In the wake of Graham's infiltration of the world's airwaves, the 2016 edition of the reliably stimulating SPOT Festival arrives to celebrate Denmark's music. A showcase festival, this year it pulls a crowd of 8000, 1500 of whom are music biz delegates: amongst which are 300 from beyond Denmark's borders. While only a prophet could pinpoint whether any of the local sensations or total unknowns playing could, so to speak, "do a Graham", this is the place to discover that Denmark's music is not defined by "7 Years".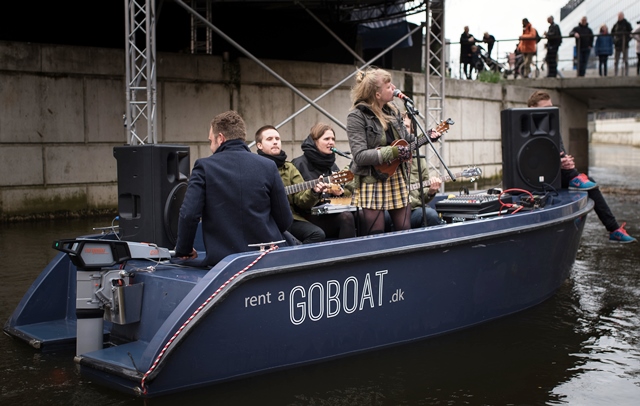 SPOT is held in Aarhus, the east Jutland city which this year wholeheartedly embraces the event. Not only are 6500 tickets sold to locals and Danes from further afield, shows are held across the city on ad hoc stages and at unlikely venues including the Magasin department store and a wobbly boat bobbing along the canal bisecting the city (pictured right, lo-fi troubador Katinka performs on the boat, photo © Stefan Antoni Jensen). The spirit has spread north to Aalborg, which is holding its own SPOT-related events. Further underscoring of SPOT's importance in the calendar comes with the amount of acts from other Nordic countries rubbing shoulders with the Danes: Finland, The Faroes, Iceland, Norway and Sweden are here too. While SPOT is primarily about Denmark, borders are open to brothers and sisters from elsewhere in the north.
Lukas Graham aside, Denmark's key cultural export over recent years has been its television. The Killing was the first series to make an impact and the composer of the music for the initial two series and its American remake is Frans Bak. SPOT 2016 was the platform he chose to perform this music live for the first time.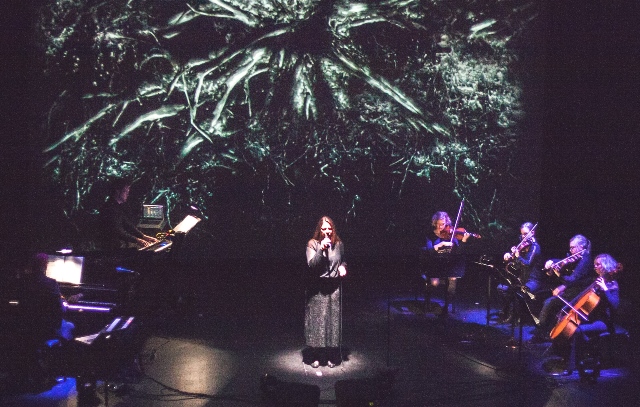 Accompanied by a string quartet, sonic technician and the extraordinarily forceful Swedish vocalist Josefine Cronholm, Bak sat at a grand piano picking out sparse melodies framed by urgent washes of sound (pictured left, photo © Mathia Warnich). Two 20-minute pieces were performed, each interweaving brooding themes from The Killing. The accompanying visuals were as atmospheric and emphasised the darkness of what was being staged, and what was originally soundtracked. The music will be heard on the soon-to-be-issued Sound of the North CD, and presented live again in Copenhagen in November, and in the UK next March. Based on this taster, these shows have to be seen.
Another premier, and one as ambitious as Bak's concert, is BEINTA, a multi-media conceptualisation of the story of Beinta Broberg, the late 17th to mid-18th century Faroese woman who, although she was married three times to local vicars, flouted tradition and chose her own path. Her story has been novelised twice and filmed as Barbara in 1997.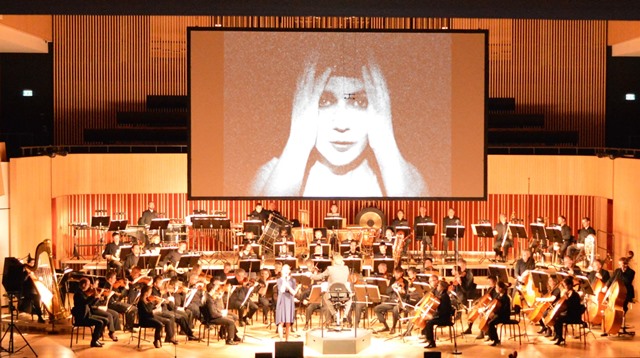 BEINTA (pictured right, photo © Anne Aaby) brought it all to life in a collaboration of vocalist/composer Anna Katrin Øssursdóttir Egilstrøð and composer Allan Gravgaard Madsen. With the full might of the Aarhus Symphony Orchestra under conductor Jesper Nordein and stark visuals from Faroese filmmakers Rammatik this was – despite the chock-full stage and grandeur of expression – a 40-minute journey through loneliness which perfectly delineated how self-determination can result in becoming an outcast. Strings swelled, rhythms ebbed and flowed like crashing waves as Egilstrøð sang with a passion more folk-based than operatic. On an above-stage screen, she was seen at the edge of a Faroese cliff as if deciding whether to jump. Power washed over the audience.
More minimal thrills come from The Courettes (main picture), the husband-and-wife Couri duo: Brazil-born Flavia and her Danish other half Martin. At Aalborg's pre-SPOT appetiser event Pit-Spot, their gender inversion of The White Stripes with a female guitarist and male drummer, showcases a garage rock attack which never lets up. Amazingly, earlier this year they played a show the day after Flavia gave birth to their son. With Seattle's Sonics as their main driver, The Courettes full-bore attack would do any festival proud and, indeed, they played Aarhus too. Also billed at Pit-Spot were the emergent art-rock outfit Flod, whose melding of brass-band dynamics to fragmented, impressionistic songs suggested them as a non-glitchy counterpart to Iceland's múm.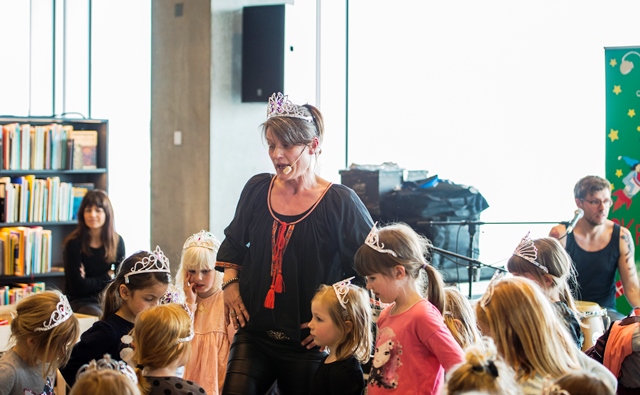 A day later, it was time for the main course at SPOT proper. Although the goal is the same each year – to showcase the music – tweaks for 2016 included a major bleeding out into the city, including the construction of a stage precipitously overhanging the main canal. There was also, for the first time, an indoor food court which instantly became the festival's hub. A very welcome addition. The grand new, port-side city library DOKK1 also hosted shows – some held for kids amongst the book racks (pictured left, photo © Kim Daugaard).
While there was no shortage of music in Aarhus – and SPOT has grown to be borderline-bewildering – there were standouts. Established Danish stars Dúné (a rock-inclined grown-up answer to Busted) and deep-voiced electro/soul pop oddity Wangel are obviously well-loved, but neither suggest imminent cross-border success. From a different perspective, the latter can also be said for Vessel – the vehicle for ex-Murder man Anders Mathiasen's sparse, introspective songwriting. But these things are a question of degree. Mathiasen's John Martyn-like approach could easily find a small, dedicated audience.
Clearly aiming for a wider demographic are Palace Winter who marry a Cure-like plangency to the anthemic: they also evoke The Bongos, the American new-wave pop band. In contrast, the relentless and splendid Copenhagen shoegazing-drone rockers BÆSTperformed by a roadside and didn't seemed bothered about courting an audience. (pictured right, photo © mbn-foto.dk)
For even more rarefied pleasures, the sax-foregrounding quintet Døde Blomster (Dead Flowers) set the controls to the murky heart of the psyche over three driving soundscapes which could have been born from Sweden's progg movement. Also on a psychedelic tack are the Tame Impala-ish Masasolo. However, the band most suggesting a mainstream breakout are folk aggregation Northern Assembly who, in this post-Mumfords world, team pop smarts with a winning if maybe distractingly chatty on-stage demeanour.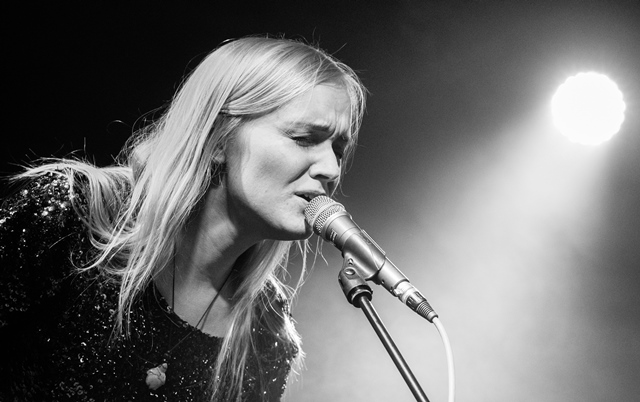 Most of the visitors from beyond Denmark who stood out had little mainstream potential or obvious concern about such. Norway's Gundelach were bloody great: an uncategorisable mélange of rave-derived electronica, spindly jazz-funk guitar and bloopy analogue synth pulse enhanced by songs which were surprisingly melodic given the prime ingredients in the sound. Finland's The Hearing (pictured left photo © Filtenborg Fotografi) disarmingly punctuated passionate, sepulchral songs with offbeat comments including the information that each day requires a colour to label it. Friday was green.
SPOT Festival is not colour-coded though and can be all things to all people. There is enough music in enough styles to satisfy anyone over its two main days. But Lukas Graham does not seem to have had an effect. Thankfully, initial reservations that "7 Years" would have led to hoards of cookie-cutter popsters being given a platform soon vanished. Bands had clear influences and roots, yet distinctiveness was key. SPOT 2016 showed that Denmark finds its own path, whether it's through a garage-rock firecracker or the sinister music composed to accompany a television landmark.
And with these extremes and at all points between, not even a prophet could suggest who might succeed Graham onto the world stage.
Norway's Gundelach were bloody great: a mélange of rave-derived electronica, spindly jazz-funk guitar and bloopy analogue synth pulse
Share this article