Don Giovanni, English National Opera |

reviews, news & interviews
Don Giovanni, English National Opera
Don Giovanni, English National Opera
Offbeat drama and meaningful singing in Mozart's trickiest masterpiece
Saturday, 01 October 2016
Serenade from a phonebox: Christopher Purves as Don Giovanni
Pace-perfect musical articulation and meaningful surprises in the direction: both were to be expected after the conductor-generated sludge and the production overkill of the new Royal Opera Così fan tutte. Mark Wigglesworth has form in Mozart at ENO, with the best of Cosìs way back and a bewitching revival of The Magic Flute this year. Last night he and the ENO Orchestra put no foot wrong.
Richard Jones, his dream first-time collaborator, offered the expected twists and symmetries though perhaps not all the connections in between. But that's the eternal problem of
Don Giovanni
for you.
Much depends, for starters, on what you want from the opening scene. Surprise us, by all means, but I'm sure Mozart and his genius librettist Da Ponte intended that when a girl says no, she means no, and that if Donna Anna is discombobulated for the rest of the show, it's not surprising given that she's dealing with attempted rape and the murder of her father in close succession. Not since Deborah Warner's fascinating Glyndebourne production have I seen genuine upset caused by a disguise in the dark, and while Jones didn't insult us with the post-coital contentment between Donna Anna and Don Giovanni too often proposed by male directors, his sado-masochistic set-up was an odd alternative.
In true Jones style, it was immaculately prepared, by women in evening dress (Franco-era Spanish?) of all shapes and ages, and one gentleman with a disconcerting resemblance to ginger-wigged and bespectacled Leporello (Clive Bayley, pictured above with Christopher Purves), "claimed" in novel fashion by the great seducer. Leporello in turn is busy ushering these unlikely victims through the first door from the right and out again in seconds while the Overture, past its opening blast from hell, trills and titters. Nothing glamorous about this Giovanni, then.
Those doors play an even bigger part in the action than they did in the Feydeau farce Jones directly so brilliantly in his early years. They're filled with red catalogues of conquests when Donna Elvira opens them during Leporello's ennumeration of his master's dubious accomplishments, and ultimately provide no escape for the servant himself when, in the opera's most famous scene, the statue of the avenging Commendatore comes to dinner. Paul Steinberg's deliberately drab hell-is-here-and-now sets, strip- or streetlamp-lit – unusual territory for Mimi Jordan Sherin – are coloured only by joyless party gimcrackery, flowers for the dead and food for the gourmet. The scene changes may look like a cut-price version of the enormously expensive ones in the Covent Garden Così, but the real human interest is never dwarfed here.
We know where we are with the seven main personalities, all with their own distinctive body languages and never quite connecting with each other. Christopher Purves's ice-cold powermonger, a good deal older than his victims, drives them all mad - the men included – simply by being. I don't know who chose the lines in the programme from Edward St Aubyn's chilling novel Never Mind, but Purves's look, and the colder sounds he produces in his stock of vocal colour, correspond superbly with one sentence: "Without his dark glasses, he wore an inattentive expression, until he spotted another person's vulnerability. Then the look in his eyes hardened like a flexed muscle". This Giovanni has no redeeming charm, only dangerous charisma. His Leporello has the mirthless smiles of an Eric Morcambe, but not the wit: a vintage Jones creep, in short.
If you don't quite buy the idea of a Donna Anna unbalanced by the death of a father who's seeing a hooker in the next room, yet carrying on a deception, manipulative rather than vulnerable, and Caitlin Lynch is stretched to her limits by the end, there's still much to enjoy in her energetic projection of the big Act One vengeance aria, incisive but with just enough space from Wigglesworth's vivid manoeuvering (Lynch in Act Two pictured above).
He gets unbelievably dramatic playing from the ENO strings in the women's accompanied recitatives. The heart of the entire performance, the only point behind which real tragedy seems to lurk, comes in Elvira's heartbreak before the even more forceful dementedness of the Vienna number added to the original Prague score – the best of both is here in this edition – we know as "Mi tradì". Christine Rice, a mezzo in what we know as a soprano role (Mozart registered no such distinction) has the difficult task of acting mad throughout, but her vocal and dramatic vibrancy are magnificently sustained and the problematic vocal break between middle and upper registers seemed to have vanished in Act Two.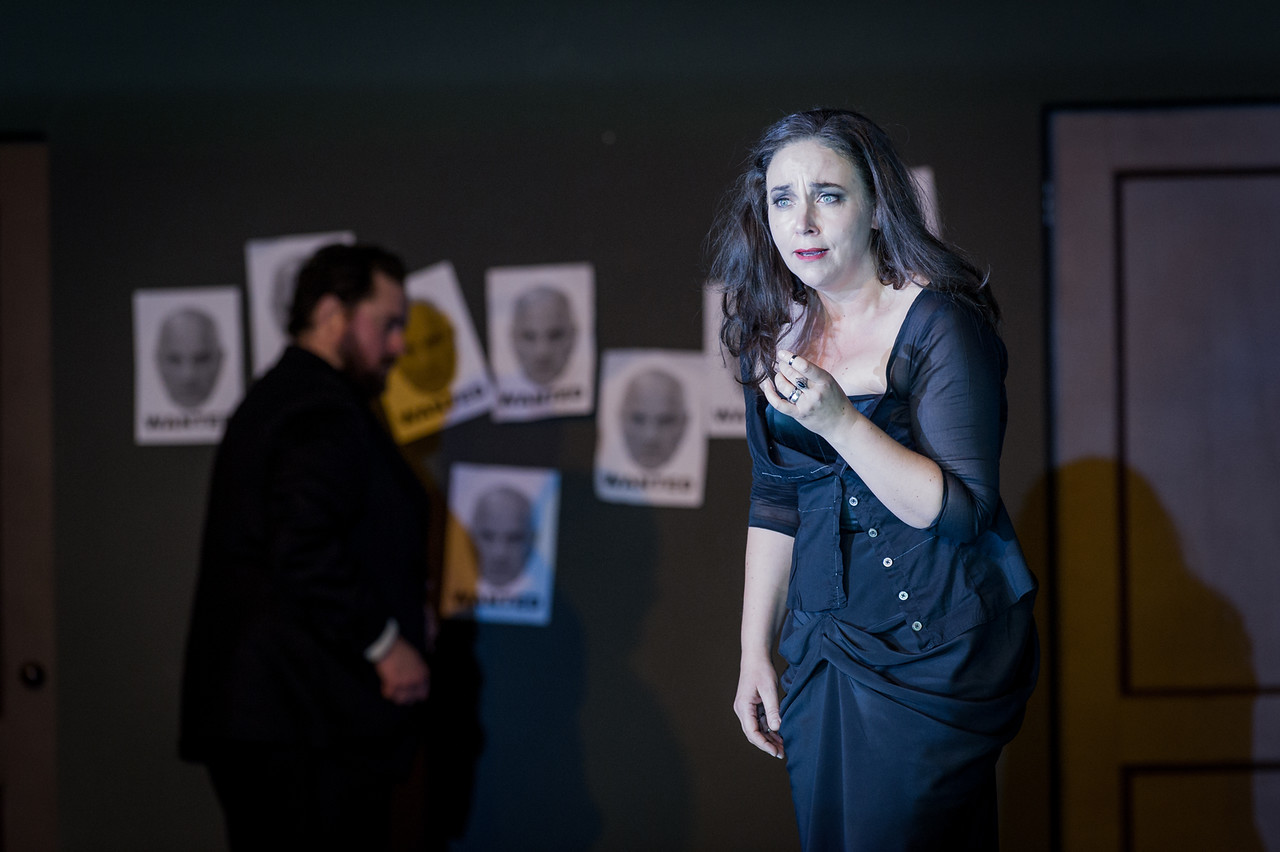 Equal to Rice in style is Allan Clayton, playing Don Ottavio as a fiancé for Donna Anna with no more backbone than usual, but giving muscle to both the gentle and more formal set pieces in flawless long phrases while his loneliness is stressed by the way others ignore him. Mary Bevan as Zerlina brings similar energy, and no bland soubrette sweetness, to the challenge and later the consolation she gives to her Masetto (Nicholas Crawley, equally engaged), whose macho aggression crumbles convincingly after his beating. She's first seen crossing the stage as the only one in white just as Amanda Holden's brilliant translation of Leporello's Catalogue Aria introduces the type Giovanni likes best – the "vergo intacta" (Bevan, Crawley and Purves pictured below).
By the midpoint of Act Two, all these would-be avengers are solipsistic and self-isolated, at a loss when the pursuit of the "betrayer" falters. The great sextet and the arias around it are pitch perfect, and up to that point Jones gets big laughs in what's usually the most otiose stretch of the opera, where Da Ponte had to pad out the groundplan of his source, a shorter Don Giovanni by one Gazzaniga, with routines of his own. All that's needed here are Leporello's wig and glasses and a phone box; I won't divulge further, except to say that the phone comes back as a masterly device for Donna Anna to give a dumbfounded Ottavio the brush-off in the great aria familiar to most listeners as "Non mi dir".
All that focused animation at a difficult point is a reminder that this director and conductor excel where the musical drama is deemed to falter. Jones pulled off the same with a creepy party-scene in his production of Tchaikovsky's The Queen of Spades. The one here at the end of the first act, despite jiving masked figures straight out of David Hockney's Rake's Progress Bedlam, doesn't quite "read", though there's a lot going on; it's still infinitely better than Calixto Bieito's druggy shuffling about in one of many unsuccessful Don Giovannis at ENO.
Come the banquet of Act Two, though, and the welcome splashes of colour as well as the knitting-together of several ideas pay off. It would be a grotesque spoiler to say what happens when the statue (pictured above) – James Cresswell's indomitable stentorian bass at one with whiplash orchestra – does come to dinner. Suffice it to say that the young Leporello-alike we saw in the overture has a part to play in the final ensemble, where a certain part is cunningly reallocated.
Vivacious to hear even when it looks pointedly drab, this Don Giovanni has its bafflements, but it's an often stunning, always fluent piece of work from all concerned. And just think: this could have been the start of a Wigglesworth-Jones Mozart-Da Ponte trilogy, possibly followed by a Wagner tetralogy, instead of which all those possibilities were thrown away. It seems hard to believe it's too late for ENO, but we may just have to accept it.
The heart of the entire performance, the only point behind which real tragedy seems to lurk, comes in Elvira's heartbreak
rating
Explore topics
Share this article