Paul Nash, Tate Britain |

reviews, news & interviews
Paul Nash, Tate Britain
Paul Nash, Tate Britain
Key themes recur, but the visionary landscape painter experimented constantly
Paul Nash, 'Totes Meer (Dead Sea)', 1940-1
In Monster Field, 1938, fallen trees appear like the fossilised remains of giant creatures from prehistory. With great horse-like heads, and branches like a tangle of tentacles and legs, Paul Nash's series of paintings and photographs serve as documents, bearing witness to the malevolent lifeforce that, unleashed by their undignified end, has taken hold of these apparently dead trees.
Like the trees of Monster Field, piles of wrecked World War Two aircraft at Cowley Dump, removed from their proper environment in the sky, take on a new and disturbing life of their own, shifting and stirring, transformed into a sea of metal in Totes Meer (Dead Sea), 1940-1 (main picture).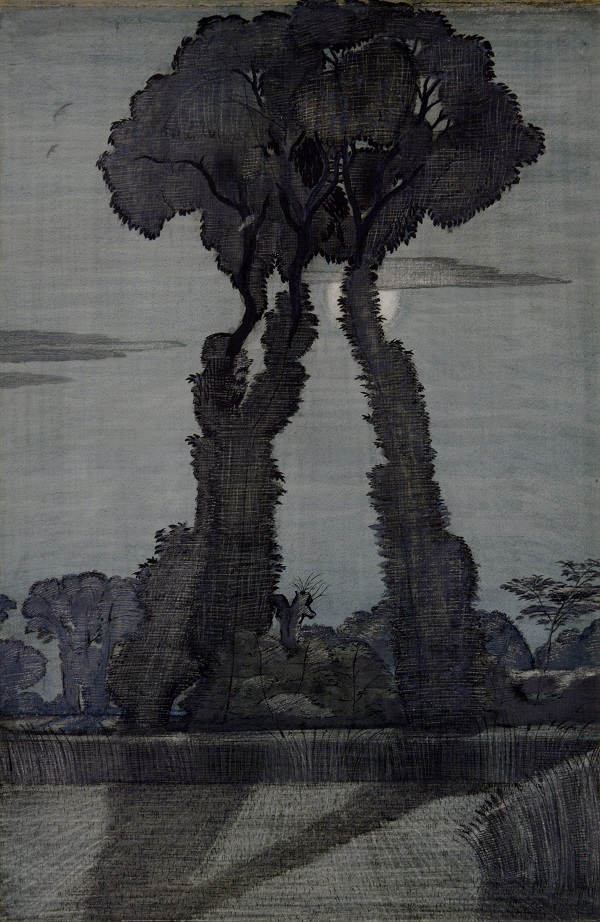 With its formal and thematic links to the earlier painting, Winter Sea, 1925-37, Totes Meer demonstrates Nash's preoccupation with metamorphosis and the hostile encroachment of the sea, themes that recur throughout his career. For an artist whose output extends far beyond the fine paintings of World War One and exceeds the parameters of British landscape painting within which his work is usually understood, the recurrence of certain themes and preoccupations – a sense of significant place, and the idea of trees as sentient, mystical beings – creates a satisfying symmetry to his career.
Despite a varied body of work, characterised by experimentation and a sustained and fruitful engagement with abstraction and surrealism, the exhibition reinforces the perception that Nash was a painter who only found a sense of purpose with the outbreak of war. The contrast between his early visionary depictions of mystical trees and beings, and the paintings that stand as some of the most memorable images of war ever made, is emphatic, underlining perhaps that Nash was not a "natural" artist in the way that contemporaries like Stanley Spencer certainly were.
As one of the group of Slade students described by legendary drawing master Henry Tonks as the school's second "Crisis of Brilliance", Nash had had a difficult time at the Slade, where his shortcomings as a draughtsman were brought under typically brutal scrutiny, with Nash providing a vivid description of an early encounter with Tonks. "His surgical eye raked my immature designs. With hooded stare and sardonic mouth, he hung in the air above me like a tall question mark, backwards and bent over from the neck, a question mark, moreover, of a derisive, rather than an inquisitive order."
It was after he left the Slade in 1911 that Nash began to concentrate his efforts on landscape, and for all the immaturity of his early works, the atmospheric sense of "significant place" – the genius loci – is fully formed in multiple drawings and watercolours of a group of three trees he imbued with a quasi-human presence (pictured above right: The Three in the Night, 1913). But if these depictions are fascinating and not a little bewitching, they seem nevertheless to be the work of a man still searching for his true voice, captivated by the romanticism of William Blake and Samuel Palmer, but struggling to make it his own.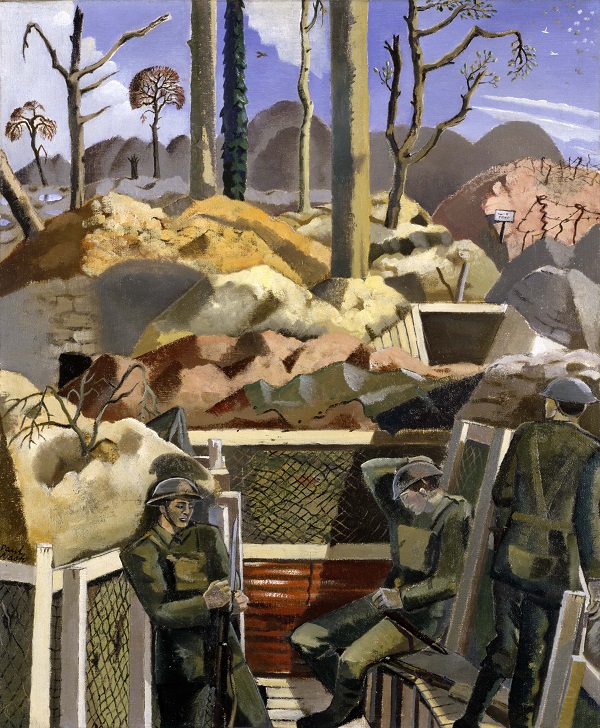 Large scale and painted in oil, Nash's war paintings announce their dramatic change of tone as much through medium as through subject matter. And yet for all their engagement with the horrors of the war, combining the symbolic with the harshly descriptive, heightened by a fracturing of space reminiscent of the Vorticists, Nash's war paintings retain firm links with his earlier pictures. In The Menin Road, 1919, the landscape is peopled with ranks of broken trees, the very surface of the earth transformed and devastated by rain-filled bomb-holes. The pair of soldiers in the middle ground are almost incidental, and while the ranks of disfigured and half-dead trees suggest the battered bodies of soldiers, the truth is that the ravaged landscape, always capable of regenerating, has more vigour than the flesh and blood of these wretched men.
In Spring in the Trenches, Ridge Wood, 1917, 1918 (pictured above left), Nash contrasts a group of listless soldiers with a backdrop of fecund, budding nature, cruelly indifferent to their suffering. Any message of hope is undermined by the strangeness of this encounter, and the interaction between conflicting realities, and the disruption of landscapes by objects that jar and don't fit, would become an increasingly dominant theme for Nash in the inter-war years.
It must have been for this reason that Nash was drawn to surrealism, which introduced ideas, techniques and propositions that enabled him to explore some of his most pressing themes. His responses to evocations of the uncanny in the paintings of Giorgio de Chirico, and the rediscovery of the sculpture Moon Aviary, 1937, that with its compartments and symbolic objects evidently relates to Giacometti's The Palace at 4am, 1932, show Nash in dialogue with his European colleagues; a room dedicated to his work in various media, including photography, collage and found materials, places Nash at the forefront of modernist experimentation.
As a founder member of Unit One, a group of British modernist artists formed in the 1930s, Nash's idiosyncratic style is presented as part of a much broader artistic landscape, that not only enriches our understanding of his work, but refutes the tendency to think of British modernism as a largely separate project, isolated from developments in Europe.
The ravaged landscape, always capable of regenerating, has more vigour than the flesh and blood of these wretched men
rating
Share this article