Love's Labour's Lost/Much Ado About Nothing, RSC, Theatre Royal Haymarket |

reviews, news & interviews
Love's Labour's Lost/Much Ado About Nothing, RSC, Theatre Royal Haymarket
Love's Labour's Lost/Much Ado About Nothing, RSC, Theatre Royal Haymarket
These sunny comedies are rich in delight but lacking in darkness
The Princess (Leah Whitaker) and her ladies lay sartorial siege to their lovers
"The words of Mercury are harsh after the songs of Apollo." A sudden cold breeze blows through the endless summer afternoon of Love's Labour's Lost in the play's final moments. Death enters Shakespeare's Edenic garden and innocence is lost. But what, asks director Christopher Luscombe, might happen if those songs were to return?
What if these youthful courtships were resumed by characters older, if not wiser, scarred by life but still hopeful of love?
His answer comes in the form of a funny, sunny, Shakespearean double-bill (seen here for the third time since the productions debuted in 2014) that pairs the exuberant verbal gymnastics of Love's Labour's Lost with the later Much Ado About Nothing – presented here as a stand-in for missing companion piece Love's Labour's Won. The two plays are at once divided and united by the Great War, whose violent intrusion into the golden evening of Edwardian life penetrates even this blissful country house kingdom.
Nigel Hess's score fills Higlett's sets with songs that speak of Ivor Novello and Noël Coward
It's a pleasing conceit, pairing a play whose lovers are so eloquent that they talk themselves out of a much-wished marriage, with the more mellow wisdom of those who trade a "merry war" of words for peace and simple directness. But there's a danger here, carefully disguised by acres of oak panelling, silk frocks and chaises longues, that the two works become variations on a theme rather than the continuous, developing narrative Luscombe surely intends with his shared cast.
Bookending the play with portents of horror to come, Trevor Nunn's 2002 Love's Labour's for the National Theatre caught the fragility of the Edwardian idyll, made it precious, too perfect to last. But there's a solidity, an enduring optimism to this new vision (aided by the handsome Simon Higlett set they both share – a loving recreation of Downton-style Charlecote Park) that quashes fears, sweeping them under one of many convenient Turkish rugs. The transformation of the house into a military hospital at the start of Much Ado lasts for barely a scene, before all traces are swept away. Only the shell-shocked Dogberry (a discomfiting Nick Haverson) remains to remind us of the long shadow of the war. Though more demonstrably wounded, Sam Alexander's Don John feels like a missed opportunity, his token injury more a shorthand symbol than anything more festering.
Yet there's comedy here in abundance, and – surprising in two plays about words – it's the physical clowning that most often dominates. A rooftop scene in which the four lovers of Love's Labour's unwillingly reveal their affections is a deliciously choreographed comedy routine, Benedick's gulling becomes an ecstatic, outrageously knowing bit of interplay, and even The Pageant of the Nine Worthies (wisely reworked here into a sequence of musical numbers) has its own broader comedy.
Luscombe is blessed in Edward Bennett's Berowne/Benedick (pictured above with Lisa Dillon), whose face can flex into an armful of emotions in a moment, carrying comedy in the smallest twitch of mouth or eyes. Though gamely hurling himself into the dances and drawing-room niceties of this rarified world, Bennett has all the physical impatience and energy of one more at home beyond them. Lisa Dillon's Beatrice gives him plenty to play off – brittle and bright, though perhaps lacking that passionate warmth and tenderness that should separate Beatrice from the cooler Rosaline.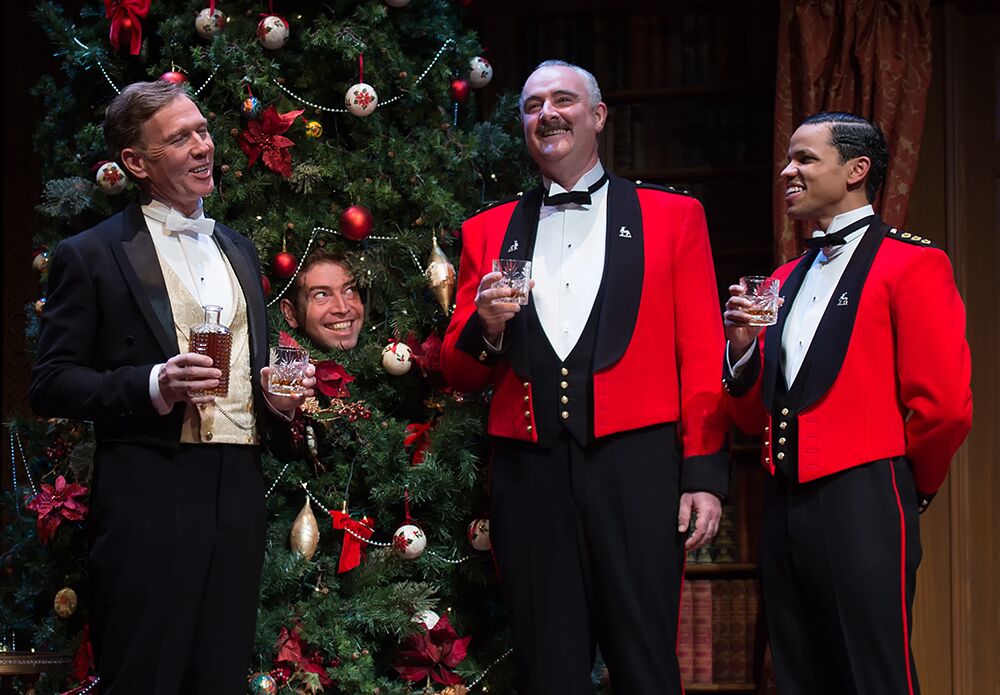 Tunji Kasim (pictured above with Steven Pacey and John Hodgkinson) finds unexpected comedy and warmth in straight-man Claudio, radiating enough energy and charm to make sense of Hero's swift forgiveness, while the excellent Steven Pacey (Leonato), John Arthur (Antonio) and John Hodgkinson (Don Pedro) anchor Much Ado emotionally, aided by Jamie Newell in a heartfelt cameo a Friar Francis, while offering skilful supporting comedy in Love's Labour's, bringing a freshness to the laborious witticisms of Holofernes and Sir Nathaniel.
No one captures a musical period or mood quite as skilfully as Nigel Hess, and it's his score that brings life and atmosphere to Higlett's sets, filling them with songs that speak of Ivor Novello and Noël Coward – all world-worn romance and surging melodies. With music used so cinematically, accompanying as well as punctuating scenes, it's a bonus to have a live band, even if the unsympathetic amplifying does all in its power to flatten them into something pre-recorded.
There's a lot of joy here, which is both a delight and problem for a pair of plays set up as more than just two isolated comedies. Taken alone, each play satisfies (though the greater pace and assurance of Much Ado makes it a clear winner); taken together, however, they raise questions they never fully answer, aspiring to something richer than the summer syllabub they deliver.
There's a lot of joy here, which is both a delight and problem for a pair of plays set up as more than just two isolated comedies
rating
Buy
Explore topics
Share this article