Patriots Day |

reviews, news & interviews
Patriots Day
Patriots Day
Mark Wahlberg stars in solid, pacy but unquestioning account of the Boston bombings
Thursday, 23 February 2017
Patriots Day is a patriots' film. It dramatises the grievous day on which American values were threatened on American soil like no other time since 9/11. Two bombs were detonated at the Boston marathon in April 2013: two bystanders were killed, 16 lost limbs while two policemen would go on to lose their lives. The two terrorists of Chechen origin who planted the bombs were hunted down by Boston police and the FBI until the streets were once more safe.
How to put a human face on a story with so many disparate elements? The opening sequences carefully introduce us to the various individuals whose lives, you sense with grim foreboding, will be irrevocably altered or even terminated by the day's events: a lonely Chinese student, a sweet shy cop, a young married couple on whose lithe, soon-to-be-amputated limbs the camera lingers as they make love. (Pictured below: Rachel Brosnahan and Christopher O'Shea as Jessica Kensky and Patrick Downes.)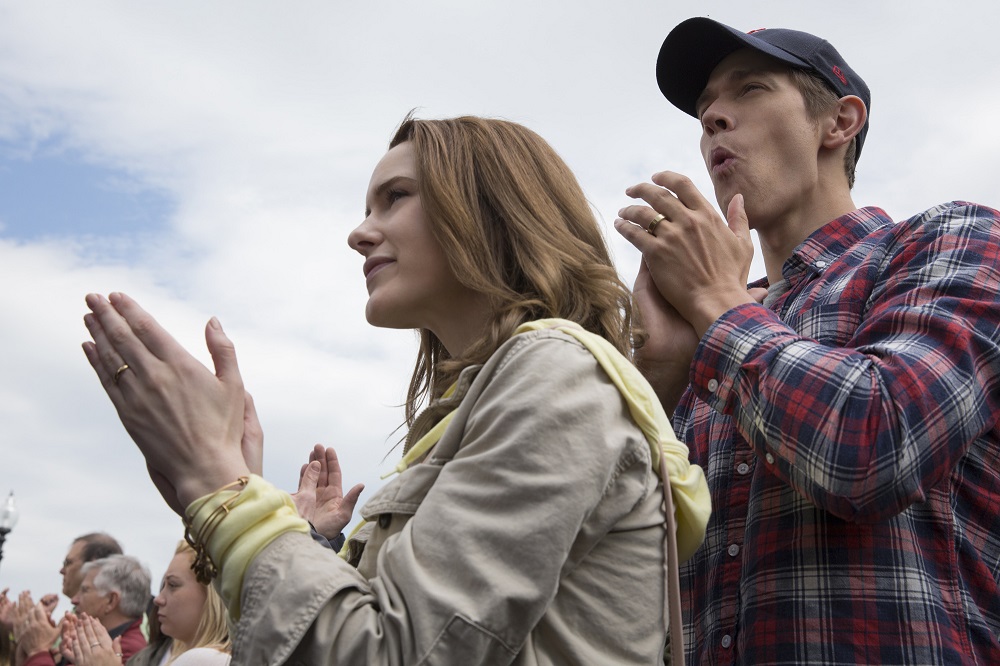 The script also chooses to zoom in on the domestic lives of the Tsarnaev brothers, the perpetrators of the atrocity. The older brother Tamerlan has a wife and a small child, and is clearly of a more ideological bent. "[Martin Luther] King was a fornicator," he sneers. "But I'm a fornicator," reasons his doubting kid brother Dzhokhar, who has a penchant for videogames and fast cars. But the main focus, the glue holding the centre together, is fictional police sergeant Tommy Saunders (Mark Wahlberg), a fast-talking maverick who is just back in uniform after a period of suspension. He wears a knee brace and suffers the ribbing of colleagues but is essentially the huggable spirit of dauntless, decent Boston made flesh. He's stationed closest to the bombing and, as the injured writhe and groan on the sidewalk, is at the heart of the police effort to clear the route of runners and allow ambulances in. Later, when the bigwigs of the Bureau (headed by Kevin Bacon) want to know how to locate the perpetrators on many hours of CCTV footage, they rely heavily on his matchless local knowledge.
Despite a real-life coda, this is no documentary reconstruction but a macho hybrid fashioning entertainment from tragedy. The tropes are familiar from disaster movies. "What do you need?" Kevin Bacon is asked. "A command centre," he says. "A really big one." (Watch clip overleaf) Cut to a vast warehouse soon cluttered with operatives at monitors. Rugged wit has been parachuted in to help lighten the script. JK Simmons's no-nonsense police officer has a humorous hint of Clint about him. There are laughs in the younger Tsarnaev's desire for a Bluetooth connection in a carjacked SUV. Even the climactic shoot-out has its frothier moments.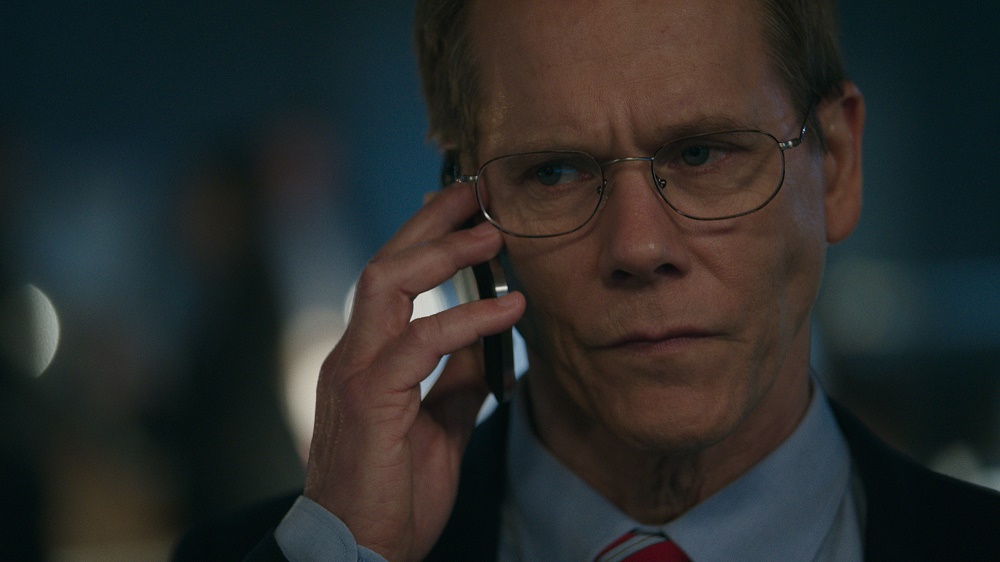 Director Peter Berg licks the story along at an efficient pace, imparts a powerful sense of a city under siege in the overhead camerawork, and wrings tears in a final reveal involving the actual participants. Dramatically, though, for all the immense effort of the manhunt, not quite enough is at stake in Patriots Day. There is some alpha dog dick-waving between the FBI and John Goodman's police commissioner ("this is my fucking city," he hollers). And that's about it.
Deep down this is civic hagiography in which America is on the side of the angels. The script is disinclined to interrogate the motivations, however fanatical, of its home-grown jihadists. In just one brief powerful face-off, Tamerlan's wife is interviewed by an inscrutable woman posing as a devout Muslim. The film's most dismal biorhythmic low finds Wahlberg muttering a climactic homily about love conquering hate and good evil. It's a pity that this worthy memorial, which arrives at a loaded moment in America's relationship with Islam, is more interested in redemption than nuance. Why doesn't Berg do something really useful and make a film about the mass murders caused by the US's slack laws on gun ownership?
Overleaf: 'It's terrorism.' Watch a clip from Patriots Day