The Magic Flute, Longborough Festival review - sparkling and moving |

reviews, news & interviews
The Magic Flute, Longborough Festival review - sparkling and moving
The Magic Flute, Longborough Festival review - sparkling and moving
Mozart's flute with a strong musical bias and not too much business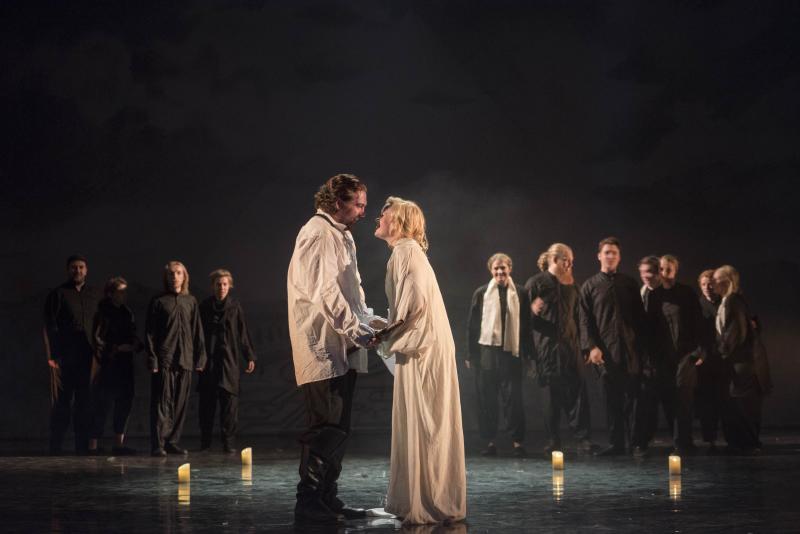 Tamino (Julian Hubbard) and Pamina (Beate Mordal) under priestly scrutiny
About The Magic Flute there's a certain amount of domestic theatre and a great deal of pantomime. It calls for fun, sentiment, movement, a measure of spectacle, and plenty of direct communication with the audience. But like the mechanicals' play in A Midsummer Night's Dream it needs no excuse, no big ideas.
At Longborough, Thomas Guthrie flirts briefly with such things. A boy lies in bed reading, I suppose, a fairy-tale; Papageno appears brushing his teeth; Tamino and Pamina come on, inexplicably, as puppets (that return momentarily for the ordeals). But these are fleeting concepts, swiftly abandoned in favour of an evening that sparkles and moves, in every sense, looks stylish and unfussy, and mostly works beautifully on the musical level.
I like the way the production promotes the music above everything else
Partly thanks to Anthony Negus's alert conducting, Guthrie paces this Flute much better than he did Figaro last year. With an open stage, back curtain, and minimal props (designer Ruth Paton), the performance nips along from scene to scene. It has wit, but not much slapstick. Glasses of water are handed up through trap doors; the boys wheel Pamina off in a barrow; Papageno's suicide noose is held up by one of Sarastro's priests. But magic is in comparatively short supply, and Wayne Dowdeswell's lighting, for once, has its dud moments, notably with the unlit, unreadable, boards announcing the scenes.
But I like the way the production promotes the music above everything else, and is intriguingly, if sometimes oddly cast. Not once are Mozart and Schikaneder upstaged and here and there they will be smiling in heaven. Beate Mordal, a lively Susanna last year, is an unforgettable Pamina, a natural, compulsively watchable actress, and with lovely, burnished tone that brought tears to the eyes in "Ach, ich fühl's," false tragedy though it is, but could also soften touchingly for her picaresque duets with Grant Doyle's Papageno.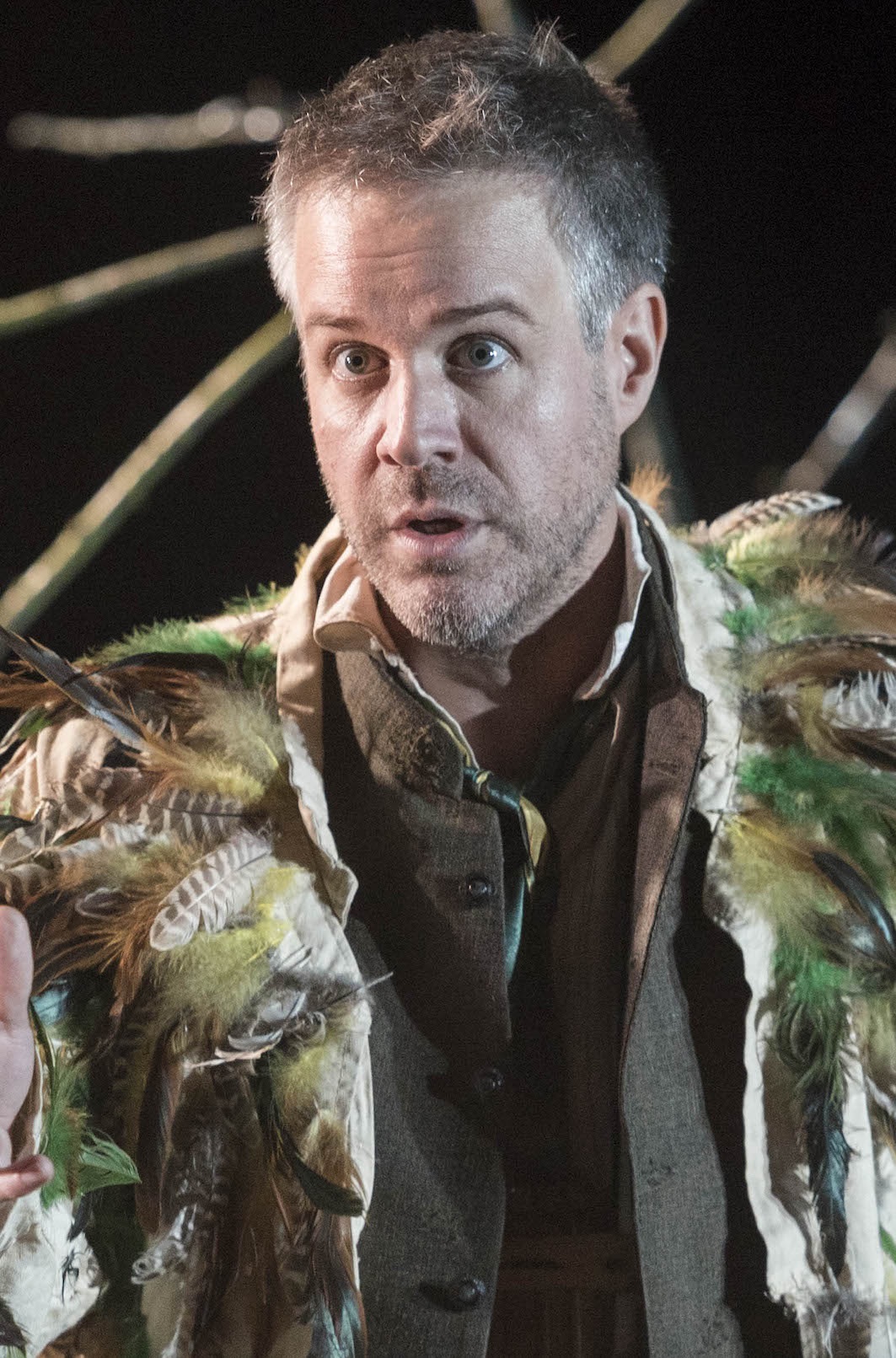 Doyle himself (pictured right) makes a likeable, rather than rib-tickling Papageno, good vocally in the folksy idiom – so different from Figaro's music, in which he shone last year. He could do with more dialogue, done here (as with Fidelio, but more acceptably) in English against the sung German. Julian Hubbard is in many ways an extraordinary Tamino, a strapping but well focused tenor who sings Mozart as if it were late Verdi, and – remarkably enough – gets away with it by sheer conviction. It's a voice one could imagine as Radames or even Otello, hardly Don Ottavio or Ferrando.
Jihoon Kim, from Korea, is also a somewhat unusual Sarastro, rather ponderous in his handling of the German, heavy-toned but impressive and dignified, especially in "O Isis und Osiris". Hanna Dahlenburg is more in the conventional vein of Queens of the Night, brilliant and mostly precise in the upper regions she has to inhabit vocally while roaming the nether regions in person. Her three attendants are superb: Katherine Crompton, Sioned Gwen Davies and Carolyn Dobbin, and no less good are the three boys, transmogrified here into "spirits" because sung by girls (Rosie Lomas, Lucy Knight, Olympia Hetherington). If you regret the loss of boyish purity here as I do a bit, you can try to squeeze into alternate performances where real boys are cast. But you'll probably have to steal a ticket. Benjamin Bevan is a stylish, reassuring Speaker, Colin Judson a late stand-in as an athletic, if not very diabolical Monostatos, a "Wild Things" cook with spatula.
Negus moves from Wagner to Mozart without a tremor. As an assistant at WNO versatility was his second name, and listening to this expertly paced Flute one wonders how many other first-rate British conductors are languishing in the rehearsal rooms of our big-name-obsessed opera companies (Richard Farnes at Opera North, now voluntarily spending more time with his family, is a spectacular case in point, though he did get one top job). But Negus has made Longborough musically, and that's more than most conductors could or would have done.