The City and the City, BBC Two review - detection in four dimensions |

reviews, news & interviews
The City and the City, BBC Two review - detection in four dimensions
The City and the City, BBC Two review - detection in four dimensions
David Morrissey manages to keep fantasy psy-cop show on the road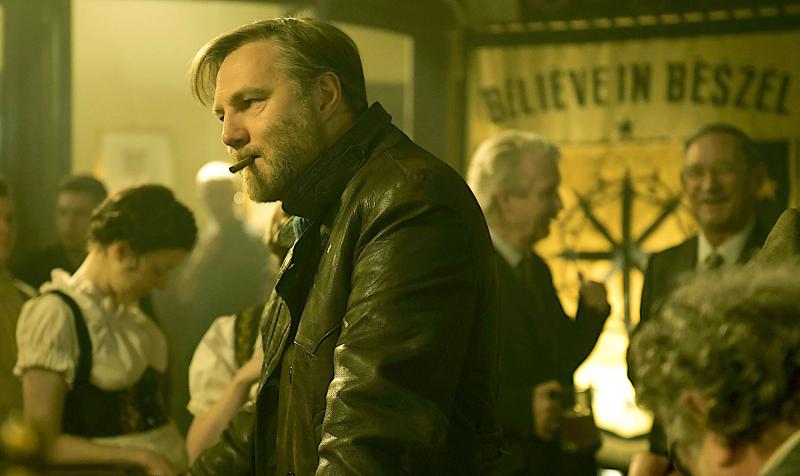 'I will find the answers': David Morrissey as Inspector Tyador Borlú
It's difficult to grasp in your imagination, never mind filming it and putting it on TV. In China Miéville's source novel, dramatised here by Tony Grisoni, the twin cities of Besźel and Ul Quoma exist side by side, and in some areas even overlap. However, citizens of either city are forbidden to see each other and must learn to "unsee" people, buildings or objects from the opposing one. Failure to do so risks triggering an intervention by the ruthless cross-border police force called Breach. "Breach" also seems to be used as a collective noun to describe people making illegal trips across the frontier.
It was wise to cast David Morrissey as the story's lead character, the Besźel-based detective Inspector Tyador Borlú, because his unexcitable tone and air of long-suffering scepticism can almost manage to persuade you to believe some of this teetering nonsense (Miéville, who is said to belong to the "New Weird" movement, almost certainly works better on the page). In this opening episode, we only saw Besźel, which resembles a mittel-European city seemingly assembled from bits of the old East Berlin and various Balkan 'burgs from about 1970, with occasional implants from Istanbul or Moscow.
A whiff of the old USSR was neatly captured in a scene at the Copula Hall, "the neutral heart of both cities" as Borlú's voice-over put it, where stony-faced autocrats (like Danny Webb's Major Syedr, pictured above) haggle over the fate of Breachers or the banner-waving "unificationists", who want the twin cities to merge. The streets are dirty and damp, and the automobiles antique and toxic. The local language seems to be a bastardised hybrid with quite a lot of German in it, with all words liable to spelt using quixotic accents.
I don't know if you'd call it drama exactly, but the machinery began to clank into action when Borlú was called out to examine the body of a young woman found on wasteland on the border between Besźel and Ul Quoma. Like most detectives, Borlú has a trusty sidekick, though unfortunately in his case it's the brassy and foul-mouthed Lizbyet Corwi (Mandeep Dhillon, pictured below), whose voice is like having your ears reamed out with a crowbar. His police colleagues are a drab and dowdy bunch, and the medical examiner resembles an out of work bookie who's been sleeping rough.
Also like most detectives, and despite inhabiting an implausible neverland, Borlú can trace his ancestry back to Raymond Chandler's Philip Marlowe, being laconic and hard-boiled, and given to ruminating melancholically on the soundtrack. He also has a soft and damaged emotional core, and our dog-eared sleuth is living with the permanently open wound of the disappearance of his wife Katrynia (Lara Pulver). She has inexplicably walked out of his life and was last seen on the fateful Guntér Strašź, the local boulevard of lost souls.
This isn't so much film noir as TV beige, though that may change as the series progresses (you can catch it all right now on iPlayer). The direction of travel began to grow fractionally clearer when it emerged that the dead woman, an American archaeology student called Mahalia Geary, has some connection to the subversive ideas propounded by David Bowden in his book Between the City and the City, in which he dared to posit the existence of third city called Orciny, which somehow exists between Besźel and Ul Quoma.
By a strange coincidence, Borlú has a copy of this incendiary text hidden under his floorboards, which was seemingly owned by his wife. Perhaps it's a clue to her disappearance, and to where he will go next. "I will find the answers whatever they do to me," Borlú voice-overed, morbidly. "It is my duty and my penance." Cheer up mate, it may never happen.
Subscribe to theartsdesk.com
Thank you for continuing to read our work on theartsdesk.com. For unlimited access to every article in its entirety, including our archive of more than 10,000 pieces, we're asking for £3.95 per month or £30 per year. We feel it's a very good deal, and hope you do too.
To take an annual subscription now simply click here.
And if you're looking for that extra gift for a friend or family member, why not treat them to a theartsdesk.com gift subscription?