DVD: Here to Be Heard - The Story of the Slits |

reviews, news & interviews
DVD: Here to Be Heard - The Story of the Slits
DVD: Here to Be Heard - The Story of the Slits
Well-told documentary on Britain's groundbreaking female punk band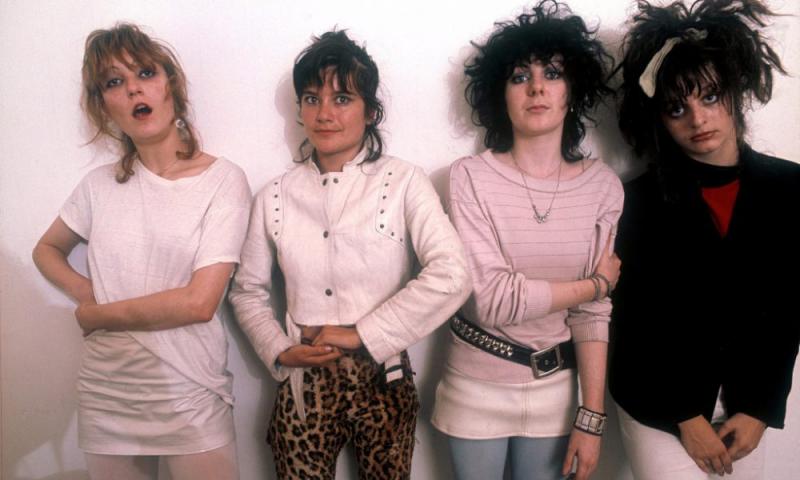 Four women who wouldn't quit
Here to be Heard, made by US film-maker and punk rocker William E Badgley, has such a juicy, pertinent story to tell that it never palls.
Over 84 minutes, contemporary interviews and old footage build a two act drama that reveals The Slits to be one of the most
underrated bands
of their era. Alongside bemusement at music that was ahead of its time, this is mostly down to the fact they're women. "The reason there are hardly any girl rock'n'roll stars," says front-woman Ari Up in a decades old interview, "is because most girls are not strong enough in their own minds." Facing the raw sexism of late 1970s Britain, however, The Slits proved to be made of steelier stuff.
The band member who underpins the film is bassist Tessa Pollitt, with her ragged Slits scrapbook. She comes across as one who's seen it all, been burnt many times, but has come out of it with her humanity intact, an affable cackle ever-ready. Through her eyes, and via interviews with every Slit, we see the band progress from a first generation London femme-punk ideal given raised profile by a tabloid exposé before they'd even really coalesced, to the eventually stable line-up of Ari Up, Pollitt and Viv Albertine that existed between 1976 and 1982 (drummer Palmolive left in '78 and, now a primary school teacher, incongruously, espouses her evangelical Christian faith).
What comes across again and again is how The Slits were not taken seriously, due to their gender, and treated in a shoddy and often bizarre manner. It just seems strange in the 21st century that the bus driver on The Clash's White Riot Tour was so completely freaked out by these non-submissive women that Ari Up was forbidden from speaking or leaving her seat. The Slits, of course, reacted to this, dressing unlike any woman then and eventually locating their own, hugely influential reggae/roots post-punk sound. That they were fronted by a gobby, dreadlocked teenage iconoclast makes the whole thing all the more riveting.
Betrayed by their record label, Island, the band eventually fizzled out, but not before involving a young Neneh Cherry in their activities. At their end, they seem visionary, so far ahead of the game, yet completely ignored, presumably, in favour of tripe such as Kajagoogoo and their ilk. It's a depressing turn of events but Badgley sensibly doesn't leave it there. He gives us their resurrection (sans Albertine) from 2005 onwards. The film's executive producer Jennifer Shagawat was The Slits Mk2's tour manager and filmed their antics. A 40-something Ari Up pissing in a public flowerbed shows she hadn't mellowed much. These are joyful times, a celebration of a career that never was, but, of course, the shadow of Ari Up's eventual illness and death concludes the film on a tragic note. It is especially harsh as it's clear she was enraged by the end thrust upon her.
There's an ongoing deluge of music docs, their quality variable, their fan audience ever-ready. Here to be Heard: The Story of The Slits is not one of those cheap'n'cheerful fan-only affairs. It was put together on a budget but that doesn't show much too much. It's tight and gripping, relating a story that's vital yet underheard. The Deluxe UK Edition contains the following extras: Storytime with Tess (seconds-long micro-snippets of Pollitt with her scrapbook); archive footage from 1976-80; blurry film of a 1981 photo shoot; and, best of all, a live-in-the-US sound recording of "Earthbeat", cut with filmed footage. It was the opening song from their Afro-flavoured second album Return of the Giant Slits and it sounds like the starting point for so many alternative bands of the decades since, from early On-U Sound to Warpaint to multitudes more.
Below: Watch the trailer for Here to Be Heard: The Story of the Slits
At their end, The Slits seem visionary, so far ahead of the game, yet completely ignored
rating
Share this article