Songlines Encounters Festival, Kings Place review - mellifluous launch from African strings |

reviews, news & interviews
Songlines Encounters Festival, Kings Place review - mellifluous launch from African strings
Songlines Encounters Festival, Kings Place review - mellifluous launch from African strings
This year's series of world music encounters begins with 3MA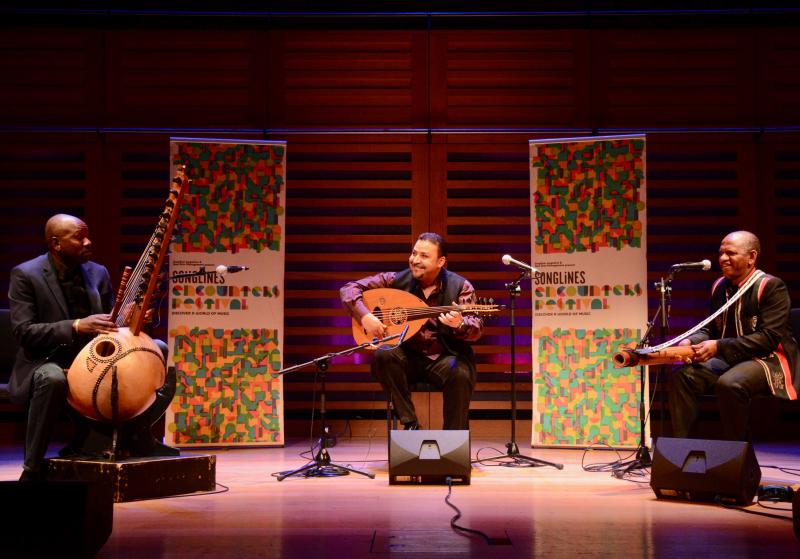 3MA at Songlines Encounters
The Songlines Encounters festival is in its eighth year, and opened its doors on Thursday night at Kings Place in London with 3MA, (TroisMa in French), comprising Malian kora player Ballake Sissoko, Moroccan oud player Driss El Maloumi and Madagascan valihah player (that's a member of the zither family) Rajery.
Between them they share a few strings and 3MA expertly and deftly used them to conjure up a pungent
pan-African
world of complementary musical flavours, extending from north to west
Africa
, with each member taking solo turns, as well as merging together as one to create some marvellous aural sculptures in sound, and sharing vocals, too.
There are plenty more encounters in store - contemporary Finnish folk from Frigg and Tuuletar featured on Finnish Friday, while for Syrian Saturday there is quanun player and rising star Maya Youssef. Indian Sunday features the sarod of Soumik Datta and Carnatic violinist Jyotsna Srikanth, before the festival closes with the Mongolian throat singing of Ande Union (Songlines Award winners in 2017) next Wednesday. All in all, these ambitious musical encounters are your permit to travel to far-flung parts of the world without moving further than between halls I and 2 of King's Place.
3MA are extraordinarily mellifluous, each one a great solo player in their own right. I first saw Rajery at his Womad debut in 2015, while Ballake Sissoko has made beautiful albums with cellist Vincent Segal, and El Maloumi's solo album Makan establishes him as one of his instrument's finest players. Altogether, this is a trio that works together like kith and kin. The opener runs like fast-flowing liquid, it's main melody a supple body with a strong Malian feel. It's followed by a more Moroccan piece, set off with a shimmer of kora strings, solitary notes on the oud coalescing into a mode and a melody that turns like a mirror ball, throwing off light and shade in every direction.
What's introduced as "Mosquito" is a piece of technical chutzpah, as well as a world music version of "The Flight of the Bumble Bee", the buzz of that most infernal/deadly of night visitors conjured by El Maloumi on his oud, his humour, technical panache (later, he'll play one handed, like a Moroccan Hendrix) and jazz-tinged extrapolations reminiscent of the stage magic of Taraf de Haidouks in their prime.
There's more of the same on "Dum Tak", which El Maloumi introduces as "political speech from Africa" – cue percussive mouth music, farting sounds, animal noises, pig grunts, and what sounds like Rajery's version of Rob Brydon's "small man trapped in a box". Disdain for the legislature, like musical scales, tend to be a universal phenomenon.
Your permit to travel to far-flung parts of the world without moving further than between halls I and 2 of Kings Place
rating
Share this article