Mamma Mia! Here We Go Again review - sweet, silly, and, best of all, Cher |

reviews, news & interviews
Mamma Mia! Here We Go Again review - sweet, silly, and, best of all, Cher
Mamma Mia! Here We Go Again review - sweet, silly, and, best of all, Cher
Film reboot improves upon its predecessor
Troupers: Lily James (centre) as a young Meryl Streep in`Mamma Mia!' redux
Mamma Mia! has a habit of bursting upon us at crucially restorative moments. The Broadway production opened just after 9/11 and provided necessary balm to a city in shock.
Now comes the celluloid prequel of sorts and, lo and behold, what could have been merely a crassly commercial exercise has exactly the right innocence and heart to act as a giddy summer corrective to our coarsened times. One doesn't want to overstate the case for material that ain't deep, but all involved deserve credit for sustaining a buoyancy right through to the genuinely touching finish. And for adding Cher to this franchise's indefinably winning mix...
Indeed, it's difficult to think of too many ways in which Ol Parker, as writer and director, doesn't improve upon what the stage show and earlier film's director, Phyllida Lloyd, brought to the table. More visually alluring and confident than its stratospherically successful forbear, Mamma Mia! Here We Go Again beats to a genuine heart, as well. Sure, there are times when the ABBA back catalogue is pilfered in fairly desperate ways (all the most obvious songs were co-opted the first time round), at which points this latest movie just trots out the golden oldies again. Familarity here breeds contentment and not contempt.
Parker's script, from a story that roped Richard Curtis into the creative mix, finds us back in sundrenched Greece, a place where fireworks and a chorus line-amenable citizenry are apparently always at the ready, and why not, right? The only dark cloud is that Donna (Meryl Streep) has died from unreported causes (one Ouzo too many?), leaving daughter Sophie (Amanda Seyfried) in continual mourning as she preps for the gala unveiling of the Hotel Bella Donna, her beloved Sky (Dominic Cooper) unhelpfully preoccupied with work a continent away.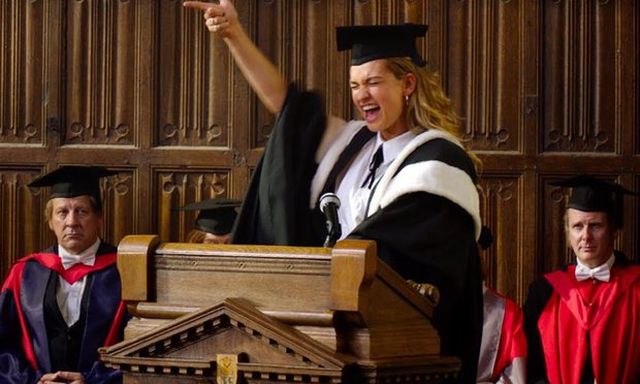 How did we get here from there? The film backtracks to introduce us to the bright spark and free spirit that was the younger Donna, played by a luminous Lily James, first seen cutting loose at her Oxford graduation (see above) and then gallivanting off to Paris and, from there, to Greece, encountering along the way the younger versions of her daughter's three possible fathers. (One cavil: is it wise to have her opening choice of song be "When I Kissed the Teacher", which only makes you wonder whether a fourth candidate should perhaps be added to the list of Sophie's available dads.)
Hugh Skinner channels Hugh Grant down to every last facial contortion in a winning turn as the young Colin Firth, who comes across Donna whilst in his dressing gown at a Parisian hotel and before long is partnering her on an all-stops-out set piece to "Waterloo" that folds a baguette into the gathering excitement. The choreographer here, as before, is the stage show's Anthony van Laast, who knows how to whip up a collective frenzy with ready abandon. (An academically-minded Celia Imrie, of all people, is amongst those seen getting down with the moves during the Oxford revelry.) Next up for lissome consideration is a boat-bound Josh Dylan as the young Stellan Skarsgård, followed by a doe-eyed Jeremy Irvine as the budding architect, Sam. This last of the guys is also the one who actually sticks around and in time becomes Pierce Brosnan but not before commending Donna for the sort of smile "that makes the rest of the world smile, too". (That would surely include the audience.)
Back in the present day, Sophie must grapple with a nearly-ruinous storm that risks putting paid to the elaborate preparations for the party to come and, in time, with the arrival at her remote if bucolic home of all and sundry, including welcome returns from Christine Baranski and Julie Walters as the two remaining Dynamos and the debut in this context of surely the screen year's most eagerly-awaited leg. I'm referring there to the notable tease that accompanies our initial glimpse of Cher (pictured above, right), who shows up in the final reel as Donna's long-absent mum and takes the remainder of the film home with her. Communicating a blessed sense of mischief just waiting to happen, Cher couldn't be more attuned to the blissed-out kitsch that has coursed through Mamma Mia! from its inception. Best of all, she absolutely nails "Fernando" while proving a generous scene partner with the film's Fernando, Andy Garcia, who in turn is now clearly poised to corner the European-ethnic roles that once went the way of Tom Conti.
And what of Meryl, you ask? As if husbanding gold, the movie presses its protean leading lady of yore into a ghostly 11th-hour account of "My Love, My Life", which left more than a few hardened critics at a recent afternoon screening furtively dabbing their eyes. You've got to love a film that can combine hoary old jokes ("moussaka" is followed by "bless you") with a hilarious if fleeting visual nod to Titanic and still find room within itself for some tender down time. The insistence of the plot on renewed life and the next generation makes a further visit to these Greek climes (shot in Croatia, as it happens) more than likely; Mamma Mia!'s last dance, one senses, is surely some time off, and Spandex manufacturers aren't the only ones likely to greet that news with a Donna-worthy smile.
Watch the trailer for Mamma Mia! Here We Go Again below