Tehran Taboo review - transgressive animation |

reviews, news & interviews
Tehran Taboo review - transgressive animation
Tehran Taboo review - transgressive animation
Rotoscoping gives startling picture of life in the Iranian capital, not least its repressions
Saturday, 06 October 2018
'Tehran Taboo': the bleak morning light of neo-realism
For all the bleakness of its subject matter, there's considerable exhilaration to Ali Soozandeh's animation feature Tehran Taboo. That's due, in part, to the film's breaking of many of the official "rules" of Iranian society, the myths of the theocracy that can't, and don't conform with the realities of human life. But there's something wider as well, almost Dickensian, as the director presents his varied cast as players in a big city drama in which the Iranian capital itself becomes a protagonist, an entity bubbling with life, most of it "not conforming to Islamic virtues".
But what otherwise might end up as a piece of dark realism, thanks to its technique becomes a varied and somehow irrepressible viewing experience. The film's use of rotoscoping – it was shot by Austrian cinematographer Martin Gschlacht, who filmed live images that were redrawn by computer animation into visual forms – gives it a remarkable fluidity and lightness. It also has the undoubted advantage, for a film made in Europe by a longterm exile form Iran, of giving its participants anonymity; location shooting in Tehran would clearly have been impossible, but the drawn street scenes we see here are a creative reinterpretation that absorbs us no less.
The immediate consolation that 'Tehran Taboo' offers is aesthetic
Animation also surely offers a different level of engagement for viewers than strict realism; while the result is not exactly sanitised, it certainly has us perceiving what we see – which is frequently difficult or painful material – in a different light, though critique is never lost. A decade ago, Marjane Satrapi and Vincent Paronnaud's Persepolis gave a somewhat similar glimpse into an earlier generation of Iranian society, while this summer Nora Twomey's The Breadwinner revealed the oppressions of a girl's life in Taliban-controlled Kabul.
Soozandeh's opening scene certainly gives a hint of what is to come, as we witness a taxi-driver bargain with his passenger for sex, the difference here being that the prostitute concerned, Pari (Elmira Rafizadeh), has her five-year-old son, Elias, in the back seat, a (literally) mute witness to everything going on around him. Then, their business bathetically underway, the driver catches sight of his daughter walking with a man he doesn't know, and launches into a tirade at her lack of respect for the codes of society.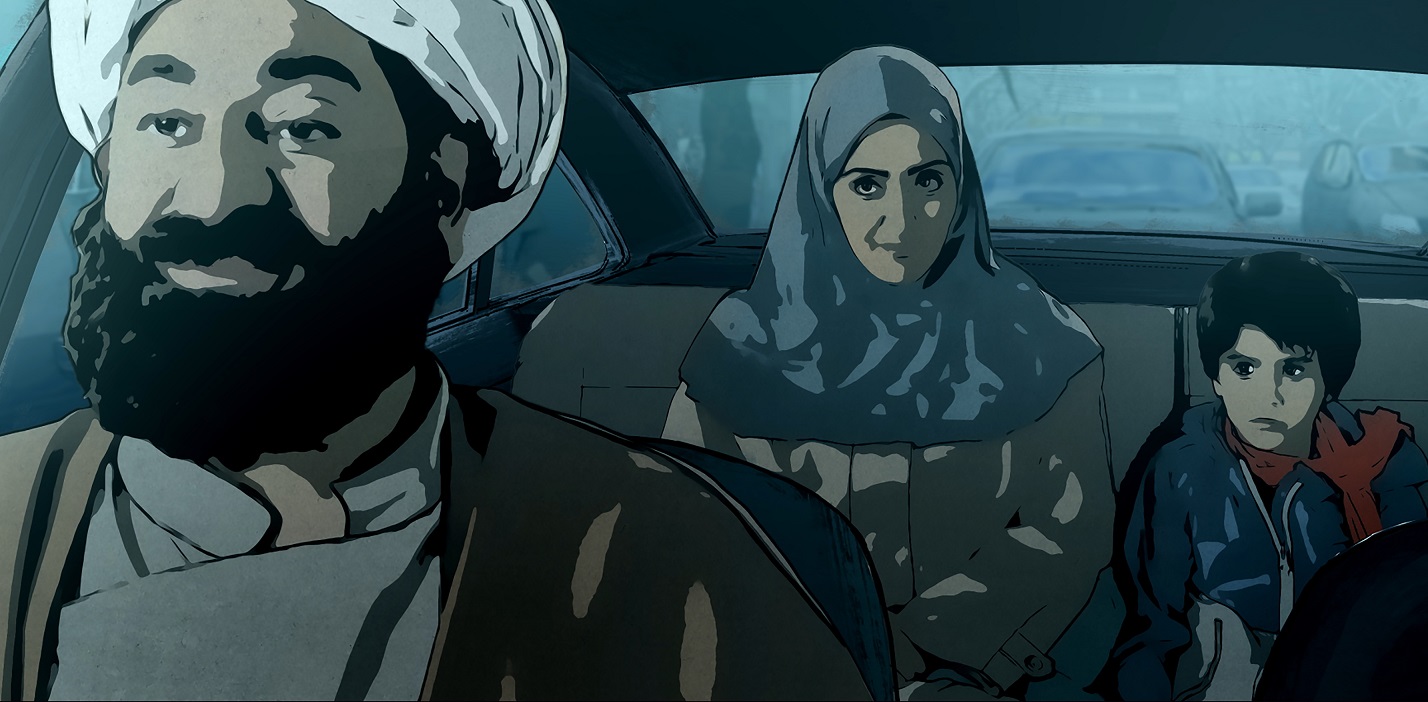 That hypocrisy, covering the male half of the population and its almost total control over women's lives, is indicative. Pari has a drug-addict husband in prison, but her divorce can't proceed until he signs the papers. Her appeal to a Revolutionary Court judge is met with the counter proposal that she become his concubine, and he sets her up in an apartment (pictured above, the judge, Pari, Elias). The neighbours there are a respectable family – though there's male hypocrisy there, too – and a friendship grows between Pari and Sara (Zara Amir Ebrahimi), the daughter-in-law of the house, while Elias comes to feel at home in both apartments.
But even in that secure, cultured family environment, Sara's life is heavily restricted: she can't take a job without written permission from her husband, who expects her to stay home and prepare for the birth of their child. While Pari seems to have an invincibility that makes her able to resist everything that fate throws at her – her heavy make-up is both disguise and protection – Sara is more vulnerable. The sense of the bonding between these two women from very different worlds is the best thing in Tehran Taboo, caught in a lovely scene where they go out for a meal, unaccompanied by men (pictured below).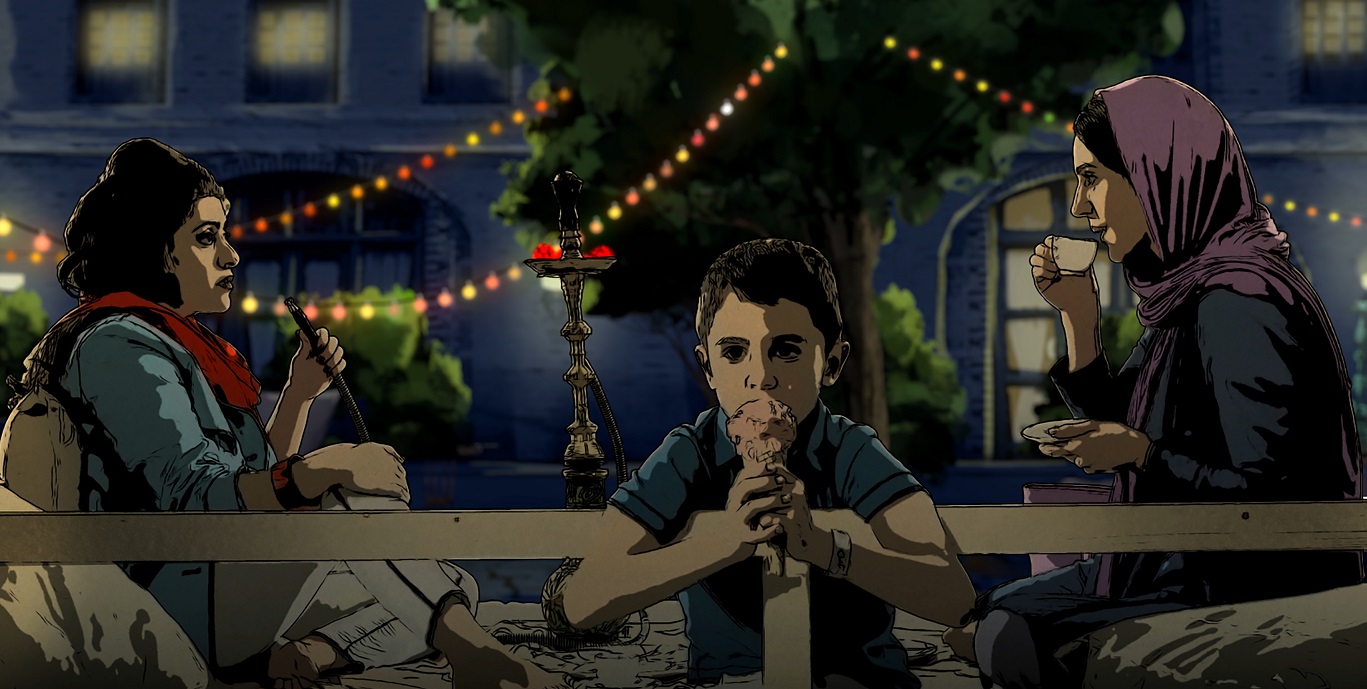 A third story strand, about a young musician, Babak (Arash Marandi), starts separately, before it gradually enmeshes with the world of the two women. Babak belongs to the underground music world, where clubs provide a place of release for the otherwise restrained energy of the young. Relaxing after playing at a rave, he encounters Donya (Negar Mona Alizadeh); encouraged by pills, the two have uninhibited sex. Hardly what you expect of life in Iran? Perhaps. What follows is, however, when she tells him the next day that she is about to be married, and needs to have her virginity restored for her husband-to-be. So begins a frantic search – the fact that Babak acknowledges his responsibility is the only time a man behaves nobly here – which takes in everything from black-market, Chinese-made hymen restorers to the sleaziest depths of under-the-counter surgery. (Pictured below, Babak and Dounya)
At every stage in Soozandeh's saga, whenever his characters encounter authority, their only remedy is corruption: the only way life can be ameliorated in so nominally strict a society is bribery. Authority, and the absurdity of its tenets, ends up mocked in the form of anecdote, to which it responds by bringing punishment into the open: we witness a public hanging. It's a society so controlling that escape appears the only option, if you're lucky enough to be able to arrange that. But flight comes in different forms…
Strange though it may sound, the immediate consolation that Tehran Taboo offers is aesthetic. The chaos of Tehran's street world is something viewers know from contemporary Iranian cinema (not least Jafar Panahi's Taxi Tehran: the somewhat episodic nature of Soozandeh's film, landmarked by recurring photographer's images, recalls that work), but animation presents it all in a different light. The sheer range of colours – the yellow of the city air, the green of dawn, the red neon roof light that marks one key location – are somehow hues of comfort. The brushwork with which Tehran Taboo draws both its characters and visual world is beautiful, but it's only the ebullience of the latter that overcomes the desperation of the former.
Overleaf: watch the trailer for Tehran Taboo
The sense of the bonding between these two women from very different worlds is the best thing in 'Tehran Taboo'
rating
Share this article